If you open your Task Manager and see a process called dllhost.exe taking a high chunk of your Disk, don't immediately conclude it to be a virus as it is not. In this article, we are going to see what is dllhost.exe and why is it showing High Disk Usage.
What is dllhost.exe?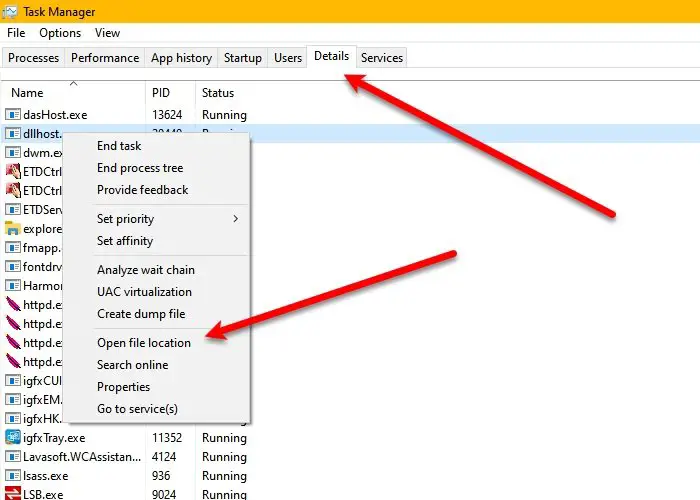 Dllhost.exe or COM Surrogate host process is a Microsoft Windows process. It is used by many programs, including but not limited to .NET Runtime processes. Dllhost.exe, like svchost.exe, is required for all the COM+ oriented programming code.
Therefore, saying it is a virus is incorrect. However, a virus can name itself dllhost.exe, and maybe the reason why you are experiencing dllhost.exe High Disk Usage is the virus. So, to check if it's a genuine process, launch Task Manager by pressing Win + X > Task Manager, go to the Details tab, right-click on dllhost.exe, and click Open file location.
If the location of your file is the same as the following then the process is genuine:
C:\Windows\System32
If not, you need to scan your PC for viruses and malware. To do that, hit Win + S, type "Windows Security", and click Open. Now, click Virus & threat protection > Scan options > Microsoft Defender Offline scan > Scan now.
Let it scan your computer for viruses and malware and delete if found any.
Fix dllhost.exe High Disk usage
Most of the time, dllhost.exe does not have High Disk usage instead a DLL file can use this process causing a spike in Disk usage. So, you can close the DLL file to reduce Disk usage.
There are many different dllhost.exe processes you will see in the Task Manager. To know the real culprit process that is causing dllhost.exe resource utilization to spike, you need to know which is the offender process – and that is something you can identify in Clean Boot State.
But if you are still facing the issue and you are sure that the dllhost.exe in your Task Manager is not a virus, you can try these methods to fix the issue. Basically we are making sure that your OS files and the System Image is in the best of their health.
Run SFC
Run DISM.
Let us talk about them in detail.
1] Run SFC
If you are facing dllhost.exe then chances are your system files are corrupt. To fix them we are going to run SFC and DISM.
To do that, launch Command Prompt as an administrator, type the following command, and hit Enter.
sfc /scannow
Wait for the process to complete and hopefully, the error will be fixed.
2] Run DISM
If SFC didn't fix the issue, you can run DISM to fix the issue. For that launch Command Prompt as an administrator, type the following commands and hit Enter.
Dism /Online /Cleanup-Image /ScanHealth
Dism /Online /Cleanup-Image /CheckHealth
Dism /Online /Cleanup-Image /RestoreHealth
If you continue to see high resource utilization then you might want to use Process Explorer to find out which loaded process or DLL file is causing this issue.