Windows Task Manager keeps a tight check on applications, processes, and services running on your PC. If any of them is causing a slowdown, it lets you close or end that process. If the Task Manager cannot terminate a process, you can use a more advanced system utility like SysInternals Process Explorer. The tool picks up where Task Manager leaves off!
SysInternals Process Explorer tool for Windows 10
SysInternals Process Explorer was originally developed by Mark Russinovich but it was purchased by Microsoft. It works like an advanced task manager and can be used to terminate tasks that refuse to be killed. Also, it works well for both, beginners as well as power users.
When you first launch the program, a window similar to Windows Task Manager opens, showing Process, currently running on your PC. Also, the interface displays two sub-windows. Information like names of the owning accounts, running processes are displayed in the top window.
The vital system programs running are highlighted in red. The rest are shown in blue. CPU is color-coded with green, while System commits are yellow, and RAM or physical memory is shown as orange-red.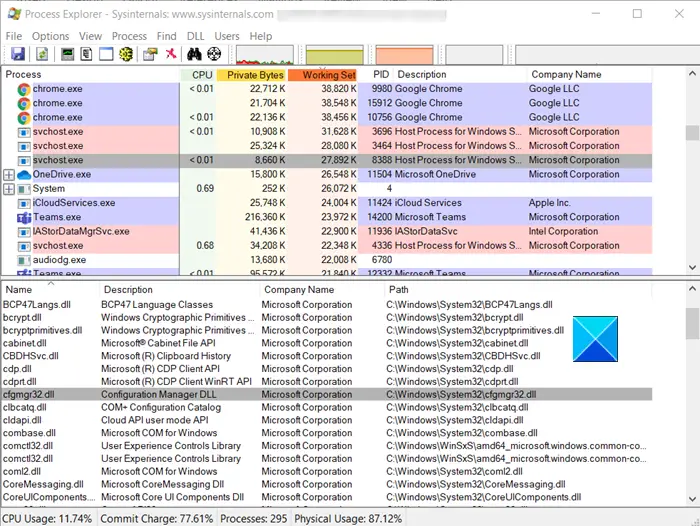 The bottom window lets you choose an application to close, depending on the mode that Process Explorer is in: if Process Explorer is in DLL mode you will see the DLLs and memory-mapped files that the process has loaded. You can then tracking down DLL-version problems, and get insight into the way Windows and applications work.
The toolbar section has a Binocular icon. It lets you find the handle or DLL of any program. Besides, using this feature you can find malfunctioning files and even trace potential viruses.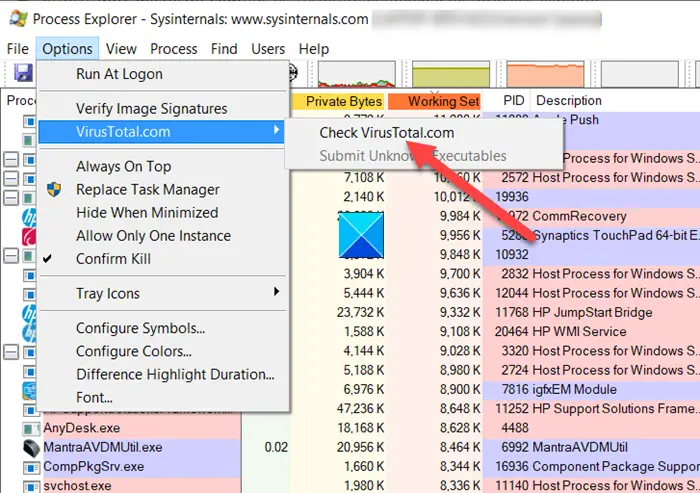 One other essential tool that is worth mentioning is VirusTotal. It can be found under Options. When selected, it directs you to the website that checks all the processes running against the versions available on the website. These versions are updated regularly by Google and other developers as the most up to date virus compilation. As such, it can search and identify the programs that might be disguised as viruses.
You can download Process Explorer from Microsoft.com.