You might have seen multiple processes running in the background in the Task Manager on Windows OS. These background processes perform some particular tasks. Hence, these processes are essential for the proper functioning of the Windows Operating System. Disabling any one of these processes without knowing what that process is used for may lead to several errors in your system. AggregatorHost.exe is one of the processes that run in the background and in this post we will talk about this file.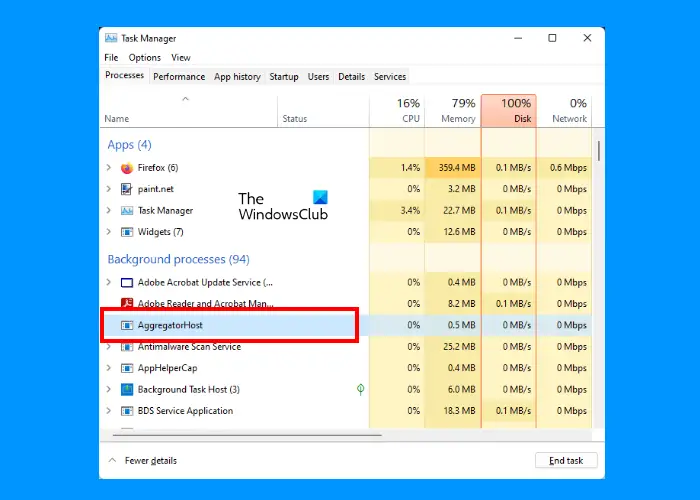 What is AggregatorHost.exe in Windows 11/10?
The way to identify or learn more about any process is as follows:
Open Task Manager
Locate the process which in this case is AggregatorHost.exe
Right-click in it and select Open file location
Where does it take you? The System32 folder I presume.
Now locate the AggregatorHost.exe file and right-click on it
Select and open Properties and then open the Details tab
Do you see Product Name or Copyright as Microsoft?
You don't? Then it is NOT a Windows OS file!
Checking the File location and Properties gives the real picture, but remember-
Just because a file is located in the Windows or System32 folder does not make it a legit Microsoft or Windows OS file!
Just because a file name is similar to another which belongs to a legit software, does not mean that this file could be associated with that software.
Microsoft and most legit software companies will always digitally sign their file. So checking the Details tab is also important.
A legit Windows OS file will always mention the details as shown above.
You may also Check for Verified Publisher or File Integrity with Hash Value. This post will show you how to check if a file is malicious or not in Windows.
This is what AggregatorHost.exe Properties look like:
The Details tab of AggregatorHost exe Properties is blank and that could be a cause for concern!
So then what is this AggregatorHost.exe file? I found no real answers on the web but I am guessing that it could be an internal Windows tool or process involved in aggregating the Windows API commands across Win32/Win64 applications.
But folks on the web have said that maybe it is a temporary file that is used in Windows Insider Builds, maybe it is used by Windows Defender, maybe it is associated with Adobe products, maybe it is some benign legit file – or maybe it is a virus!
In this case, what you need to do is run a full antivirus scan. You may also use a 3rd party on-demand standalone AV scanner like Kaspersky or Dr WebCureIt. Additionally, you may upload this AggregatorHost.exe file to an online service that scans files with multiple antivirus definitions – like virustotal.com or jotti.org. If you see it in your Startup list, remove the file from it in any case.
Stay safe!
Read next: Dllhost.exe is showing High Disk Usage.