In this article, we are going to talk about what is a CDR file and how you can view and edit it in Windows 10. CDR is an image file format native to the CorelDRAW applications. A CDR file is a vector image consists of illustrations, drawings, and page layout. It can be used to design brochures, postcards, tabloids, envelopes, logos, business cards, and many other graphic designs.

Now, how you can view a file with the CDR file extension in Windows 10? And if needed, how to edit a CDR file? There is no native app to view CDR files on Windows 10. And, there are a few selected software that allow you to view and edit CDR files. In this article, we are going to discuss some freeware that enables you to view CDR files or edit them. Let's find out what are these software!
Do note that none of these software let you save edited CDR files in their native format. But, you can save them to SVG, PNG, JPG, PDF, EPS, EMF, WMF, and other formats.
How to view and edit CDR files in Windows 10
Here are some free software that you can use to view or edit CDR files in Windows 10:
LibreOffice
Inkscape
CDR Viewer
Let's check out these freeware in detail!
1] LibreOffice
LibreOffice is a popular free and open-source office suite for Windows, Mac, and Linux. It offers several office applications one of which includes LibreOffice Draw. Using this application, you can view a CDR file. Simply Launch the LibreOffice Draw and go to File > Open option to browse and import a CDR file. You will then be able to view the CDR file using various view-related tools like zoom, rotate, etc.
If you need to make changes to the design, you can use LibreOffice Draw tools like insert text, add media, draw designs, add shapes, format page layout, etc. Although, it doesn't provide advanced graphics designing tools like CorelDRAW. Still, you can make good edits by working around with available tools.
The limitation is that the edited version of CDR can't be saved in its original format. You will have to convert it to another format. It supports plenty of good graphics formats including SVG, PDF, EPS, GIF, TIFF, HTML, and a few other formats. You can use the File > Export option to perform the conversion.
2] Inkscape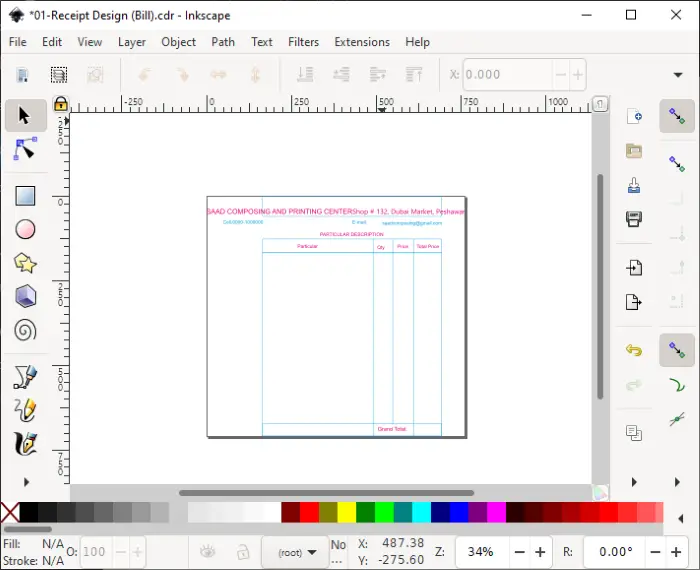 Inkscape is a dedicated vector graphics designing software using which you can also view CDR files. In it, you open and view a CDR file by going to FIle > Open option. As it is primarily an image editing software, you get the flexibility to edit the design imported from the CDR file. For that, you can use painting tools, shapes, text, layer options, formatting tools, and more.
To save the edited version, you will have to use some other file formats as Inkscape doesn't support CDR as an output file format. It supports SVG, EPS, EMF, PDF, HTML, DXF, and some file formats to save the design. Use its Save As function to save edited CDR files.
Read: Batch Convert SVG to PNG with Inkscape using a Batch File
3] CDR Viewer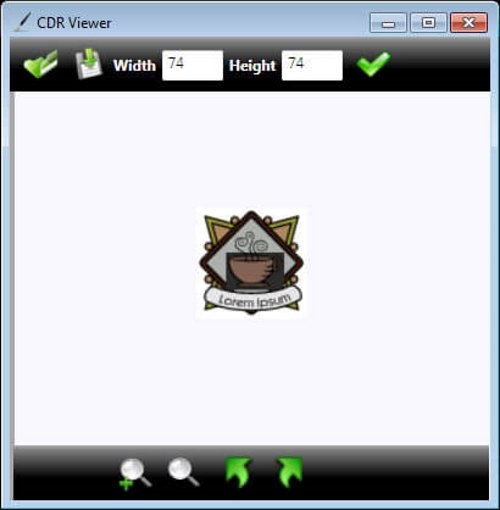 As the name suggests, CDR Viewer is a dedicated utility specially designed to let you view CDR files on Windows 10. In it, you can import a CDR file using the Open button, and then you will able to view the design. You can use zoom and rotate tools for viewing the image. It doesn't let you edit the CDR file. However, you can resize and convert CDR images to various formats including GIF, JPG, PNG, BMP, and TIFF.
This handy free CDR viewer can be downloaded from cdrviewer.org.
Hope this article helped you learn about CDR files and how you can view and edit CDR graphics on your Windows 10 PC.
Related reads: