There are a number of file extensions for a particular file type on Windows 10. Most observed are the ones for images. Among the image file formats like PNG, JPEG, TIFF and more, EMZ is another one that is not used much in the consumer space especially. The EMZ file extension is more of a compressed image file. It is referred to as a Windows Compressed Enhanced Metafile file. It is one of those GZIP EMF Files and is used by application software from Microsoft like Office Visio, Word, and PowerPoint.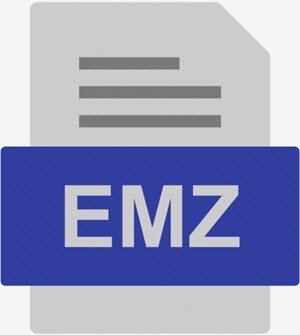 What is an EMZ file and how do you open it
If you wish to use EMZ in Microsoft Office, you can use it in Visio, Word, PowerPoint, and others. You can use them by selecting Insert > Pictures. 
Another way to use EMZ files in Microsoft Office applications is to drag and drop the file from the File Explorer to the Office application.
If you want a standalone application to view the EMZ file, you can use the free XnConvert software. It will also help you to convert it to another format like PNG, JPEG or GIF just so that it can be used and viewed on other applications.
What is the EMF file format
The EMF file format is another newer file format than EMZ. It is a part of Microsoft's Windows Metafile (WMF) file format. It is similar to the SVG format as it may contain bitmap and vector graphics.
These files can be extracted further using utilities like 7-Zip. However, it cannot be run using 7-Zip as it is just an archiver.
Hope this information helped you.