In this post, we will be talking about what is a GPX file and how to view it in Windows 10. A GPX (GPS eXchange Format) file is a GPS data file that contains waypoints, routes, and tracks. It is basically an XML schema that stores GPS location data. You can use this type of file for creating a route map for your trips, adding different waypoints in your routes, creating a track for biking or running, etc.

Now, how you can view a file in GPX format on your Windows 11/10 PC? Let's find out below!
How to view GPX files in Windows 11/10
As there is no native app to view a GPX file in Windows 10, you will have to use a third-party application to open and view it. There are multiple free software that you can use to view a GPX file. Here, I am listing free GPX file viewer software and online GPX viewer tools that you can use on Windows 10. These are:
GPX Editor
Garmin BaseCamp
EasyGPS
GPXSee
GpsPrune
GPS Visualizer
GPX Viewer with Drive.
Let's talk about these free GPX file viewers in detail!
1] GPX Editor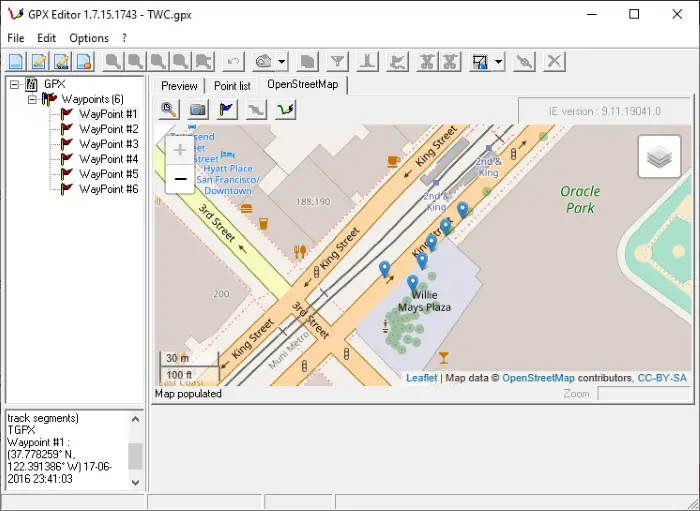 GPX Editor is a dedicated GPX file viewer and editor software for Windows 10. It comes in a lightweight and portable package that weighs less than 1Mb. It lets you view only GPX files and no other GPS data files.
To view a GPX file, launch this portable freeware and go to File > Open GPX option and browse and import a GPX file. Now, you will be able to view the GPS file on its main interface. You can toggle between different view modes including Preview, PointList, and OpenStreetMap view. In the left side panel, you can view each waypoint in the route. Click on a waypoint and you will be able to view the waypoint's GPS coordinates.
You can also edit GPX files through this software using features like Add or Edit Waypoints, Merge All Tracks, Remove Empty Tracks, Create route from waypoints, etc. It lets you convert a GPX file to formats including KML, CSV, and HTML. For that, you can use its File > Export function.
Want this software? Download it from sourceforge.net.
2] Garmin BaseCamp
Garmin BaseCamp is a great free GPX file viewer software for Windows 10 and Mac. It is used to create routes and GPS files. You can view GPX and many other GPS data files including FIT, KML, etc. You can open a GPX file in it using its File > Import option. Then, it will show you routes and waypoints from the imported GPX file.
You can view waypoint lists with their longitude, latitude, and altitude. It allows you to edit the GPS file. Some nice features of this free software include create adventures, trip planner, create routes, find addresses, find places on Yelp, find Points of Interest, locate coordinates, etc. Plus, you can even convert GPX files to KML, CSV, and TCX formats using the File > Export option.
3] EasyGPS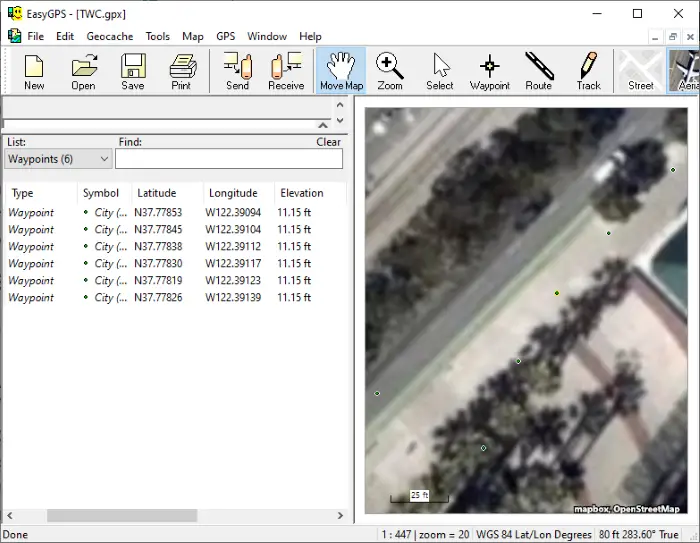 EasyGPS is a GPX file viewer software for Windows 10. In it, you can view only GPX files. Use its Open option to browse and import a GPX file. When you import a GPX file, it shows you details and location map in dedicated panels. You can view a list of waypoints, routes, tracks, and more with respective details like longitude, latitude, elevation, distance, label, etc.
It shows a map in Aerial or Street view mode using the OpenStreetMap service. You can also edit a GPX file using its editing tools and features like waypoint, route, track, edit waypoint, delete a waypoint, etc. After making the changes, you can save modifications in the same or a new GPX file.
4] GPXSee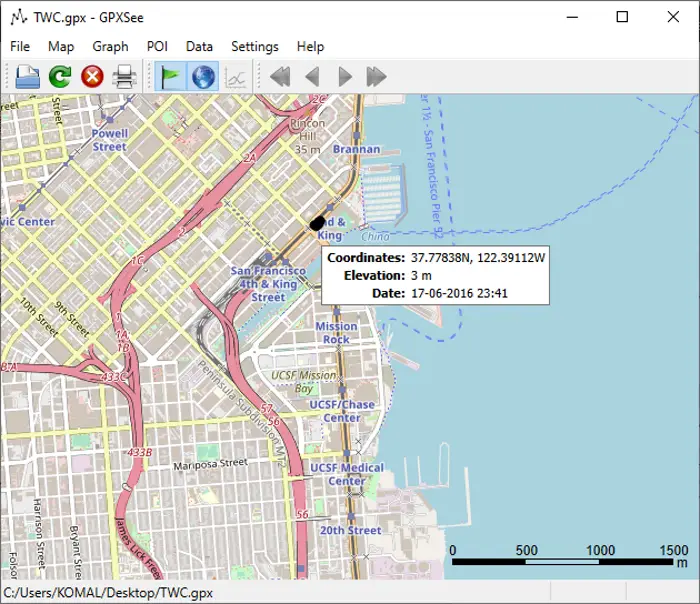 GPXSee is another good software to view GPX files in Windows 10. It allows you to view different GPS file formats including KML, FIT, TCX, LOC, etc. To view routes from a GPX file, use its File > Open function. The location data can be viewed using different map services that include Open Street Map, Open Topo Map, 4UMaps, Antarctica, USGS Imaginary, etc.
It shows different information contained in a GPX file, such as longitude, latitude, distance, date, time, etc. Plus, you can also view various graphs and statistics. You can export the current view of a GPX file to PDF or PNG file format.
Get it from gpxsee.org.
5] GpsPrune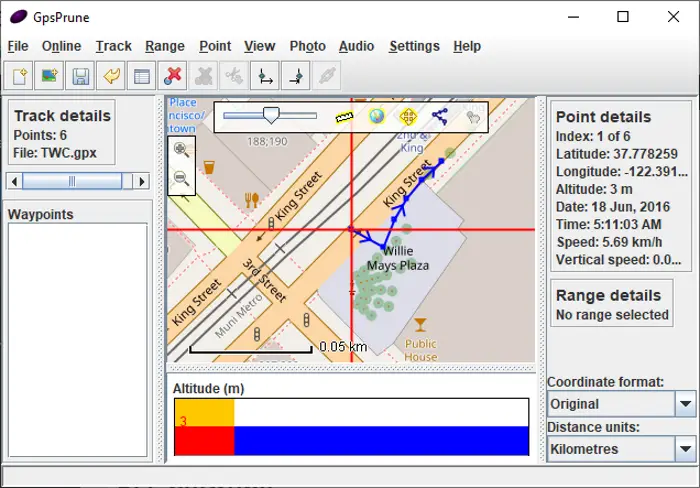 GpsPrune is an easy-to-use and portable GPX file viewer software for Windows 10. It is a Java-based software and required JRE to be installed on your system to run.
Simply import a GPX file using its File > Open File option. Then, it will display a location map, point details, and other related information. You can also edit waypoints and add new waypoints to the route in a GPX file. Plus, you can add photos and audio clips to the file. It can also be used to view KML and KMZ files.
You can convert a GPX file to KML, POV, or to image format.
6] GPS Visualizer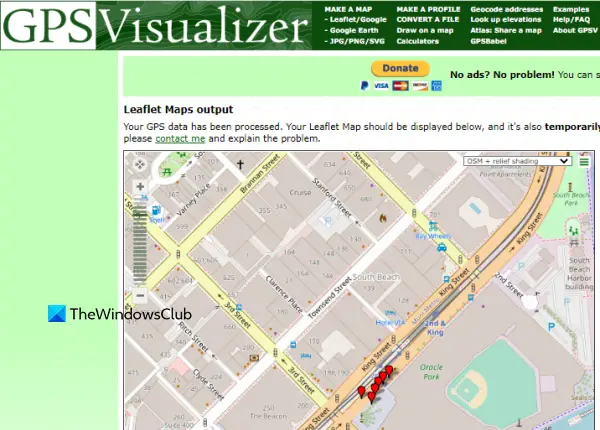 GPS Visualizer is an online GPX file viewer tool. This tool supports GPX, KMZ, KML, TRK, and other data files to read the data. You can also choose an output format to view the GPX file data. Available output formats are:
Google Maps
PNG map
Leaflet Map
GPX file map
Plain text table, etc.
To use this GPX data reader, open this tool from gpsvisualizer.com. There, use the Choose File button to upload a GPX file. Choose the output format and press the Convert it button. Once the GPS data is processed, you can view it and also use zoom in and zoom out options.
7] GPX Viewer with Drive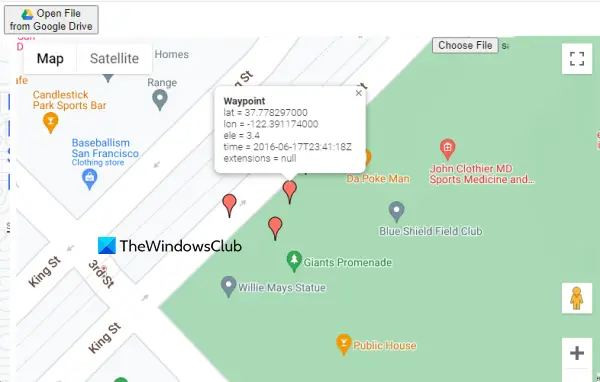 GPX Viewer with Drive is also an online tool that lets you add a GPX file from computer or your Google Drive account. The tool lets you load GPX tracks and then lets you view them on a map.
This tool shows all the waypoints of your track. And, clicking on a particular waypoint opens a pop-up. That pop-up shows the timestamp, latitude, and longitude for that particular point.
Apart from this, it also lets you zoom in and out of to map using the mouse wheel and available options on the map. You can also switch between satellite view and map view anytime you want.
If you want to use this tool, open it from gpxviewer.1bestlink.net. After that, you can either use Choose File button to add a locally saved GPX file or add a GPX file using the Open File from Google Drive button.
That's about it!
Why can't I open GPX files?
The reason why you aren't able to open or view GPX files on a browser or an application is that those items don't support GPX format. Another reason would be that you have a corrupt GPX file. So, you will either get garbage content while opening it or it will simply not open. But, if your GPX file is OK and you want to open GPX files on a Windows 11/10 computer, then you can use some third-party GPS viewer tools for that. All such tools are covered in this post above.
How do I open a GPX file for free?
If you are using Windows 11/10 OS and want to open a GPX file for free, then you need to use third-party tools for this. GPX Editor, EasyGPS, GPS Visualizer, etc., are some good free GPX viewer tools that you can use to open GPX files. This post above covers all those free GPX viewer tools. Check them.
Now read: How to view a FIT file?