In this article, I am going to talk about the PES file. What is a PES file and how you can view these files on Windows 10? A file with .pes extension is most probably an embroidery file that stores stitching instructions for sewing machines. It is a computer-aided manufacturing (CAM) file containing embroidery designs and patterns. This file format is developed by Brother International Corporation and is mostly used by home-based Brother PE embroidery machines and multi-needle embroidery machines. PES file also contains information about the embroidery such as color palette, stitch length, stitch density, fabric, and more.
How to open and view PES file in Windows 11/10
To view a PES file in Windows 11/10, you can use free embroidery viewer software. There are multiple PES file viewer freeware available on the internet. Here, I am going to mention 5 best free PES viewers for Windows 11/10 that include:
BERNINA ArtLink
my editor
Embrilliance Express
Embroidery Reader
File Viewer Lite
1] BERNINA ArtLink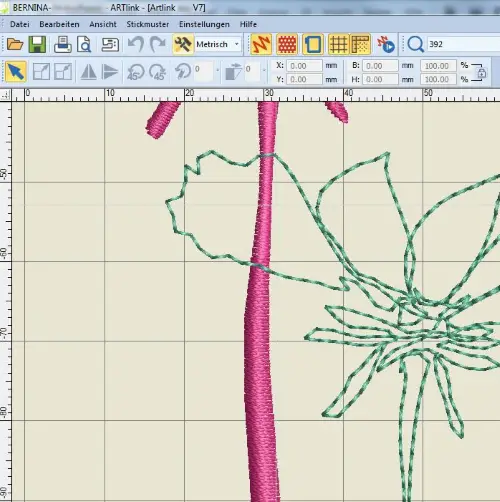 BERNINA ArtLink is a dedicated embroidery software using which you can visualize embroidery designs saved in PES files. Not just PES, it lets you view other embroidery files too, such as PEC, EMD, ART, ARX, VIP, SEW, DST, etc.
It comes with an advanced set of features to view and edit embroidery files. For example, it has a Slow Redraw feature that basically displays you the whole stitching process as an animation. You can even customize the speed of stitching animation, reverse the animation, set up stitch range, and enable auto-scroll. Besides that, you can find all basic viewing tools in it that include rotate, zoom, pan, previous view, artistic view, show/ hide grid, show/ hide needle points, show/ hide hoops, etc. A useful measure tool is also available in it.
It also lets you view detailed properties of a PES embroidery file. These details include stitches, colors, fabric name, fabric type, number of threads, thread colors, author, title, comment, and more. You can also convert a PES file to other supported embroidery file formats.
BERNINA ArtLink is a great PES and other embroidery file viewer. You can download it from here: bernina.com
2] my editor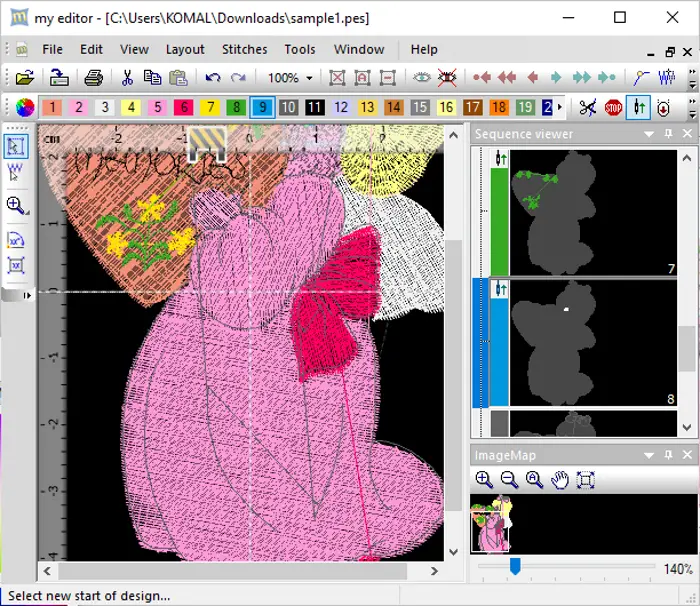 my editor is a PES file viewer for Windows 10. It lets you open and view PES and a lot more other embroidery files. Some of the supported input embroidery formats in it include PCS, VP3, EXP, DST, HUS, JEF, VIP, SHV, SEW, and more.
In it, you can play the PES embroidery stitching process and adjust animation speed using its Slow Redraw function. It opens the PES file in different panels and modes including Image Map, Sequence Viewer, and actual design. You can also view embroidery in 3D view mode. Furthermore, you can customize the PES file view using features like zoom, rotate, scale, show stitch marks, show filled outlines, hide selected objects, and more.
Some other features of this freeware worth mentioning are changing fabric, removing small stitches, auto-density, viewing embroidery statistics, etc. It lets you save a PES file to another embroidery format. You can also convert PES to images like JPG, PNG, BMP, and TIFF.
3] Embrilliance Express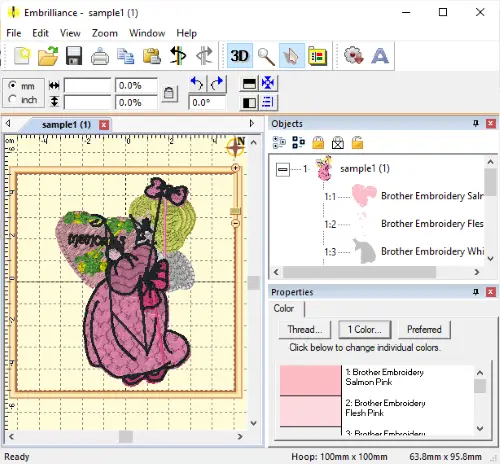 Embrilliance Express is a free embroidery viewer software for Windows 10 and Mac. Using it, you can import and view PES files. It also supports some other embroidery files that include ART, DST, PCS, PHB, SEW, SHV, VIP, EMB, EMD, EXP, and more.
It lets you visualize the PES file in 3D view mode and lets you zoom in/out of the design. You can check objects used in a PES embroidery design from its Objects pane. It shows different thread colors to choose from in order to view the design.
All in all, it is a simple embroidery file viewer that you can use to visualize PES and other embroideries. You can check out on its official website embrilliance.com
4] Embroidery Reader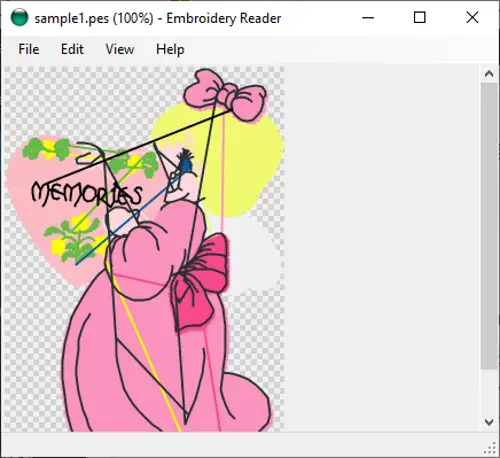 Embroidery Reader is a dedicated program to view PES files on Windows 10 PC. You can find some basic view functions in it that include rotate, zoom, etc. Some viewing customization can be done such as select background color, remove ugly stitches, adjust thread thickness, and toggle transparency grid. Apart from that, there are no view features available in it.
Using this tool, you can export a PES embroidery design to images like BMP, JPG, GIF, PNG, or TIFF. Plus, a Print option is also available in it.
5] File Viewer Lite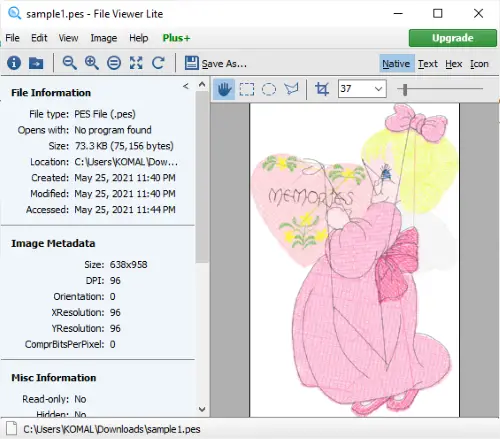 File Viewer Lite is a free universal file viewer for Windows 10. Along with tons of other file formats, it also supports PES embroidery files. It opens a PES file as an image. You can zoom and rotate the embroidery design like an image. All image adjustment tools like crop, resize, effects, etc., can be used while viewing a PES file.
You can download it from windowsfileviewer.com.
I hope this article helped you learn about PES files and how you can view them on Windows 11/10 PC.
Now read: What is a FIT file?