Some Windows users complained that Valheim shows low FPS and low GPU usage. Even if you are a beginner gamer, you know how much a consistent FPS is required, and to get a high constant frame rate, the game tends to use a huge amount of GPU.  According to the victims, the game is neither trying to crank up the GPU usage nor increasing the frame rates. In this post, we will talk about the same and see what you can do to resolve this issue.
Fix Valheim Low FPS and Low GPU usage
If Valheim is displaying low FPS and have low GPU usage on Windows 11/10 PC, use the following solutions and suggestions to resolve the issue.
Update Windows and Graphics Drivers
Disable Game Mode
Change Boot.config file
Change Valheim in-game settings
Force the game to run on a dedicated GPU
Change the settings of your GPU
Verify the integrity of game files
Let us talk about them in detail.
1] Update Windows and Graphics Drivers
The first thing you should be doing is updating your Operating System and Graphics Drivers. As for the former, you can check for updates from Windows Settings. In case, your OS is up-to-date or if updating doesn't work, try any of the following methods to update GPU drivers.
Now, check if there are some improvements in the Valheim fps. This will do the job if the issue was caused because of incompatibility or a bug, if the updating doesn't work for you, then probably, your GPU driver is compatible and not buggy.
2] Disable Game Mode

Some users complain that Windows Game Mode is not compatible with Valheim and is forcing the frames to drop. We can disable Game Mode and see if that works for you. To do the same, follow the prescribed steps.
Open Settings.
Go to Gaming > Game Mode.
And then use the toggle to disable Game Mode.
After disabling the option, check if the issue is resolved.
3] Change Boot.config File
Boot.config file can be used to configure Valheim settings. We can make some adjustments in the game to make sure that it is displaying constant FPS using the boot.config file. To make the adjustments, follow the prescribed steps.
Launch Settings.
Go to Library.
Right-click on the game and select Manage > Browse local files.
Open the valheim_Data folder.
Look for the "boot" or "boot.config" file and open it with Notepad.
Add the following strings in two separate lines, in the given order, at the beginning of the text file.

gfx-enable-gfx-jobs=1

gfx-enable-native-gfx-jobs=1

Hit Ctrl + S to save the document.
Now, launch your game and see if the issue is resolved.
4] Change Valheim in-game settings
It seems like the game is not perfectly optimized to work on your computer. That is why, in this solution, we are going to change Valheim in-game settings to manually optimize the game, keep in mind, that this is not an ideal solution, ideally your game should be optimized from the developer's end. With that in mind, open Valheim and go to its settings. Now, click on the Graphics tab, uncheck Vsync and click Ok. After saving the settings, launch Valheim as an administrator, and see if the issue is resolved.
5] Force the game to run on a dedicated GPU
If Valheim is not using a lot of GPU and showing low FPS, then there is a chance that the game is not running on the dedicated Graphics Card, instead, it is running on the integrated one. So, we need to force it to run the Valheim on the dedicated GPU. To do the same, follow the prescribed steps.
Open Settings.
Go to System > Display > Graphics.
Look for Valheim, select it, click on Options, and choose High performance mode.
Note: In case, you can't find Valheim, click on Browse, go to its location, and the exe file of the game.
6] Change the settings of your GPU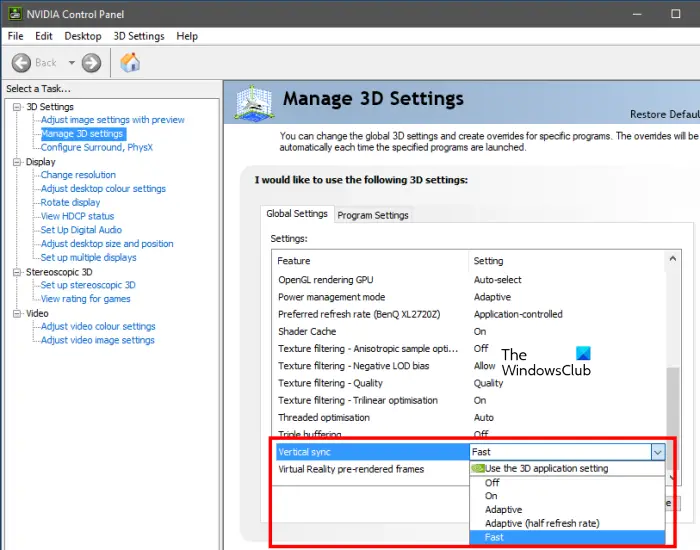 We can do some slight modifications on the Control Panel of your GPU to increase the FPS of your game. These modifications can only be done through the official Control Panel of your Graphics Card manufacturer. We have mentioned a guide for both AMD and NVIDIA users, so, check out the following steps to configure the required settings.
NVIDIA Control Panel
Open NVIDIA Control Panel from Start.
Go to Manage 3-D Settings.
Add a new profile for Valheim.
Set Prefer maximum performance in Power Management Mode.
Change Vertical sync (V-sync) to Fast.
Save your Settings.
AMD Radeon 
Launch AMD Radeon on your computer.
Go to the Gaming tab and select Valheim.
Activate Radeon Enhanced Sync.
Hopefully, this will resolve the issue for you.
7] Verify the integrity of game files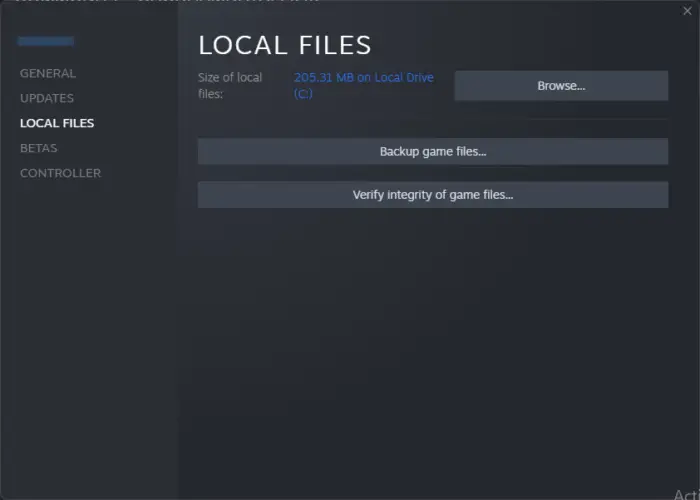 If nothing worked, your last resort is to repair the game files. Usually, when the game files go corrupted, it doesn't even launch on your computer. So, we can assume that in this case, a certain fragment of the file is corrupted, if that's the case, we can use Steam to repair system files. Follow the prescribed steps to do the same.
Open Steam.
Go to Library.
Right-click on the game and select Properties.
Click on the Local Files tab and then on Verify the integrity of game files.
After repairing corrupted game files, launch the game and check if you can see a noticeable improvement in FPS.
How do I fix low FPS and low GPU usage?
If Valheim is showing low FPS and low GPU usage, execute the solutions mentioned in this post. We would recommend you start updating from the first solutions and then follow the given order as it will save a lot of your time. Hopefully, you will be able to resolve the issue pretty easily.
Read: Valheim Dedicated Server Disconnected or Failed to connect
Why does Valheim have low FPS?
Valheim can have low FPS if the device drivers aren't updated or if the system is meeting the recommended requirements to run on your system. Other than that, there are various other reasons, you can read this post to know more or check our guide if Valheim freezes, stutters, or lags on your computer. You will get all your answers along with the remedy.
Also Read: Valheim won't Launch or Open on Windows 11/10.