V Rising has been a huge success from its first day of launching; however, things have not been so smooth for some V-Rising gamers. Gamers are complaining that they cannot play V-Rising as it keeps crashing on their computer.  In this article, we have mentioned the reasons and workaround that you can execute if V Rising keeps crashing on your Windows computer.
Fix V-Rising keeps crashing on Windows PC
If V-Rising is crashing on your Windows 11/10 computer, use the following solutions and suggestions to resolve the issue.
Verify game files
Update Graphics Driver
Kill unnecessary tasks
Stop overclocking
Allow the game files through the firewall
Disable Steam Overlay
Let's get started.
1] Verify the game files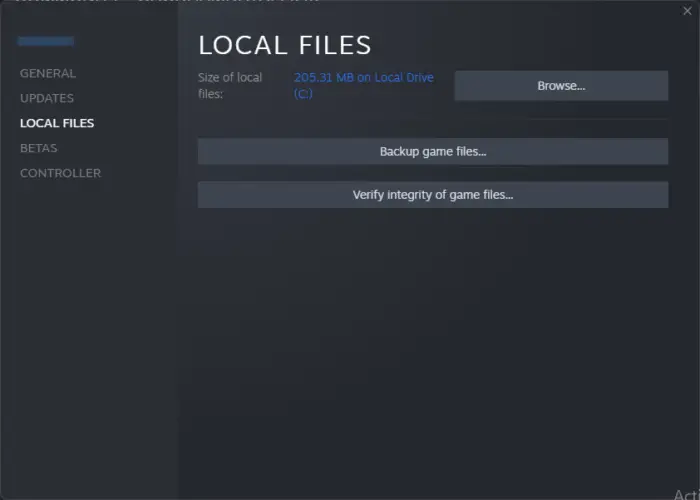 Corrupted game files seem to be associated with this issue. To make sure that it is the actual cause, we are going to use a Steam feature as it can not only find the corrupted files but also repair them. Here's how to verify the game file:
Open Steam and head towards the Library.
Right-click on V-Rising and select the Properties option.
Click on the Local Files tab and select Verify integrity of game files.
Verification and replacement of old files take some time, once it is completed, restart your device, and launch the game. Check whether you can play the game or not, if it continues to crash, move on to another solution.
2] Update your Graphics Driver
Updating your Graphics Driver is one of the aptest solutions that you should do when any of your games are crashing or not launching. More often than not, your game is not compatible with the old Graphics Driver and can fail to launch or have some weird performance issues. Here are some of the ways to update your Graphics Driver:
Relaunch your game after updating your Graphics Driver to see if the issue persists. Hopefully, this will be enough.
3] Kill unnecessary tasks
If multiple tasks are running in the background along with your game, eating the resources, you might experience this issue. In such cases, you can kill unnecessary tasks, especially the resource-hogging ones, to resolve the issue. Follow the prescribed steps to close tasks running in the background:
Hit Ctrl + Esc + Shift to open Task Manager.
Go to the Process tab and right-click on the task that's consuming resources.
Click on the End Task button.
Do this to every single program that is there in the Processes tab. Hopefully, this will do the job.
4] Stop overclocking
Overclocking comes in handy when you want a fast-working computer, however, it is not compatible with every game.  It seems like it's the same case with V-Rising, therefore, we recommend you stop overclocking and check whether the issue persists or not.
5] Allow the game through the firewall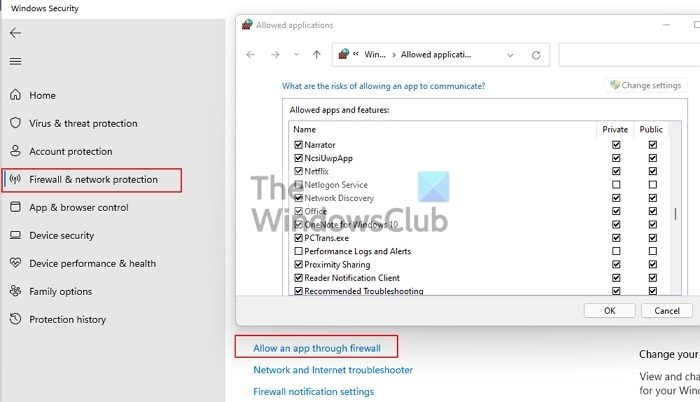 Your game may also crash if the security program is blocking some of the files. It may do that if the antivirus thinks that your game files are malicious. If that's the case, your best bet is to allow the program through Firewall. Follow the prescribed steps to do the same.
Open Windows Security by searching it out of the Start.
Select the Firewall and Network Protection tab.
Navigate to the Allow an app through the firewall.
Click on the Change Settings option and allow V Rising through both public and private networks.
Note: If you can't find V-Rising, click Browse, go to its location and then add the game.
After doing the steps, restart your computer, launch the game, and see if the issue persists. Hopefully, you won't be having issues playing the game anymore.
6] Disable Steam overlay
When you want to access Steam features without using Steam then Steam Overlay is a good choice, however, it is not compatible with some of the games. And this seems to be the case here. We are going to disable Steam overlays and here's how you can do the same:
Launch Steam, go to Steam, and click on Settings.
Select In-game options, untick the box next to Enable the Steam overlay while in-game.
Select the OK button.
Launch the game and check if that worked.
Hopefully, you are able to resolve the issue after executing these solutions.
Read: Optimize Windows for gaming; Improve PC gaming performance
System requirement to run V-Rising
In order to run V-Rising smoothly on your Windows PC, make sure that the prescribed system requirement is met:
Minimum
Processor: Intel Core i5-6600, 3.3 GHz or AMD Ryzen 5 1500X, 3.5 GHz
RAM: 12 GB
Operating System: Windows 10 64 bit
Graphics Card: NVIDIA GeForce GTX 750 Ti, 2 GB or AMD Radeon R7 360, 2 GB
Pixel Shader: 5.0
Vertex Shader: 5.0
Free Disk Space: 7 GB
Dedicated Video RAM: 2048 MB
Recommended
Processor: Intel Core i5-11600K, 3.9 GHz or AMD Ryzen 5 5600X, 3.7 GHz
RAM: 12 GB
Operating System: Windows 11/10 64 bit
Graphics Card: NVIDIA GeForce GTX 1070, 8 GB or AMD Radeon RX 590, 8 GB
Pixel Shader: 5.1
Vertex Shader: 5.1
Free Disk Space: 7 GB
Dedicated Video RAM: 8192 MB
If your computer meets the minimum requirements, the game will run but can have some performance issues. In order to have smooth gameplay, make sure to meet the recommended system requirements.
How to stop V Rising from crashing?
To stop V-Rising from crashing on your computer, execute the solutions mentioned in this post. You should start executing from the first solution and then move your way down. However, first of all, you need to make sure that your computer is compatible to run the game by checking the system requirements.
Why does my Battlefield 5 keep crashing PC?
Battlefield 5 may crash on your computer if its files are corrupted. In that case, you need to remove the corrupted file and verify its files to resolve the issue. Also, it is important to keep your drivers up-to-date, otherwise, the game may be subjected to compatibility issues. If you want to know more reasons and solutions for the same, check our guide to know what to do if Battlefield 5 keeps crashing or freezing on your computer.
Also Read: Battlefield 2042 not Launching or Opening on Windows PC.