USB Security Keys are a secure medium to authenticate various components on a computer. Security keys can be used to log in to Windows 10. With the advancement of web APIs a user can authenticate across websites as well, using the same key. But these keys at times may not work. This can be due to several factors. It could be due to incompatibility or corruption of drivers, compromised integrity of the key and so on.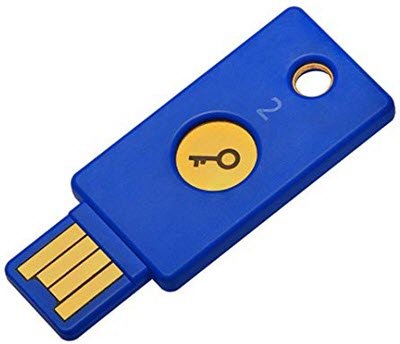 USB Security key is not working on Windows 10
If the USB Security key is not working issue on Windows 10, then the following methods have proven to be effective in helping users fix the issue:
Toggle Internet Options settings.
Reinstall the respective USB drivers.
Change the PIN of the security key.
Disable the antivirus.
Troubleshoot the web browser.
1] Toggle Internet Options settings
Search for Internet Options in the Windows Search box and open the Security tab.
For all the given Zones, bring the security slider to the lowest possible security. Click on OK to save changes and close Internet Options.
Now this can only be a temporary measure as it leaves your computer vulnerable, so once your work is done, make sure to press the Reset all zones to default level button.
2] Reinstall the respective drivers

The incompatibility between the drivers and the operating system or corruption of these drivers might also result in abnormal behavior of these security keys.
You need to first uninstall the USB driver from Device Manager. This USB driver would be named after the manufacturer of the USB Security Key under the section of Universal Serial Bus controllers
You may visit the website of the manufacturer of your Security key to download the latest drivers and have them installed on your computer.
3] Change the PIN of the security key
There might be chances that the PIN for the security key might have got corrupt. You can reset the PIN of the security key to troubleshoot this issue. You can refer the to configuration utility of the Security Key to do this.
4] Disable the antivirus
Some antivirus might be hampering the proper functioning of the security key. We recommend you to turn the Antivirus solution or Windows Defender off temporarily and check if that resolves your issues.
5] Troubleshoot the web browser
If your security key is not working particularly on your web browser you can do the following things:
Check if your web browser actually supports the security key. You can check this on the browser's official website.
Then if it does, update your web browser to the latest version.
And if that does not help you, try reinstalling the web browser or switch to another supported web browser.
All the best!
Related read: Free software to Lock and Unlock Windows PC using USB Pen Drive.