Printers connected to a computer can serve an essential purpose to some people. If you're one of them, running into issues like your printer not being detected or found missing can be cumbersome. In this article, we will look at some possible solutions you can implement to remediate issues of this kind.
USB Printer not detected or missing in Windows 11/10
Before we delve into the fixes for this issue, you must ensure certain things. Make sure that your printer is plugged in properly, contains paper in the paper tray, and has sufficient ink and toner cartridge. Only then should you look to move to the solutions mentioned below:
Run the Printer troubleshooter
Check for system or driver updates
Reset the Print Spooler
Set the missing printer as the default one
1] Run the Printer troubleshooter
The most generally applicable solution here is to run the built-in Printer troubleshooter and scoop out what the error is that is causing your printer to go undetected, and subsequently resolve it too. Here's how you can run it:
Open the Windows Settings with the 'Win + I' key combination
Click on the System tab > Troubleshoot, and further select Other troubleshooters
Here, locate the Printer troubleshooter and click on the Run button next to it to initiate it

If any bugs are causing the issue at hand, this troubleshooter will tell you of them and also suggest relevant fixes. If this doesn't work out for you, try using one of the other mentioned fixes below.
2] Check for system or driver updates
Windows constantly bring up fixes to patches via their system updates, so a bug causing your printer's name to go missing from Windows could be fixed in a Windows update. Similarly, if you are running outdated drivers, you may face this error, in which case you should check if there are any driver updates available. In Windows 11, Microsoft has centralized a page for all kinds of software updates. They can all be found in the Windows Update section of Windows Settings.
3] Reset the Print Spooler
The Print Spooler application is responsible for sending print instructions from a computer to a printer or a print server. Thus, resetting the Print Spooler service can also bring an end to the "Print not detected" issue.
Open the Run command prompt and enter services.msc
This will open the Services manager window. Scroll down till you get to the Print Spooler service
Right-click on it and select Properties
From the subsequent dialog box, click on Stop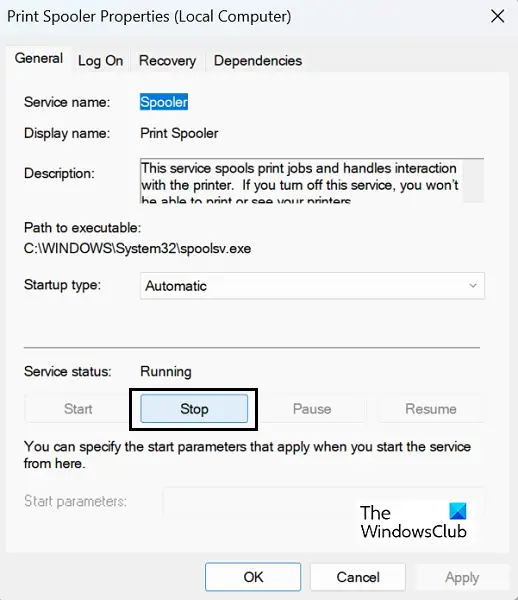 The process isn't over yet as you have to open the File Manager and go to the following path:
C:\Windows\System32\spool\PRINTERS
Here, delete all its contents. Once you've done that, go back to the Service Manager window and in the Print Spooler prompt, click on Start and then Apply to save the reset.
Read: How to carry out Print Spooler Repair in Windows
4] Set the missing printer as the default one
It is possible to sync more than one printer on a Windows device, but it sets a single default printer. Since your printer might not be the first choice to take printouts, you may find it to be missing. Another plausible cause is that you might have ended up configuring it incorrectly. Either way, you should recheck what the default printer is.
Open the Control Panel
Click on View devices and printers under the Hardware and sound section
Select the printer you want to set as the default and click on Set as default. If you don't see an option to set a printer as default, use the Let Windows manage my default printer option
You should recheck if the printer you have just set as a default is still going undetected.
How do I connect my USB printer to Windows 11?
Adding a printer to your Windows computer is now more seamless than ever, with Windows 11. A wireless printer can be connected to your printer via a Bluetooth or Wi-Fi connection. Open Printers & scanners settings and click on Add a device. You can add a wired printer the same way, but sometimes you might have to use the Add manually option and follow several more steps.
Read: Fix 0x00000bc4, No printers were found error in Windows 11
How do I get my old printer to work on Windows 11?
You can go through the usual steps to get your old printer to work on Windows 11. As Windows 11 and Windows 10 are almost the same in terms of allowing users to use printers, you do not need to do anything extra to get it working. You can connect your printer, install the driver, and start using it.