Microsoft Word is the primary editor for text on computers. As technology progressed, it has become common to use text editors through the cloud, and Microsoft provides easy access to the same through Microsoft OneDrive. However, if while trying to upload your MS Word document to OneDrive you encounter the Upload pending error then please read through this article for the resolutions.
Upload Pending error on Microsoft Word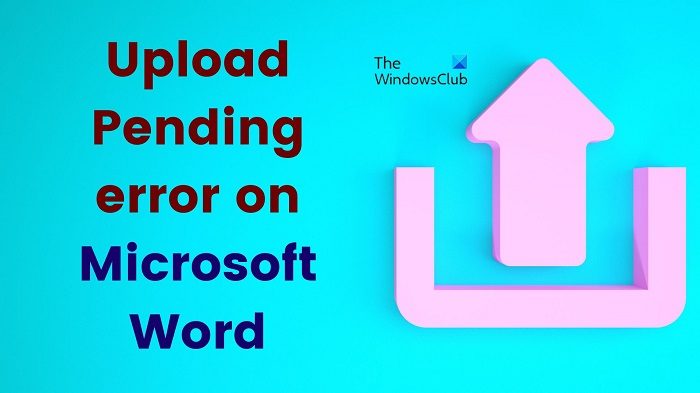 The causes could be issues with the internet connection, MS Word itself, Microsoft OneDrive's status, or the computer. Try the following solutions sequentially to fix the Upload pending error when you try to upload Office files to OneDrive on your system:
Check the internet connection
Check OneDrive server status
Check MS Word filename
Check if OneDrive storage is full
Update Microsoft Office
Repair Microsoft Office
1] Check the internet connection
If the Internet connection is not working then no matter what you try, the file will not upload. In this case you are advised to use an internet speed test application to check the internet speed. Also, try to open some other website on the browser this will give you clarity.
If the internet is not working, please troubleshoot accordingly.
2] Check OneDrive server status
If Internet is working well with other websites but there is an issue with OneDrive, then it is quite possible that the OneDrive server may be impacted. In this case, please check the status of the OneDrive server from admin.microsoft.com. In case the server is down, wait for some time. In case the server is fine, please proceed to the following solutions.
3] Check MS Word filename
A lot of characters are not allowed in MS Word filenames. Characters like #,*,\, <, > are not permitted for OneDrive filenames. Usually, MS Word doesn't allow them either but can still be sneaked in. However, if you try to upload the file, it will be a problem. So, you would have to rename the MS Word file on the computer itself.
4] Check if OneDrive storage is full
If the OneDrive storage is full, you will not be able to upload more files. This issue can occur in two cases. The first one is if you weren't aware of space utilization on OneDrive and it eventually exceeded the limit. The second case is if your Microsoft Office subscription expired recently. In the latter case, the limit allowed for OneDrive will suddenly reduce and you will not be able to upload anything further.
5] Update Microsoft Office
Updating Microsoft Office could be a great idea to fix the problem in discussion. Rather, an outdate version of Microsoft Office will cause many other problems too. The procedure to update Microsoft Office is as follows:
Open MS Word.
Click on File >> Account.
Select Account >> Update options.
Select Update Now.
Restart MS Word after this.
6] Repair Microsoft Office
If everything else fails, you can consider repairing Microsoft Office. If any file associated with MS Office is corrupt, this procedure will fix the same.
Right-click on the Start button and select Settings from the menu.
In the Settings menu, go to the Apps tab on the list on the left-hand side.
In the right pane, select Apps & Features.
Scroll down to Microsoft 365. If you are using a local version of MS Office, then scroll to the same.
Click on the three dots associated with it and select Modify.
Check the radio button at Online repair.
Click on Repair.
Wait for the procedure to complete itself and then reboot the system.
Read: Upload blocked, Sign in to save this file, or Save a copy error in OneDrive
Is Microsoft OneDrive free?
Microsoft OneDrive is both free and paid. The free version has a space limit of 15GB. The paid version usually has a space limit of 1TB. However, in case you use the Microsoft Office Family version, you can add five more users' accounts and would get 1TB of storage space per account. Overall, you will get 6TB of storage space.
What is OneDrive used for?
OneDrive is used to store documents, videos, phones or any supported file. The main benefit is that OneDrive allows user collaboration. This means you can share files with users online. Even more, it is safer than localized storage. Apart from this, it also comes in handy when you want to collaborate on the same document with multiple people.
Similar error: Microsoft Word UPLOAD FAILED, You are required to sign in to upload your changes to this location.