Unknown Hard Error appearing in Windows 11/10 can be an unpleasant situation. The occurrence of it leads to the sudden disappearance of Desktop icons, freezing of the taskbar and blackening of the screen. Every time you attempt to launch Windows, the system flashes a message stating that it's a critical error and some applications (Start and Cortana) won't work. If you receive sihost.exe, explorer.exe or ctfmom.exe System Error: c000021a Unknown Hard Error on your Windows 11/10, then this post may help you.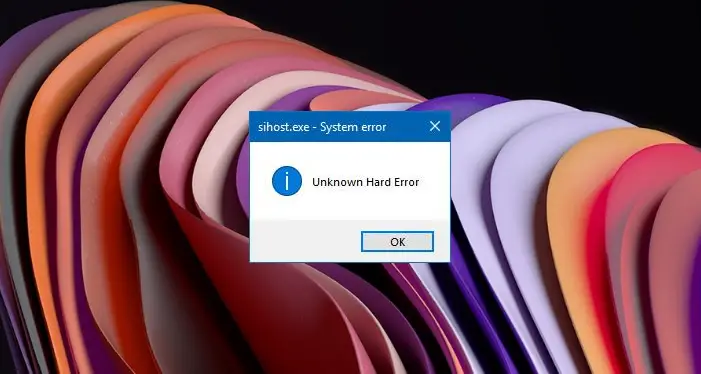 Upon a bit of investigation, you may find sihost.exe isn't responding and this is responsible for c000021a, Unknown Hard Error to appear. Sihost.exe files represent Shell Infrastructure Host which happens to be a core component of the Windows environment. It is this Windows Shell Infrastructure Host which is primarily responsible for handling several graphical elements of the OS interface like Start menu and taskbar transparency.
So, if SIHost or Shell Infrastructure Host is either stopped, corrupted or removed, there will be issues with the overall functionality of the operating system, and you'll get this error.
Likewise, ctfmom.exe Unknown Hard Error may arise due to incompatible drivers installed on the computer. cftmom is a process that identifies inputs like handwriting, languages, etc.  and thus controls functions of background behavior.
What course of action should be followed after that to resolve the issue? We will try to look at some of the solutions here.
Fix Unknown Hard Error in Windows 11/10
1] Update/reinstall the problematic program
Firstly, you should try to find out which application is responsible for the running of the sihost.exe file. If required, update/reinstall the application or have it removed temporarily.
2] Run System File Checker
Explorer.exe is also known to throw up this error, and so running System File Checker could help. The System File Checker or sfc.exe is a utility in Microsoft Windows located in C:\Windows\System32 folder. This utility allows users to scan for and restore corrupt Windows system files. Before proceeding further, you should first determine whether the sihost.exe on your computer is a Trojan that you should remove, or whether it is a file belonging to the Windows/trusted application.
3] Use System Restore
There are several ways to back up your PC. One of them is creating a restore point. You can restore your computer using System Restore to an earlier good point in time. Restore points are automatically created each week by System Restore and when your PC detects a change.
4] Troubleshoot in Clean Boot State
Clean Boot State refers to the process of starting a computer system with only the most essential files and services required by the OS. It is used to diagnose and troubleshoot advanced Windows problems. If your computer is not starting normally, or if you receive errors when you start the computer that you cannot identify, you could consider performing a "clean boot."
When you start the computer in clean boot, the computer starts by using a pre-selected minimal set of drivers and startup programs, and because the computer starts with a minimal set of drivers, some programs may not work as you expected.
I hope something here helps you!
What does Hard Error mean?
Hard Error can be caused due to a faulty RAM module caused by a hardware failure or defect. They end up manifesting as a memory module that does not register on start and prevents booting.
How do I fix Unknown Hard Error?
Some of the ways to fix the error, like Updating/reinstalling the problematic program, Using system restore, troubleshooting in Clean Boot State, etc. have been described in this post.