Thanks to the internet, the world is shrinking in size. The internet is equal and offers equal opportunity for all people across the world. A software developer from India can sell his product in the U.S. One of the crucial problems that arise in cross-border trade is the language barrier. More than often, we need to translate documents, emails or pitches to a foreign language before sending it out to a client.
Best Free Translator apps for Windows 11/10
Hiring a translator might not be economically feasible for smaller companies. This is where the Translator apps come to the rescue. You can use offline/online translators to translate documents into foreign languages. In this article, we will list some of the best offline translator apps that you can use on Windows 11/10.
Translator app for Windows
Just Translate
Translator Metro
Mate Translate
DualClip Translator for Windows.
1] Translator app for Windows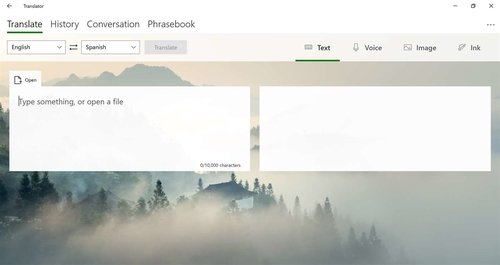 I for long was hooked to Google Translate but once I tried out the Translator I was left impressed. The best part of Translator 10 is that it can work offline unlike Google Translate which is a complete web-based application. We have tested the app extensively and listed below are some features and how the Translator app fared in these categories.
The Translator app is free to use and supports real-time translation. I have tried this tool while conversing with international clients and it has left me impressed. Thats not all, you can also use Camera translation, Voice Translation, and Offline Translation. The Offline Translation feature is very important and comes in handy while traveling abroad.
As a bonus, you also get Word of the Day feature and the Translator app will automatically favorite your most used phrases. You can download Translator app for Windows from the Microsoft Store.
2] Just Translate
Just Translates is an offline translator app for Windows. This app offers some of the best features and best of all is free to use. Just Translate comes equipped with an ability to translate across more than 50 languages. The inbuilt grammar checker tool will flag your typos and grammatical errors. You can also save the translated file in the PDF format. You can download Just Translate from the homepage.
Read: Best free Voice Changer software and online tools
3] Translator Metro
Translator Metro seems to be based on Google Translator engine. So if you want the prowess of Google Translate on Windows, then the Translator Metro is a pretty useful app. The app supports translation across more than 90 languages and also offers automatic language detection feature. The only qualm is that Translator Metro is an online-only app and this might be a drawback for some of us. You can download and use Translator Metro from the Microsoft Store.
4] Mate Translate
Mate Translate is a translator extension for Edge browser. It is designed to cover all your translation needs and supports words, phrases, and documents across more than 103 languages. The tool also offers a paid human translator as an optional.
The Mate Translate also lets you highlight any word on a webpage and translate it by hovering the mouse. This ensures that you don't have to leave the webpage or close your application for translating needs. Overall, the Mate Translate is a handy tool that delivers as promised. You can also install Mate Translate on multiple devices across multiple platforms and sync up your preferences. Download Mate Translate from the official site.
5] DualClip Translator for Windows
DualClip Translator addresses some of the issues that are inherent to Bing and Google translator. Once downloaded and installed the program translation of selected text or clipboard contents with Google/Microsoft Translator. This makes it very easy to translate.
I personally found the DualClip to be very useful whilst reading articles online. All you need to do is highlight the text selection and the program will take care of the rest. DualClip is powered by a translation engine based on both Google and Microsoft translator (either can be selected). You can also use the screen capture feature to take a screenshot and translate the content. DualClip also offers customizable hotkeys and an option to set the default output language. You can download DualClip Translator from the homepage.
More such apps: