At times, you may feel the need to translate content from documents or even a foreign website into your native language or any other language you're familiar with. Usually, we would tell you to make use of translation tools from either Microsoft or Google, but today, we are going to focus on another method using DeepL.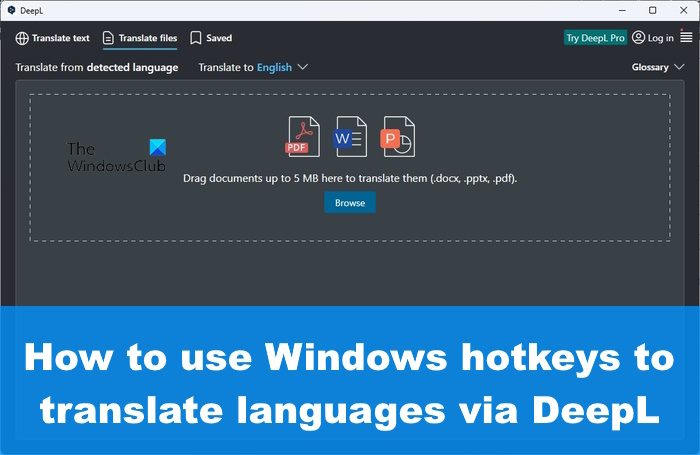 There are several alternative translator tools out there, but only a few can go toe-to-toe with what Google and Microsoft have to offer. In fact, Microsoft takes things one step further with the incorporation of its translator feature in Microsoft Office.
Now, as for the app were going to talk about here, it is called DeepL. It is mostly known as an online translator service, but there is also a Windows desktop program for those who prefer more options. With DeepL, users can easily translate with hotkeys rather than continuously pressing the mouse keys.
How to use translate languages faster with DeepL for Windows
Let us see how you can use DeepL to translate languages faster using Hotkeys on your Windows 11/10 computer.
If you haven't already, then the first thing you need to do here is to download the official DeepL app to your Windows computer.
Open the file, then follow the instructions to install it on your computer.
With the DeepL tool up and running, it is time to translate your first body of text if you haven't done so already.
Load up the Türkiye version of the Microsoft website. This is just for demonstrational purposes, so you can choose another.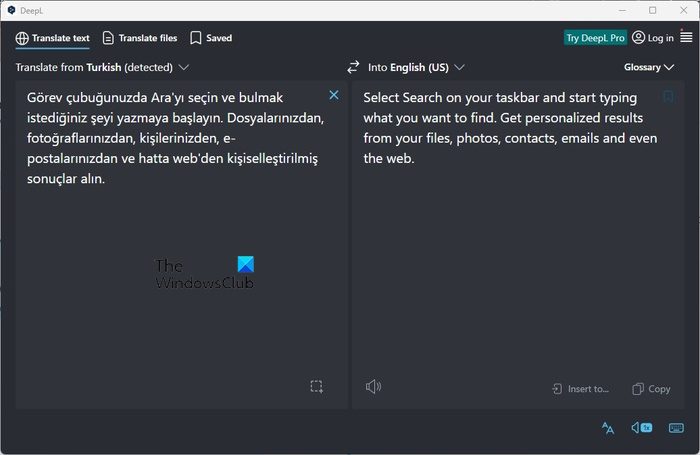 Select a passage of text from the website to translate.
Once the text is selected, press CTRL + C to copy the text.
Press CTL + C twice to bring the DeepL app to the forefront.
Press CTRL + P to paste the text into the box at the left.
In a short moment, the translated text will appear in the box at the right.
If need be, you can change the output language and the input language with ease.
How to translate files in DeepL
DeepL is not only capable of translating copied text, but also text from your saved files. Let us look at how to accomplish this with ease: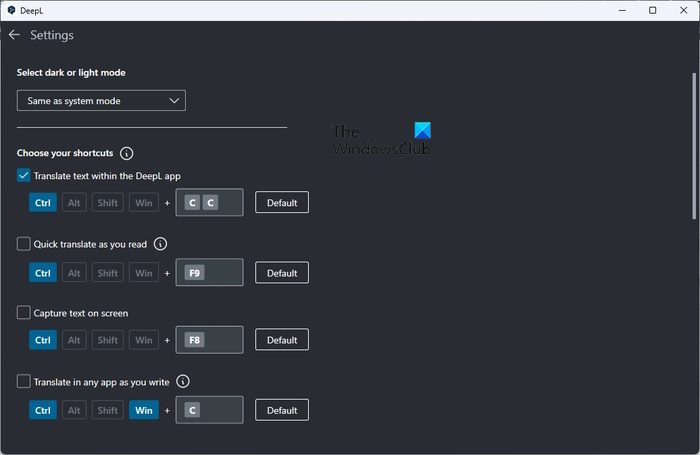 To begin, please click on the Translate Files tab. Here you will get an idea of the supported document formats.
At the moment, only Microsoft Word, PowerPoint, and PDF documents are supported by DeepL.
After clicking on the Translate Files tab, you must add your files for translation.
Either drag and drop the file or click the Browse button.
Press the Open button to initiate a translation.
We must note that copying a text and pressing CTRL + F9 will launch a small window designed for quick translations.
How to change hotkeys in DeepL
The option is there to change the hotkeys when needed. You can do this if you disagree with the default setup.
To make the changes, please click on the hamburger menu button at the top-right.
Select the option that reads, Settings.
Go to Choose your Shortcuts and change the hotkeys to what makes sense to you, and that's it.
READ: How to translate Text to Braille in Windows
Does DeepL have a browser extension?
Yes, the DeepL tool now has a browser extension, but only for Google Chrome at the time of writing. The extensions work quite well, though it doesn't come with any standout features, that's OK from our point of view.
Which online translator is the most accurate?
We have used multiple online translators over the years. Tools such as Google and Microsoft Translate are among them. However, when it comes down to accuracy, DeepL takes the crown, and that's rather surprising.