This post talks about how you can translate Text to Braille in Windows 11/10. Braille is a tactile reading and writing system named after its creator and inventor Louis Braille. It is specially developed for blind and visually impaired people and is traditionally written on embossed paper. Blind people can read the text embossed on a paper by touching and feeling the letters written in Braille. In Windows 10, you download and use Braille using the Narrator.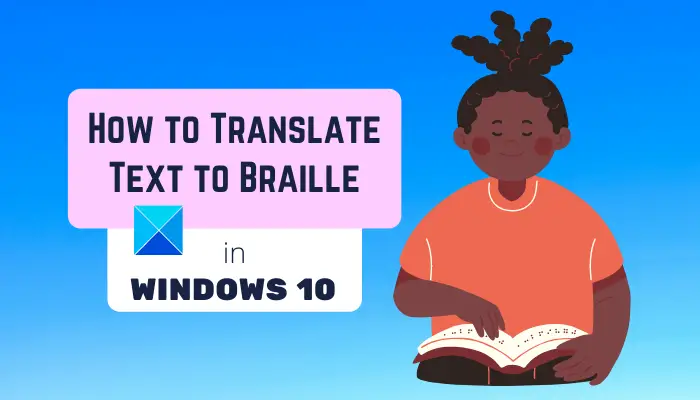 Now, if you want to translate plain text or text from a document to braille, how to do that? Well, let us find out in this article. Here, we are going to mention a free software that allows you to translate manual text or document files to Braille on your Windows PC. Let us check out what is this freeware and what are the Braille translation steps!
How to translate Text to Braille in Windows 11/10
To convert text to braille, we are using this dedicated software called BrailleBlaster. BrailleBlaster is a free and open-source software to translate text to braille. Here are the main steps to translate text to Braille in Windows using BrailleBlaster:
Download and install BrailleBlaster.
Launch the BrailleBlaster program.
Type your text or import a supported document file.
Check the Braille translation in the dedicated section.
Modify the text if needed and see the respective braille translation.
Save or emboss the Braille translation.
Let's get into the details of the above steps now!
Firstly, download and install BrailleBlaster on your Windows PC. And then, open it to launch its main GUI.
On the main screen, you will see two side-by-side panels. In the left panel, you can enter your plain text manually or you can also import a document file. To import an existing document to it, you can click on its Open button and browse and open a document in a supported format. As you enter or import text, you will see the respective braille translation in the right-side panel.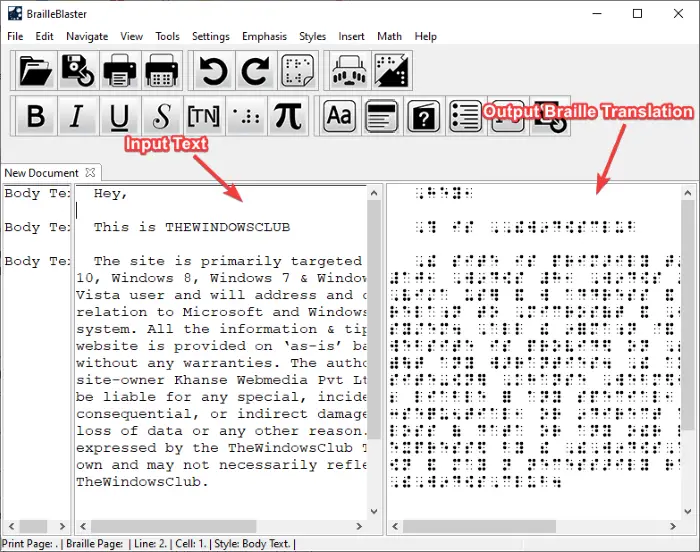 If you want to make changes to the text, you can do so in the text editing panel and see changes in braille translation at right in real-time.
When done, you can save the text to braille translation in Braille Ready File (BRF) or Portable Embosser Format (PEF) file. It also lets you print the braille translation as a PDF or on a hard paper sheet.
You can also directly emboss the braille translation from this software by clicking on the Emboss button present on the toolbar. It asks you to select an embosser device, embosser manufacturer, and embosser model to complete the process. Set up these configurations and then start the braille embossing process.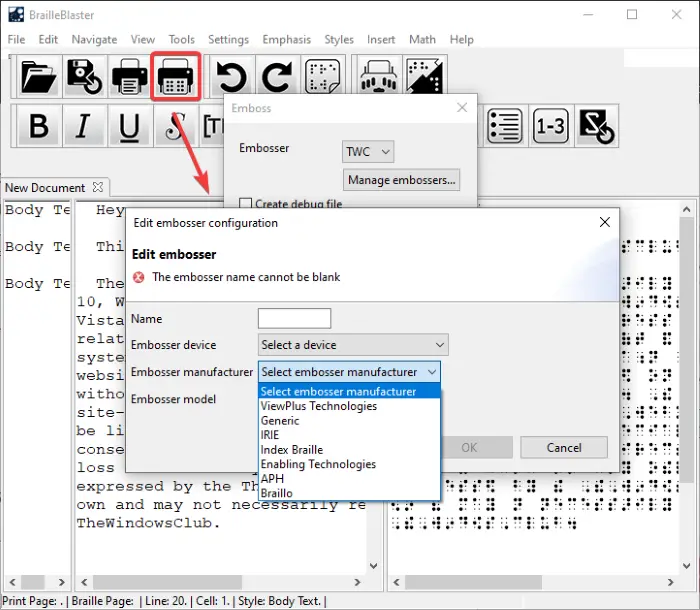 Main Features of this Braille Translator Software:
Here are some nice features of BrailleBlaster that are worth mentioning:
It can translate Braille in Unified English Braille (UEB) and English Braille American Edition (EBAE) standards.
It supports a lot of document formats to import and view respective braille translations.
The supported formats in this braille translator software include HTML, LaTeX, DOCX, EPUB, BBX, BBZ, XML, TXT, Markdown document, and ODT. You can even open a ZIP file containing any of these documents.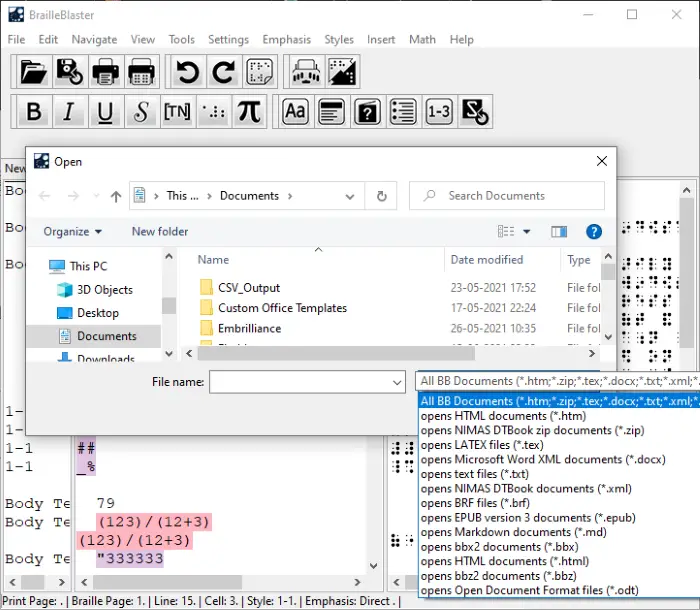 It can translate plain text, mathematical symbols, logical symbols, greek letters, functions, arrows, grouping brackets, and more to Braille effortlessly.
It provides you a dedicated Math menu from where you can toggle math translation, open and use ASCII Math Hub, use Spatial Math Editor, create Nemeth passage block or inline, etc.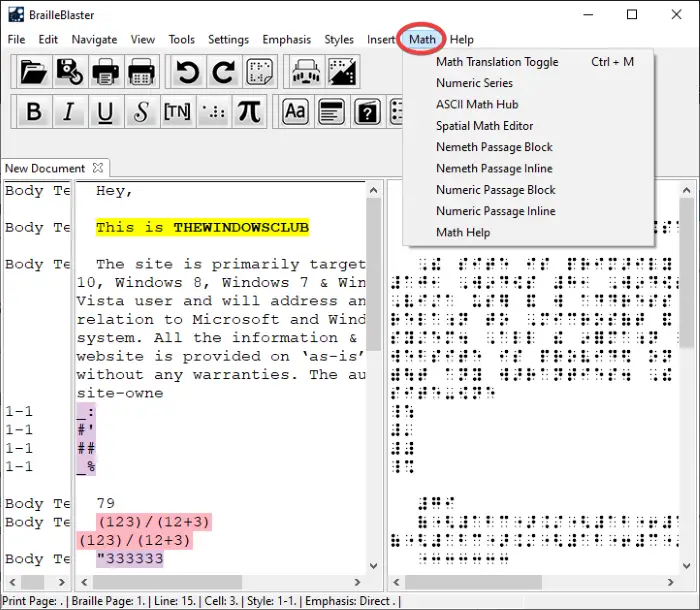 In it, you can also automate braille Table of Content, preliminary pages, glossaries, and special symbols pages.
You can insert note separation lines, image place holder, table, running head, and more to the text editor for braille translation.
It provides handy editing options including Find and Replace, Edit Print Page Numbers, Repeat Last Search, Page Break, etc.
Easy navigation options are also provided in it. You can even configure view options like icon size, increase or decrease font size, etc.
You can style a text as blocked text, centered text, heading, transcriber note, list level, etc. It provides options to customize line spacing, skip number lines, etc. You can use the pre-assigned hotkeys that it offers to quickly change text style.
A dedicated Emphasis option to add a typographical emphasis (bold, italic, underline, script,  transcriber note symbol, etc.) to your text is also available in it.
You can also set up various configurations including page properties, braille standard, page number settings, and embosser settings.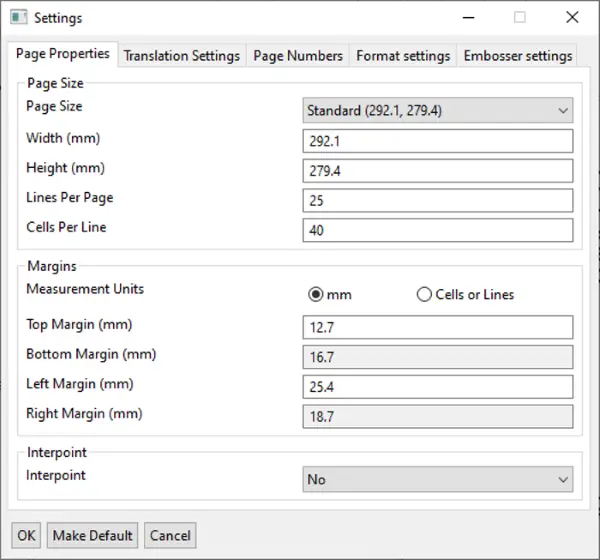 Some additional useful tools that you can find in it include Spellcheck, Correct Braille Translation, Six Key Mode, Table Editor, Convert Text to Table, etc.
Want to use this great free text-to-braille translator on your PC? You can download it from brailleblaster.org.
I hope this article helps you learn how to translate text to braille in Windows with the help of a free software called BrailleBlaster.
Now read: