Voice changing software lets you change your voice to sound like someone else easily. By using these fun software or tools, users can conveniently change their voices during chatting over calling apps or while playing online games. These programs are unique, as they allow you to change your voices from men to women, women to men, robotic voice, alien voice and cartoon voice. Voice changers are available in the form of several free software and as readily usable online tools. Here are the best available free voice changer software for Windows 11/10/8/7 and some online tools.
Voice changer software for Windows PC

When it comes to voice changer software, there are two types; real-time voice-changing software and non-real-time voice-changing software.
Real-Time Voice Changers: These allow the users to change their original voice to multiple funny and entertaining voices like men in the case of women, or women in case of the men, and much more. Users can even change the pitch of the voice.
Non-Real Time Voice Changers: These allow the users to first record their voices in supported audio formats. Then, further, they can change the pitch of the voice by using period, frequency, pitch, tone color and much more.
Let us take a look at two of the best free voice changer software.

1] Voxal Voice Changer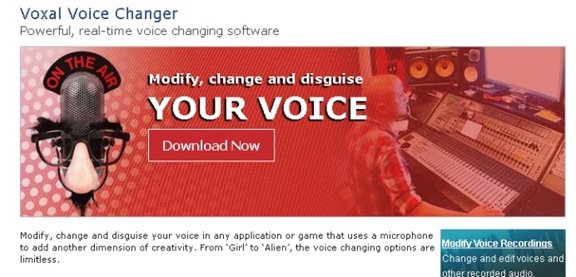 Voxal Voice Changer is a free voice changer software for Windows. This software allows users to apply various predefined effects to their voices. Several effects to the voice coming from the microphone can be applied in real time. The applied effect can be previewed, and several effects to existing sound files can also be applied. This voice-changing platform allows users to easily adopt genuine voices of girls, boys, robots, aliens, and many more interesting options. Voxal Voice Changer offers features and functionalities for modifying, changing and disguising the voice in real-time. This software is simple and has a user-friendly interface. It is free for non-commercial use.
2] Skype Voice Changer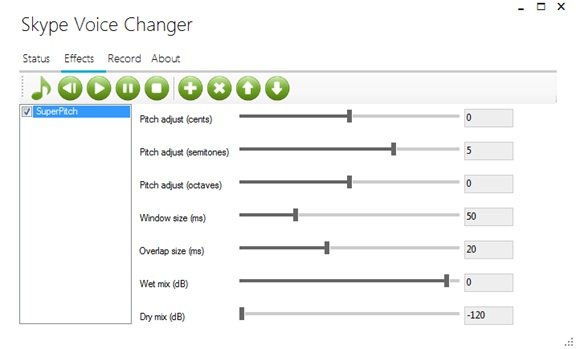 Skype Voice Changer is another free and real-time voice-changing software developed by Skype. It is one of the best applications available to trick others by adding real-time voice changing effects to the original voice during a live call over Skype. Users also get the option to customize the same with various effects in the software. This software works with the desktop version of Skype and is also available in a portable version. It is easy to use and also very popular software, as it is one of the most entertaining ways to trick others and enjoy while chatting with someone over Skype. It is available at skypefx.codeplex.com.
Voice changer online tools
Online voice changers are convenient and simple tools that can be used right on your browser. These tools allow you to record your voice using a microphone or upload audio files from your computer and transform it by adding several effects. These online voice changers are completely free and do not involve the hassle of downloading heavy software.
1] Online Tone Generator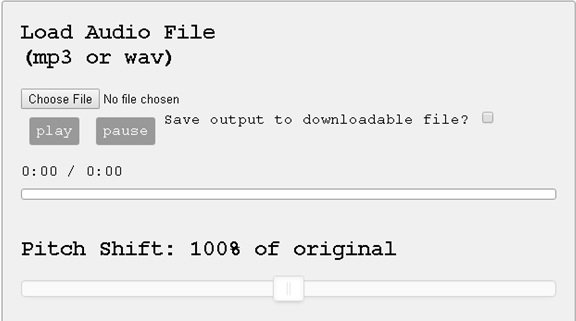 This is a free online pitch shifter tool that allows the users to change the pitch of their audio files (.mp3 or .wav format), without affecting the tempo. Users can also save the pitch-shifted files as mp3. Using this tool is very simple; just enter your desired frequency and press play. The online tone generator can play four different waveforms: Sine, Square, Sawtooth, and Triangle. Just click on the buttons to select which waveform you would like to generate. Online Tone Generator is compatible with the latest versions of Chrome, Firefox, Safari and Microsoft Edge. You can try the tool here.
2] Voice Spice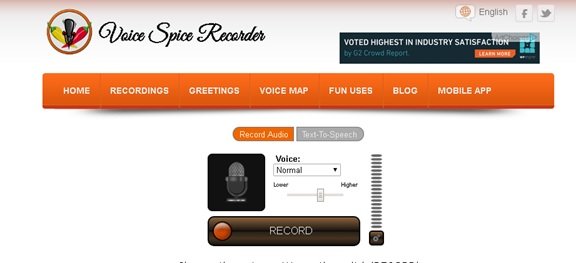 Voice Spice is a free, fun, and easy-to-use online service that allows you to record and morph your voice to various other voices. Some fun transformations that you can do to your voice would be to change it to the voice of a scary hell demon, a funny little space squirrel, and much more. Using this tool is simple; all you need is a microphone and a Web browser with the Flash plugin. Again, there is no software to download. Simply pick a new voice, record a message, and let Voice Spice do the work. The messages can be later shared via Weblink, Facebook, or Twitter feed. You can try this online tool here.
There are lots of free voice changer software floating on the Internet. Hence it can be a daunting task to select the most appropriate ones. This list will surely help you in some way.
Which a good free Language Accent Changer software for PC?
You can use any Real-Time Voice Changer software mentioned in this post to change your accent. Voxal Voice Changer is good. They allow the users to change their original voice to multiple funny and entertaining voices. You can even change the pitch of the voice.
Which is a good Best free Translator app for Windows PC?
Translator app for Windows, Just Translate, Translator Metro, Mate Translate and DualClip Translator for Windows are some of the best Free Translator apps for Windows. Make sure to check out each of these tools, and then choose what works best for you.