When upgrading from an old PC to a new PC, it's essential to bring all the applications and files. If you aren't upgrading the OS and setting up a new Windows 10 computer, then this post will offer a list of free programs. These programs can transfer files and applications from one – say Windows 10 PC to another Windows 11 PC.
Free software to transfer files & applications from one PC to another PC
The best way to move all your files from one computer to another is to clone the hard disk of the source computer into the target computer. You will have everything intact, but you have to activate any software with a single computer license.
Windows System Image
Samsung Data Migration
AOMEI Backupper Standard
Seagate DiskWizard
Renee Becca Data.
Note: If you are here looking for migrations tools, check out our post on Windows 7 to Windows 10 Migration tools.
1] Windows System Image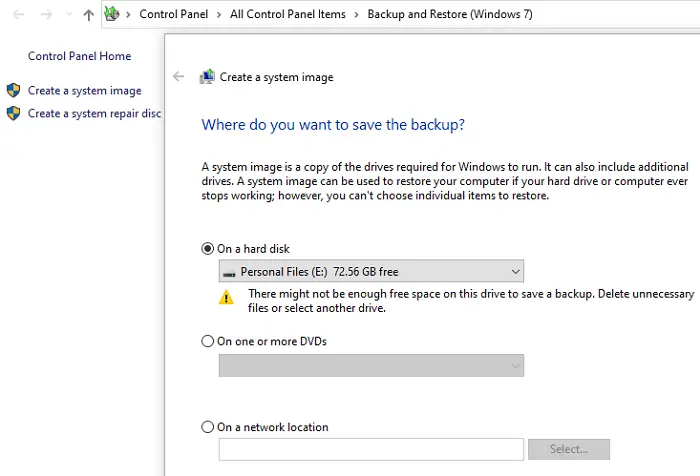 Since you are moving from one pc to another, creating a System Image is the best way to go ahead. It will create a replica of your drive. You can then later use the same image to install Windows with everything intact on another computer. You will have to install new drivers as the hardware has changed. Apart from this, you may have to activate Windows again. We recommend you to create a System Image of your computer periodically as a part of your backup plan.
2] Samsung Data Migration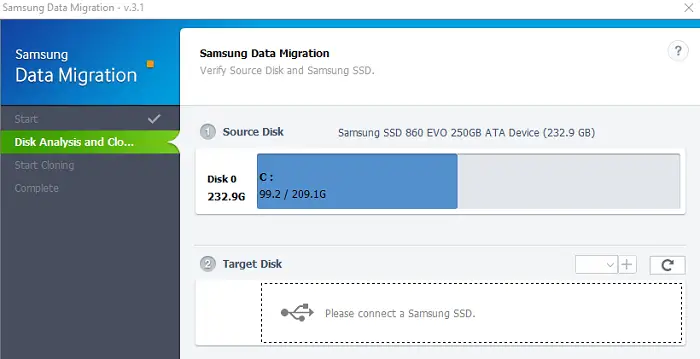 Most of the computer users are now opting for an SSD, which is a lot faster compared to HDD.  If you buy a Samsung SSD, then you can use their Data Migration software to transfer files and applications from one Windows 10 PC to another PC. However, it only works with SSD, but it is straightforward to use.
Connect the SSD to your old computer and make a clone of your old HDD into the new one. Then connect the SSD to your new computer and boot into it. Your old HDD can be of any brand, but the target device should be an SSD from Samsung. If you receive cloning failed error, then follow the guide to resolve it.
Download the tool from Samsung's website.
3] AOMEI Backupper Standard
AOMIA Backupper offers three main functions: Backup, Restore, and Clone. It is easy to find them on the left side of the main interface.  For those who purchase a new hard drive and don't want to lose the data present in the old one, AOMEI provides them with the clone option. A partition or a whole disk can be cloned to another partition or drive. An advanced function in this part is that it allows users to resize partitions during cloning. With this function, not only can the data can be transferred, but the partition size on a new hard drive can also be allocated.
4] Seagate DiscWizard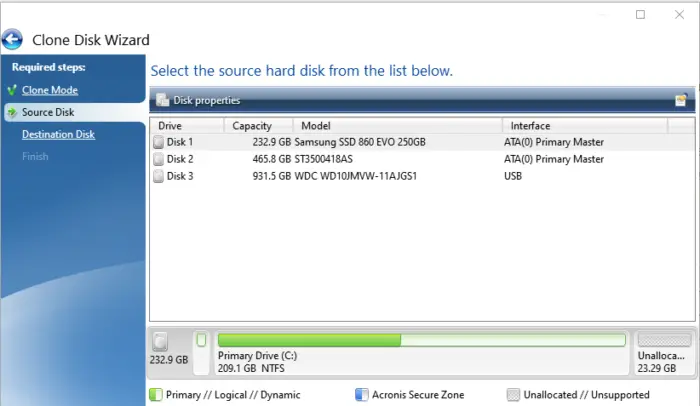 Seagate DiscWizard works with types of storage devices, including SSD. Once you install the software and launch it, switch to Tools, and then click on Clone Disk. Then you will have two options—Automatic Clone and Manual Cloning. Automatic cloning will make sure to copy the source storage to the target disk and make it bootable. The computer will then reboot into a pre-Windows environment where the software will create a clone.
Related: Best free, fast File Copy software for Windows PC
5] Renee Becca Data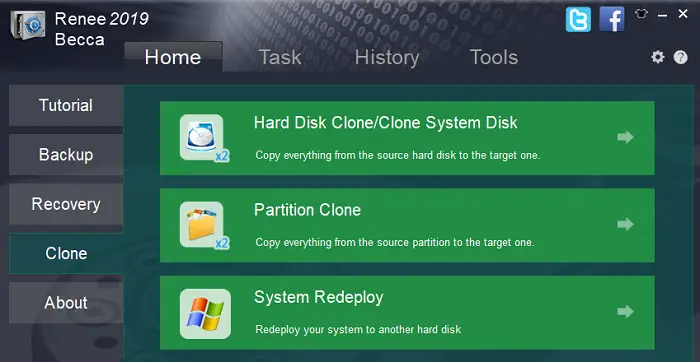 The clone feature in Renee Becca offers three options — Hard Disk Clone/Clone System Disk, Partition Clone, and System Redeploy. If you are moving between PCs, then it's best to use the System Redeploy option. It creates a System image in the background and clones it to the connected drive. You will have to request a free license to unlock the software if it's for personal use.
I hope you find this post useful.