Samsung Data Migration is a software that allows users to clone HDD or SSD to Samsung branded SSD. It is the easiest way to switch if you are changing, just the hard drive. When I was trying to clone my primary partition, I received a message — Cloning Failed, An error occurred while reading the disk. It was surprising because I had cloned it earlier, and this was my second time. So I was sure that it has nothing to do with the drive. It took me a while to figure out, so here is how you can fix this issue, and clone without any problem.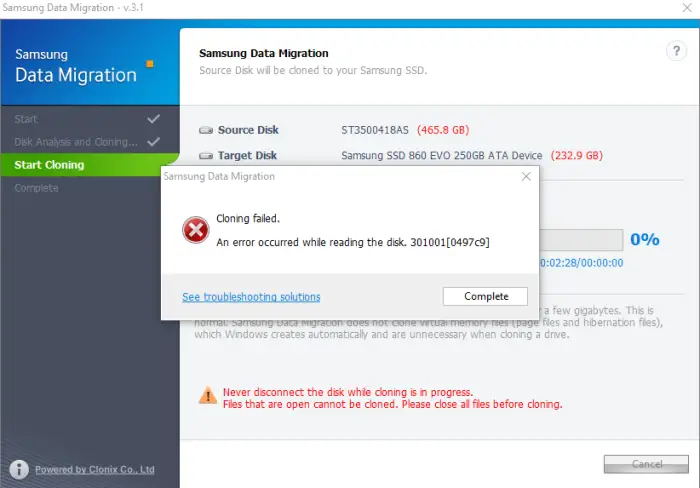 A bit of background before we go-ahead
I have a Windows 10 PC, which is now 6-7 years old. The past few month's performances started degrading. So, I decided eventually moving to SSD and increased RAM as the only solution. I wasn't ready to change the complete setup, as it would have been a waste of what is still working.
So I got a Samsung 860 EVO 250 GB,  plugged into the computer using a SATA wire from the computer at home. That's when I cloned it for the first time, and it worked just fine. The next day, I got my new SATA wire, and so I changed it on my office computer. When I rebooted, I started getting Blue Screen of Death. I tried booting into safe mode, and it still gave me BSOD. Since I had the previous installation intact on my old HDD, I booted into that, and it worked fine.
I checked for  Hard disk errors, ran the Samsung Magician tool to check for SSD errors, but nothing. The first failure occurred after 30 minutes, and the subsequent tries resulted in errors were within 2-3 minutes.  Finally, I decided that it is best to clone it again, and that's where things got weird.
Samsung Data Migration: Cloning Failed, An error occurred while reading the disk
When I checked for the error, most of them were—An error occurred while writing to the Target Disk. However, for me, it was reading the disk. 
Change SATA Port on Motherboard
Run Chkdisk
Check for Bad sectors on HDD
I am going to share first what worked for me, followed by a few general troubleshooting tips which the data migration tool suggested.
1] Change SATA Port on Motherboard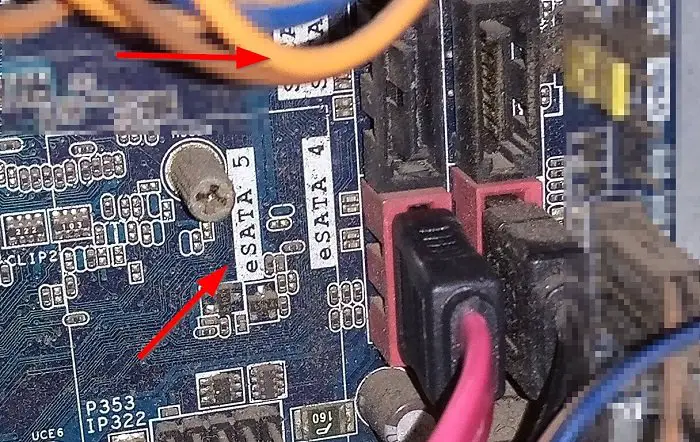 The motherboard of my computer has four SATA ports. Out of which two are eSATA ports, while the rest two are marked as SATA. While I assumed something is wrong with my wire, I first chose to change the port. So I connected it with the red port or eSATA port, which you see in the above image. Next, I rebooted the computer, launched the Software Data Migration tool, and it worked.
What still mind boggles me that SATA is used for an internal device connector while eSATA is used as an external device connector. I assume that it is a limitation of Samsung Data Migration software, which might need it to be on the same type of ports, or it looks only for 1st and 2nd drives. The target drive should likely be the secondary internal drive connection.
The summary from Samsung Data Migration tool hints to something similar:
On systems with two (2) drives or more (e.g. "C:", "D:", and "E:" drives) with the operating system installed on the "C:" drive, only the first two drives will be cloned. The "System" partition that is created during Windows installation is automatically replicated.
I could be wrong, but changing the port worked, and both HDD and SSD are on the same type of ports. So it has to mean something.
2] Run Check Disk tool
Check Disk is an inbuilt tool from Microsoft which can repair disk issues which windows can resolve. To run Check Disk on your System Drive (C), using the command line, type the following and press Enter key.
chkdsk /f C:
If required, restart your computer. Chkdsk command can repair bad sectors if they can be repaired.
3] Check for Bad sectors on HDD
Bad Sectors are part of hard drives that cannot be used to store data. If you have a bad sector on your HDD, then the Migration tool will not clone it. Tools like Hard Disk Validator can help you find and confirm. Download the software from the website, and confirm. There are many third-party tools slike Windows Surface Scanner, HD Tune, Macrorit Disk Scanner, EaseUS Partition Master Free, AbelsSoft CheckDrive, HDDScan that delivers a better experience.
I hope the post truly helped you to fix the problem with the Samsung Data Migration tool, which gives the error — Cloning Failed, An error occurred while reading the disk. The baseline is to switch the ports and see what works for you. Make sure to power down the computer when you do that. It's going to be tedious, but cloning is the fastest way to switch the hard drive.