This post will help you if your Thumbnail Previews are not showing in Windows File Explorer and show you how you can enable or disable Thumbnails in Windows 10/8/7 Explorer.
Whenever you open Explorer and view images, you see the miniature of the image in its icon's place. These are called Thumbnails. But if you see only its default icon, then this post will help you fix the issue.
Picture Thumbnail Previews not showing
First, open Disk Cleanup Utility and use it to delete Thumbnails. This will clear your Thumbnail cache. Next, open Control Panel and click open Folder Options. Here, under the View tab, ensure that Always show icons, never thumbnails is unchecked.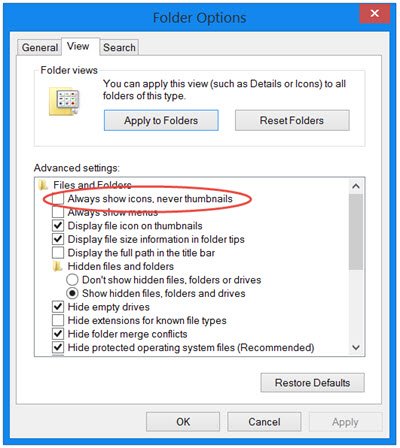 Click Apply and Exit.
Alternatively, you could do the following. Open Control Panel, select All Control Panel Items and then click on System. Now, on the left side, you will see Advanced system settings. Click on it.
Next, under the Advanced tab, click on Performance Settings. Under the Visual Effects tab, you will see Show thumbnails instead of icons. Make sure that this option is checked. Click on Apply and Exit.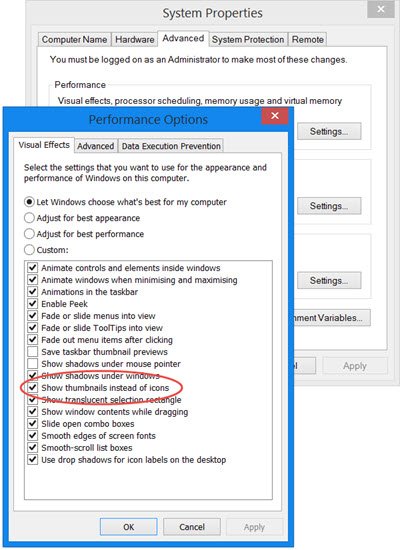 You may be required to restart Explorer.
Once you have done this, you will be able to see Thumbnail Previews for images, videos, and other file types in File Explorer in Windows 10/8.1.
On a related note, did you know that Explorer Thumbnails offer four border options, viz. No border, Straight border, Photo border, and Shadow border. See how you can change Thumbnail Preview Border in Windows.