When trying to play a video on any browser we may face the error code 102630 which usually signifies that an empty playlist has been selected. Technically, this error should pop up if and only if we click on the wrong link, but in reality, the error code appears even when trying to access genuine content. Because of this, we can say that this is a network error. The network error itself can happen due to various reasons. In this article, we will discuss all those reasons and measures you can take to resolve them.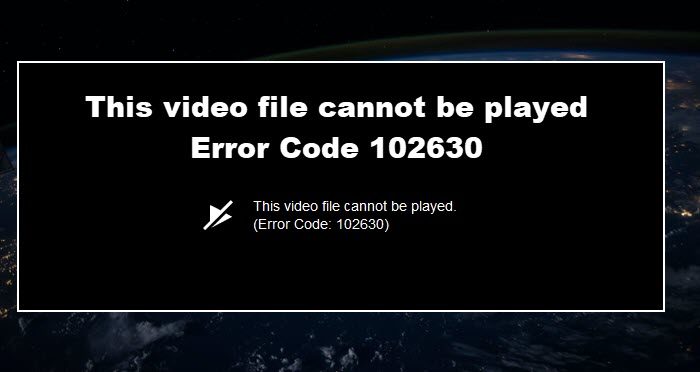 Fix This video file cannot be played, Error Code 102630
You may see This video file cannot be played, Error Code 102630 if your network connection is facing some issues or your browser is misconfigured or has corrupted files. The following solutions should be used when our browser fails to load a genuine video.
Check the Internet Connection
Repair Video
Change File Size
Clear the Cache & Cookies of your browser
Reset Browser Settings
Turn off Add-ons
Update your browser
Let's use these methods to resolve your issue.
1] Check the Internet Connection
If we are encountering error code 102630 while playing a video online then to resolve this error we need to make sure that we have a stable Internet connection. This issue will occur when we have a slow internet connection, therefore it's necessary to check the bandwidth, to do the same, we can use any of the free online Internet Speed testers. If it is slow, restart your router, and see if you are able to play the video, but, if it persists, dial your ISP.
2] Repair Video
If we get this error when playing a local video, there is a possibility that the video is corrupted. Corrupted files are part and parcel of the digital world, that's why there are a lot of free video repair tools that you can use to repair corrupted video. Once your video is repaired, launch it and your issue will be resolved.
3] Change File Size
You may also get error code 102630 if the browser doesn't support the video's file type. In that case, we can just convert the file to some other type. If that doesn't work, we can use another video playback app for the same purpose.
4] Clear the Cache & Cookies of your browser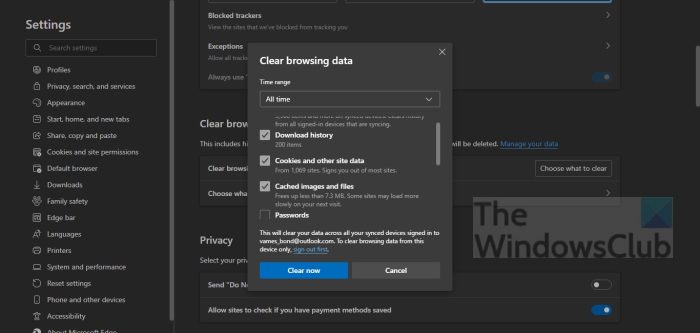 We all know that the browser's cache and cookies are one of the causes of the error code 102630 as they easily get corrupted. In this scenario, clearing the cache & cookies of the browser can resolve our issue. Follow the prescribed steps to do the same.
Chrome
Open Chrome Browser on your computer.

 On the top right side of the screen click on the three-doted line, click on the

More tools icon then choose Clear browsing data.

On the right side of the screen click on 

Advanced

 

Select

All time

under Time range.

Make sure to check both the options Cookies & other site data

and

Cached images & files and click on Clear data.
Edge
Open Edge.
Click on the three horizontal dots and then select Settings.
Click on Privacy, search, and services and then on Choose what to clear from the Clear browsing data section.
Set the Time range to All time, tick all the required boxes, and then click on Clear now.
Firefox
Open Firefox
Click on Open Menu, the three lines.
Select the Library option
Navigate to History > Clear Recent History option
Finally, tick all the required options.

Click Clear Now
Once the cache is deleted, close your browser, launch it and play a video to see if the issue is resolved or not. If it persists, move on to the next solution.
Read: Error loading player No playable sources found
5] Reset Browser Settings
Making changes to your browser settings, sometimes leaves a bad effect on its performance such as the error code popping up on your screen. If this scenario is applicable to you, we recommend you reset the browser to its default settings. Follow the prescribed steps to reset browser settings.
Chrome
Launch Google Chrome
Type chrome://settings in the search bar of Chrome and hit Enter.
Go to Reset and clean up.
Click on Reset settings to their original defaults.
Click on the Reset settings button.
Edge
Open Edge Settings by clicking on the three vertical dots and then selecting Settings.
Click on Reset settings.
Select Restore settings to their original default values.
Click on the Reset button.
Firefox
Open Firefox
Click on the three horizontal lines.
Click on Help
Select Troubleshooting information
And finally, click on the Refresh Firefox button.
6] Turn off Add-ons 
Another reason for this issue can be due to using extensions on your browser. Add-ons are sometimes known for affecting users' browsing experience as they may not be compatible or secure, or simply slowing down the browser. You can either disable or remove add-ons one by one to see which one is causing the error in question. In case, after disabling a particular extension or add-on, the video starts playing, just remove it and install it again, as it is corrupted. In case, after reinstalling the extension, your video stops playing again, uninstall it for good as the addon is not compatible with your system.
7] Update your browser
Last but not least, if you are running an outdated version of the browser, then surely you can not play the video. However, this issue is easily solvable by updating it to the latest version. So, go ahead and update your drivers, if the issue is a result of an outdated browser, this will do the job for you.
Hopefully, this solution will resolve your issue.
How do I fix This Video cannot be played error code?
We will get This video cannot be played with some error codes such as 232011, 224003, and 102630. The moment such an error pops up in any browser, first up, clear the corrupted browser cache and if that doesn't work, remove extensions to find out if any one of them is causing the error.
Also Read: Fix 0x10100be error, This file isn't playable in the Movies app or WMP.