If there is an important video that you need to view but are not able to run, you are at the right place. In this article, we are going to see some of the best free Video Repair software for Windows 11/10.
Free Video repair software for Windows 11/10
Our main focus while creating this list was effortlessness, therefore, all the applications on this list are simple. These are some of the best Video repair software for Windows 11/10:
VLC Media Player
Meteorite
DivFix++
DivXRepair
Get My Videos Back.
Let us talk about them in detail.
1] VLC Media Player
VLC Media Player is one of the most popular media players in the market, but, what many people don't know is that it has a market leading Video Repair tool as well.
So, if you already have a VLC Media Player then you should not download an extra software instead just use its tool. To do that, launch VLC Media Player, click Tools > Preferences > Input / Codes. Now, change Damage or incomplete AVI file to Always fix and save the changes.
Finally, launch the video and the corrupted file will be fixed automatically. But if this doesn't fix the issue then you should look for some other dedicated Video Repair software.
Fix: Video Stuttering and Lagging issues in Windows
2] Meteorite
If you have a corrupted MKV video then Meteorite is the way to go. It has one of the most minimalist UI. You just need to drag and drop the file and you are good to begin the process.
Meteorite will scan the file for errors and automatically repair it for you. So, if you are not very technical but want to fix an MKV file then download Meteorite from their official website.
3] DivFix++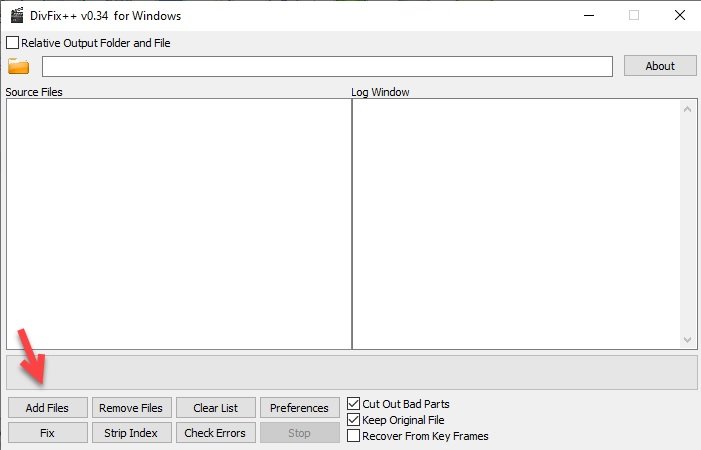 DivFIx++ is our first dedicated video repair tool and it is one of the best in the market. In particular, they are good if you want to repair AVI files.
To repair a video, first, download the zip file from their official website and extract it. Now, click on the Add Files button to add a corrupted AVI file. Now, click on Check Errors to let the software search the file for errors.
Finally, to repair the video click on the Fix button and make sure to tick Cut Out Bad Parts. It has some other options such as Strip Index to remove the index of the video, or, Keep Original File if you want to keep the corrupted file as well as the repaired file.
TIP: Digital Video Repair will help you fix Pixelated Videos.
4] DivXRepair
Last but not least, we have DivXRepair. It has a simple UI that can fix your AVI file effortlessly.
To start with the repair process, download and extract the zip file, click on Add file and select the file from its location, click on Repair file to start repairing it. It is as simple as that.
Therefore, if you want simple software in order to fix your AVI file then download the software from here.
5] Get My Videos Back
Apart from having a very obvious name, Get My Videos Back, is one of the simplest software on this list.
To start using the application, you need to first download it from here and run it on your device. Click on the Open and Start button to get started with the procedure. You can even see the state of your file as the scanning progresses in the small rectangle box.
It is one of the simplest applications on this list and supports almost all file types. So, if you have a video that you need to repair then go for "Get My Videos Back".
Hopefully, this has helped you with the best free Video Repair software for Windows 11/10.