While updating your Windows 11/10 PC if you receive an error message – There were some problems installing updates, but we'll try again later on Windows 11/10, then this post may help you. The accompanying error codes could be any one of these – 0x800705b4, 0x8024402f, 0x8024002e, etc.
There were some problems installing updates
I recently faced this issue while updating my Windows Dell XPS, which I had not updated for a long time. This is what I did and this is what helped me. I hope it helps you too.
Fix Windows Update Errors 0x800705b4, 0x8024402f or 0x8024002e
1] Clear contents of SoftwareDistribution folder
Open Windows Explorer and navigate to C:\Windows\SoftwareDistribution.  Now delete all the contents of the SoftwareDistribution folder. The SoftwareDistribution folder in Windows operating system is a folder located in the Windows directory and used to temporarily store files which may be required to install Windows Update on your computer.
2] Run the Windows Update Troubleshooter
Next, run the Windows Update Troubleshooter. The troubleshooter will run and attempt to identify if any problems exist which prevent your computer from downloading and installing Windows Updates.
You could also run Microsoft's online troubleshooter to fix Windows Update Errors. It fixes error codes like 0x80073712, 0x800705B4, 0x80004005, 0x8024402F, 0x80070002, 0x80070643, 0x80070003, 0x8024200B, 0x80070422, , 0x80070020, etc.
3] Run Windows Update in Clean Boot State
Having done this, run Windows Update in Clean Boot State. To do this, you will have to boot your Windows PC in Clean Boot State. This post will show you how to perform Clean Boot.
When you start the computer in clean boot, the computer starts by using a pre-selected minimal set of drivers and startup programs. So you see only a minimum group of needed system programs are loaded and so there is nothing to interfere with the Windows Update process.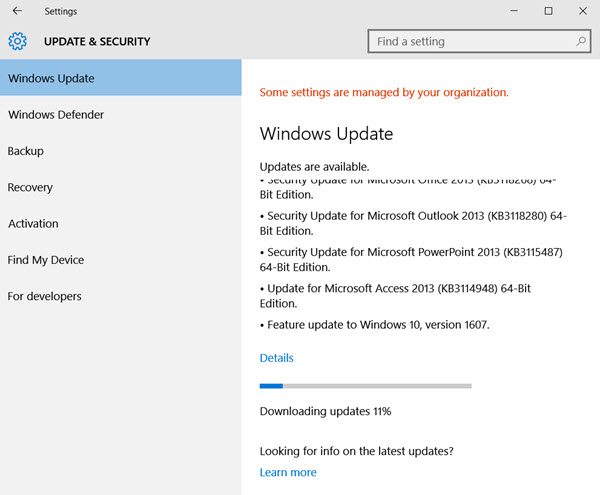 I did this and I was able to install the Windows Updates on my Windows PC. I hope it helps you too.
See this post if Windows Update fails to install and you need further troubleshooting suggestions.