As I have said before in my previous posts, Microsoft Office is one of the best ever productivity suites I have ever used with my Windows PC. But it happens that sometimes you come across different kinds of issues with this software. Well, today, when I was trying to check the emails via Outlook, I came across a strange error.
There is no email program associated to perform the requested action. Please install an email program or, if one is already installed, create an association in the Default Programs control panel.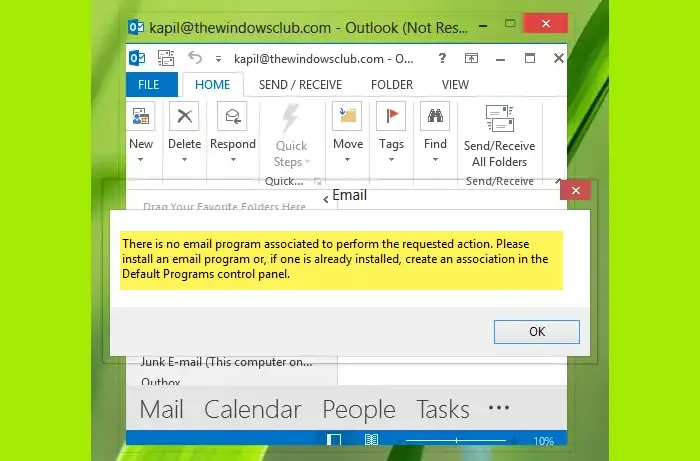 This was the error I came around while using Outlook. Now since the email program is already installed, and the same is generating the issue, then how does one go about fixing it? Well, in this article, I'll show you how to get rid of this issue using Registry Editor:
There is no email program associated to perform the requested action
1. Press Windows Key + R combination, type put Regedt32.exe in Run dialog box and hit Enter to open the Registry Editor.
2. Navigate to the following location:
HKEY_LOCAL_MACHINE\SOFTWARE\Clients\Mail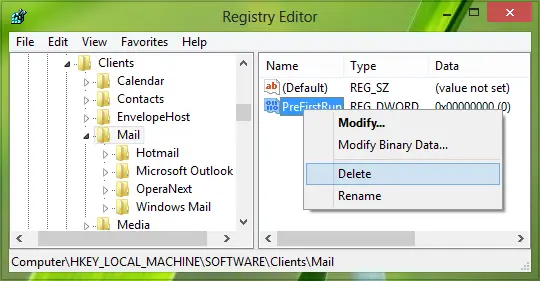 3. Now in the right pane of this location, if you find the PreFirstRun named DWORD (REG_DWORD) or registry string (REG_SZ) there, simply right-click over it and select Delete.
Now again, came to the left pane of this location and locate the Microsoft Outlook subkey to the Mail key (refer to image below):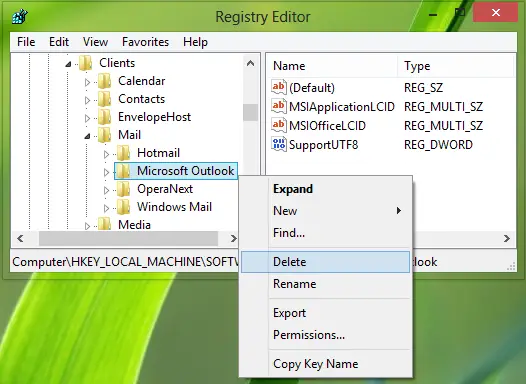 4. Now right-click on the Microsoft Outlook subkey and select Delete. This will delete the subkey, so finally, now you can close the Registry Editor and reboot to get the issue fixed.
5. Now open Windows Settings > Apps > Default apps and set Outlook or Mail app as your default – depending on your preference,
I hope this helps!