Microsoft Outlook is the most popular email client on Windows computers by far, but it comes with its own fair share of issues. Sometimes most Outlook users are not able to access or fetch PST data files. They get an invalid path error message on their screen; The path specified for the file Outlook.pst is not valid.
This means that there is some error or bugs in their Outlook PST file. If you are experiencing such troubles, here are some suggestions on how you can resolve them.
The Path Specified for the File Outlook.pst is not valid
To resolve this problem manually, you can follow the instructions below-
Restore Deleted Items from Recycle Bin.
Set Original PST file As Default one.
Use ScanPST.exe Utility.
Let us have a more detailed look at the listed solutions.
1] Restore Deleted Items from Recycle Bin
When the Outlook PST file is accidentally deleted, you can restore those deleted items from the recycle bin by doing the following-
Go to the Recycle Bin folder, locate the outlook.pst file and restore it.
Check whether the PST file is restored at the original location.
Now, close all opened windows and start the Microsoft Outlook application.
2] Set Original PST file as Default One
Sometimes Outlook PST files are removed by the users. In that case, users must know the current location. To do so, follow these steps carefully –
Go to Control Panel and click on Mail.
Then go ahead and click on Data Files. You will receive the same error message that you get while trying to open outlook.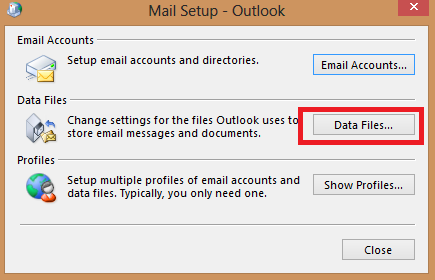 Click Okay and then Cancel to continue.
Select the PST file that you want to use as default and Set as default.
Lastly, Delete the current PST file and restart your Microsoft Outlook.
3] Use ScanPST.exe Utility
Users can also fix the path specified for the file outlook.pst is not valid error by trying an Inbox Repair Tool known as ScanPST.exe. Below are the instructions to run the tool –
The first thing to do is to locate ScanPST.exe based on your Outlook version. After locating it, double-click on it to launch.
Once it launches successfully, a window will be open on your screen in which you have to input the name of the PST file.
Click on the Browse button to choose desired PST files. After that, click on the Start button to initiate the repair procedure.
If any error is found on your Outlook, then you must click on the Repair button.
However, if you tried all these manual approaches to fix the issue and none of them work for you. Then it means that your Outlook PST file is highly damaged or corrupted. So, in that case, you have to use some third party tool to repair those corrupted files.
In this guide, we have explained solutions for The path specified for the file outlook.pst is not valid, and we have also given methods that will help you resolve this issue.
You might also be interested in learning how to  Fix Microsoft Outlook Error 0x800040115.