If you are trying to transfer files from a phone to PC or vice versa and you see a message The device has either stopped responding or has been disconnected continuously, here are some troubleshooting solutions that may help you fix your problem. This error message mainly appears when a user tries to copy a lot of files together or does multiple tasks at the time with the phone or SD card or USB drive.
The device has either stopped responding or has been disconnected
1] Reconnect the device
This is a basic yet working solution to this problem. If the device is busy doing something in the background and you try to copy files or do something else, your phone may get slowed down. Hence, a reconnect could fix this issue.
2] Do one task at a time
If you continuously get the same issue, you should reduce your tasks. For example, do not try to delete a file when the "transfer" window is running. Similarly, do not try to use the phone when you are copying files from one device to another.
If these two solutions have not worked for you and the problem still exists, you can try the following.
3] Verify USB cable/port
Sometimes the USB port, as well as the cable, can create problems. It would therefore be a good idea to check them on other systems before trying anything else. Plug another USB into the same port, and check if it works or not. Next, use the same USB cable to connect to another device and check whether it is working or not. If you find a problem in either case, you know that the fault lies with the cable/port.
4] Uninstall and reinstall USB controllers
If there is an internal issue with the USB controller, then too you can see this message. So you may want to consider uninstalling the USB controller and then reinstalling it. For doing so, open Device Manager, and navigate to Universal Serial Bus controllers. Expand the menu, and find out the current USB device that is creating problem. Right-click on it, and select Uninstall Device.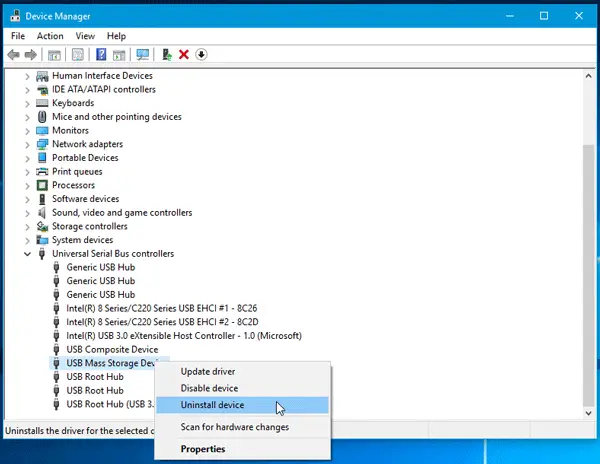 You will see a popup window where you need to select the Uninstall option. Next, unplug the device, restart your computer and plug the device in. If it shows an installation prompt, follow it and install the controller again.
5] Use Hardware and Devices Troubleshooter
Try using the Hardware and Devices Troubleshooter. In Windows 10, press Win + I to open Windows Settings panel and navigate to Update & Security > Troubleshoot. On your right-hand side, you should Hardware and Devices option. Click on this option and then click on Run the troubleshooter button.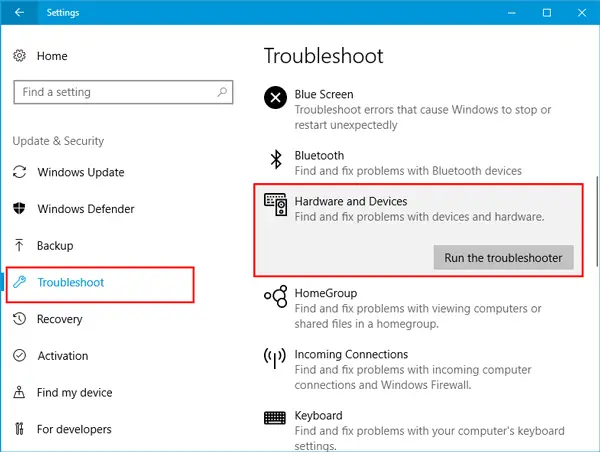 You may also run the USB Troubleshooter and see if that helps.
All the best!