While Windows 11/10 has a powerful search inbuilt into the system, especially with Cortana which allows you to search smartly using filters like music, images, PDF and so on. One of the most underrated, but efficient way to search files easily is using TAGS. Its a feature in Windows available from a very long time, but not much used.
In this post, I am going to talk about how you can use Tags to quickly find files which are important to you and use it with Cortana search box to make it even better.
What are Tags in Windows
These are metadata which can be associated with files, and they are part of Properties. Windows Search indexes Properties, which makes it possible for these tags to be searched.
Why should You be using Tags? When the different type of files fall into multiple categories, and projects, and belongs to multiple persons, tags make sense. You can keep them organized into different folders, but when you put tags, you see them in one window.
How to TAG files in Windows 11/10
Select a file, right-click, and open Properties.
Switch to Details tab, and look for property Tags.
Select the empty place right beside it, and it will convert to the text box.
Here you can input one or multiple tags. In case you want to add multiple tags, add a semicolon between each of them.Once done, hit enter and click on OK button.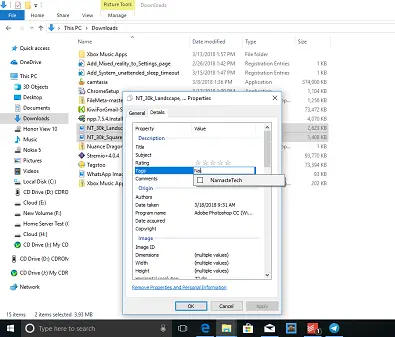 If you use Microsoft Office, you can add tags to word files on the fly while saving it. Open the Office document > Info tab and you will see the Properties there.
You will be able to easily add Tags here.
How to add Tags to Multiple Files
Using CTRL key, select multiple files within the same directory.
Right click > Properties > Details tab.
Add your tags just like above, and then click OK.
All those tags will be applied to those files.
How to Search for Files using Tags
That was the tough part, but searching is much easier. Windows 10 Indexing works almost instantly, and to search files with the tags you added to them, just type in Cortana Search box, and switch to Documents tag. Cortana does offer Document filtered search as soon as you click the search box.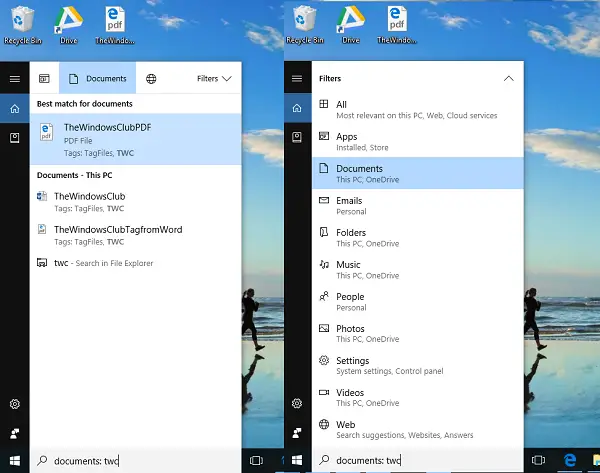 While the search result is pretty quick, if you have tones of the file with similar tags, you should make use of the Filter option. Here you can narrow down your search results by type. It supports file types like Image, Folder, Emails, Person, Setting, Videos, Apps and so on.
You can also use a free File Tagging Software for Windows 11/10 to better manage your files.
Which File Formats are supported for Tags?

The sad thing about Windows tags is they are limited to very few formats like images, Office documents and so on. So when you right-click on PDF files or a text file, you will not see an option to add tags. But you can use File Meta Association Manager to enable Tags for unsupported files.
TIP: You can rename and tag music files quickly with TagScanner.