I have talked in much detail how you can use Tags in Windows to enhance your search. One of the basic problems with Windows Tags is that it is not available for every type of files. In this post, we will learn How to Enable Tags for unsupported files in Windows 10 formats using File Meta Association Manager.
What is interesting to know is that Windows supports tags for every file type, internally. Say for example if you create a PDF file from Word, the PDF file will have the same set of tags as the word document. It will not be visible in the properties section of that PDF file, but when you search for those tags, the PDF file appears in search results.
Enable Tags for Unsupported files
File Meta Association helps you make those TAGS visible in properties section for any file. The tool might look a little complex, but it's fairly simple once you know how to use it. You can download the file from here and then look at the image of how to use it. I have numbered the steps for you.
Select "Simple" profile from the drop-down.
Then find, and select the extension for which you want to enable tags.  (PDF is the example above).
Next click on Enable File Meta handler.
The extension will become bold.
Once done, when you get into details tab of the file, it will let you add tags. See the image below:
Advanced Usage:
The software lets you create custom profiles. Here you can create new properties by using properties from different files types or want to copy a complete set of properties. This comes in handy only for specific requirements, and I will suggest only to use it when you really need it.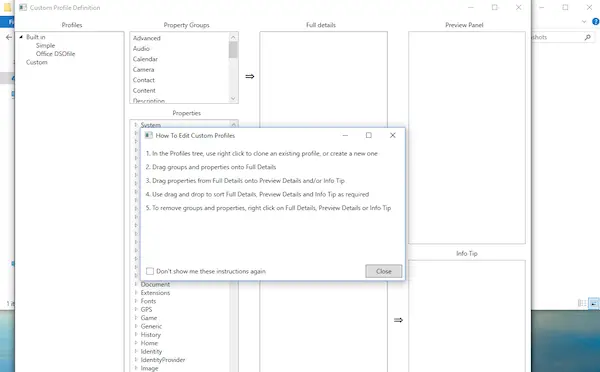 Why didn't Microsoft enable it for all?
It is such a powerful way to find files, the question why Microsoft didn't enable it is very obvious. According to the developer of this software, these tags are lost when files are moved between different types of file systems. In simple words, if you move between NTFS and FAT, these properties will be lost. If you stay on in the same file system, then the tags stay, else you will lose them.
File Meta Association free download
To counter this problem, File Meta Association does help exporting, the properties of files, and then reapply to the original file. You can use it if you are going to move between the file system. You can download the software from Github.