Having problems connecting to a wireless network in Windows is common. While Microsoft has improved network stability in Windows 11/10, compared to Windows 8 and Windows 7, some issues stay unresolved. One such case is when, while trying to connect to the network, your system remains stuck at the Checking network requirements message.
When you connect to a wireless network, two things can happen. Windows would either connect to the wireless network or return the error code Cannot connect to the network. However, if it remains stuck at the Checking network requirements message for too long, this post could help resolve the problem.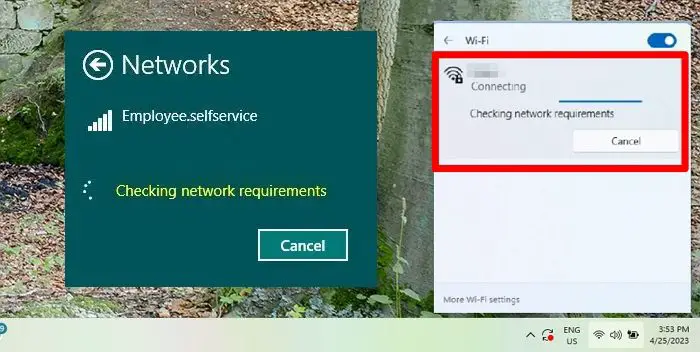 Checking network requirements taking too long
The primary cause of this issue is that the drivers are either obsolete or incompatible. Updating them should fix the problem. Please proceed with the following solutions sequentially:
Update/Reinstall the drivers
Run the Network Adapter Troubleshooter.
Make sure you have an administrator account to execute these suggestions.
1] Update/Reinstall the drivers
Many users have confirmed that updating the Network drivers will help resolve the issue. The procedure for the same is as follows.
Update Network Driver
Press Win + R to open the Run prompt and type the command devmgmt.msc. Press Enter to open the Device manager.
Expand the list of Network adapters. Right-click on the Broadcom Network Adapter. Then select Properties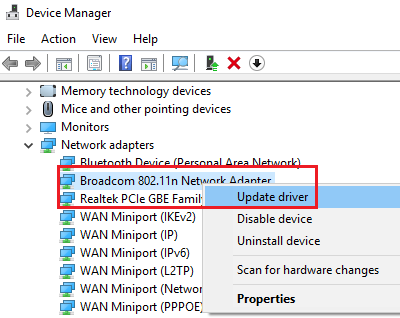 Note the device name, version, and the OEM.
Next, go to the OEM website, and download the driver
Install, and Restart the system and check if it helps.
Reinstall Network Adapter
If this doesn't help, go to the Device Manager again and right-click on the Network adapter (Broadcom one) again.
Select Uninstall device.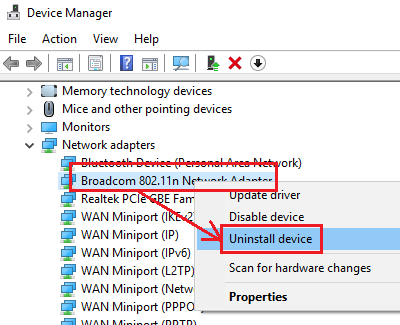 In both cases, you could also consider downloading the latest Network drivers from the manufacturer's website and installing them.
2] Run the Network Adapter Troubleshooter
Click the Start button to Settings > Updates & Security > Troubleshoot in Windows 10. When using Windows 11, go to Settings > System > Troubleshoot.
Select the Network Adapter Troubleshooter from the list and run it.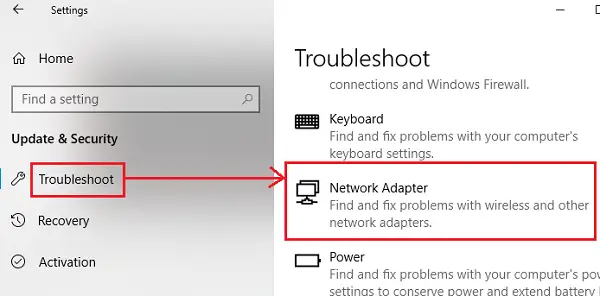 Restart the system once done.
These solutions should resolve if checking network requirements take too long to connect to an old or new network.