If your Windows 10 Sticky Notes crashes frequently or has stopped working then, you can try to Reset it, Reinstall it, run the Windows Apps Troubleshooter or disable Insights feature and see if that helps you fix the problem. These suggestions will also help you if Sticky Notes is not showing up or won't open on your Windows 10 PC.
Sticky Notes crashes
If Sticky Notes keeps crashing or disappearing frequently, has stopped working, is not showing up or won't open, you can carry out the following steps to repair them:
Repair or reset Sticky Notes
Reinstall Sticky Notes
Disable Insights
Run the Windows Apps Troubleshooter.
1] Reset Sticky Notes
The first thing you want to do is to reset the Sticky Notes and see. To reset Windows 10 Sticky Notes, open Settings > Apps > Sticky Notes > Advanced Options. Press the Reset button. The app will be reset to default, and all app data will be deleted as well.
Check if this helps. If it does not, proceed to the next suggestion.
2] Run Windows Apps Troubleshooter
Run the Windows Apps Troubleshooter and see if that helps.
3] Disable Insights feature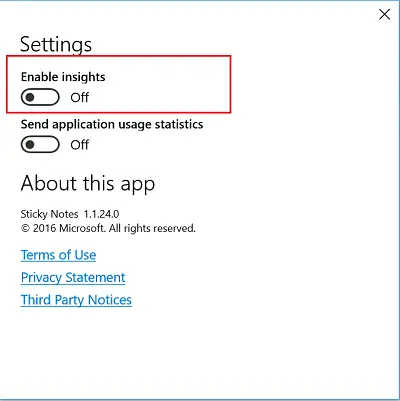 The Insights feature in Windows 10 gives you the ability to create Cortana reminders from your Sticky Notes that you can access across all of your Cortana enabled Windows devices. However, some have reported that the Insights feature is known to cause this issue. You may then want to disable Insights and see if that helps.
4] Uninstall & fresh install Sticky Notes
The last suggestion we have is that you uninstall Microsoft Sticky Notes app using PowerShell or CCleaner and then download and install it from the Microsoft Windows Store.
Lets us know if anything here helped you fix the problem.
Related: Sticky Notes stuck on Loading Sticky Notes.