Sticky Notes application existed in earlier versions of Windows too, however, it had limited utility. It was only after the roll out of Microsoft Windows Insider build 14352 that the application saw some radical changes. If you have just finished upgrading to Windows 10 v1607 Build 14393.10 you might have experienced a different Sticky Notes altogether. The application, now a Windows app, has just got smarter with the addition of the 'Insights' feature.
The Insights feature in Windows 10 gives you the ability to create Cortana reminders from your Sticky Notes that you can access across all of your Cortana enabled Windows devices.
Enable or Disable Insights feature in Windows 10
When you first open the Ink Workspace in Windows 10 and open Sticky Notes, the Note will ask you if you want to enable Insights.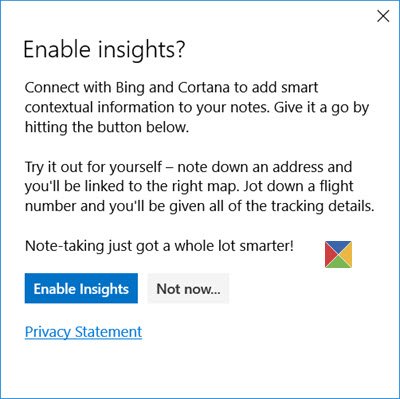 Click on the blue Enable Insights and you are good to go. If you pressed Not now earlier and now want to enable Insights, do the following.
Open Sticky Notes using the search bar. Now in the upper right corner of the app, you can see 3 dots.
Click those 3 dots to make the 'cog' icon appear at the bottom of the app.
When you see it, tap the icon (settings) as shown in the screenshots below.
 Please note that Ink intelligence features are only available in EN-US. It is expected to be rolled out for other regions sometime soon.
When done, 'Settings' window will open for you displaying the following 2 options,
Enable insights
Send application usage statistics.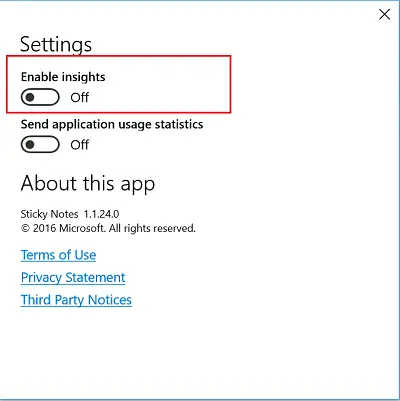 When you Enable Insights it lets Cortana and Bing recognize the information you enter into Sticky Notes. For instance, the feature allows Cortana to recognize phone numbers, email addresses, and URLs so that you can perform certain handy actions right from the note. By default, the Insights feature for Sticky Notes is turned 'On' across your Cortana enabled devices if  you have Windows 10 Anniversary Update installed.
Read: How to use Sticky Notes in Windows 10 to send email.
Please Note that the feature was not visible to me. I had to change settings under 'Region and Language' > Select the country as United States and change the language to 'US English' to make the feature visible on my version of Windows 10 v1607.
To disable Insights, simply toggle slider to the Off position.
If you cannot get Cortana to recognize 'Enable Insights' feature under settings Window, try the following:
Go to Settings > Select 'Time & Language option. Once there, make sure your Country or Region is set as United States and ensure your Languages (Input method) is also set to English (United States). It is currently essential that both of these must be set to get the feature working.
Also read: How to use Windows 10 Sticky Notes to create Cortana Reminders.