Steam Client Webhelper or Steamwebhelper.exe is a part of the Steam application and is used to manage its web-based tasks. However, as of late, it is not doing a great job. Steam Client Webhelper has stopped working on a lot of Windows computers and is throwing the following errors.
Steamwebhelper is not responding

steamwebhelper.exe, a critical Steam component, is not responding. The Steam UI will not be usable.
OR
Steam Client Webhelper has stopped working
Fix Steam Client Webhelper has stopped working
If Steam Client Webhelper (Steamwebhelper.exe) has stopped working or is not responding on your system, follow the solutions mentioned below to resolve the issue.
Restart Steam from the prompt
Check if the antivirus is stopping Steam Client Webhelper
Disable Hardware Acceleration
Update your display drivers
Repair Steam Client Webhelper
Troubleshoot Steam in Clean Boot
Let us talk about them in detail.
1] Restart Steam from the prompt
Let us first talk about the options that you get in the error message. They can help you quickly resolve the issue. We will explain to you in detail what these options are and what will happen to Steam if you click on one.
Restart Steam: This is the simplest of the bunch, as it closes the Steam client completely, kills all of its instances, and then restarts it.
Restart Steam with GPU Accelerated disabled: Hardware Acceleration allows your computer to use the hardware to do a certain task quickly. However, due to some glitches, this feature can be counterintuitive. In some cases, especially on inferior hardware, enabled GPU Acceleration interferes with Steam and stops some of its features. We can just disable GPU Acceleration using this button.
Restart Steam with Browser Sandboxing disabled: Sandboxing is a security feature that can stop Steam from doing its job. We can start Steam with Sandboxing disabled.
Restart steamwebhelper.exe: Restart the Steam Client Webhelper only.
If this worked, it doesn't mean that you have to do the same thing every single time. Do keep in mind that keeping Sandboxing disabled is not recommended. So, let us look at some permanent fixes for this issue.
2] Check if the antivirus is stopping Steam Client Webhelper
Next up, we need to find out if Steam Client Webhelper is stopping due to conflicting security programs. To do the same, disable your antivirus or Windows Defender temporarily. Now, open Steam and see if the web helper is working. If you are able to launch Steam, add Steam as an exception to your antivirus. Hopefully, this will do the job for you.
3] Disable Hardware Acceleration
Hardware Acceleration is a brilliant feature when it works, but in its quest to take the load off the software, it stops Steam Web Helper from doing its job. That is why we need to disable it. If you didn't get the quick fixes prompt, disable the Hardware Acceleration manually.
4] Update your display drivers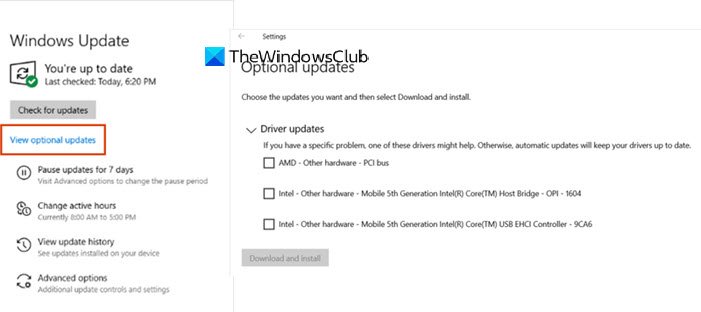 If the Steam Web Helper is stopping due to some issue with Hardware Acceleration, it is very likely that your display is not updated. So, go ahead and update your Graphics Drivers and then check if your issue is resolved.
5] Repair Steam Client Webhelper
One of the reasons why the web helper is not working is that the service itself is corrupted. Corruption can happen due to various factors such as conflicting programs, antiviruses, and more. Follow the steps given below to do the same.
Open File Explorer by Win + E.
Now, navigate to the following location:C:\Program Files (x86)\Steam\bin\cef\cef.win7x64
Right-click on steamwebhelper.exe and select Delete.
Once it is deleted, restart your computer and open the Steam Client app.
Once Steams, it will look for updates and install the missing file. This will do the job for you.
6] Troubleshoot Steam in Clean Boot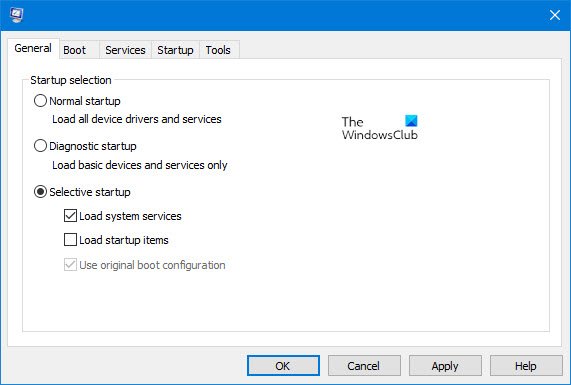 If nothing worked, our last resort is to look for a third-party app that is causing the issue. For a user, D3DGear was the culprit, similarly, in your case too we need to look for the culprit. To do the same, perform Clean Boot. This will disable all third-party software, open Steam and if it is opening, the issue must have been caused due to a conflicting app. You can then enable them manually to find out which is the culprit. Once you know who the culprit is, delete or disable it and your issue will be resolved.
We hope that you are able to resolve the issue using the solutions mentioned in this post.
Read: Fix Steam Slow disk usage issues
How do I stop Steam client WebHelper from running?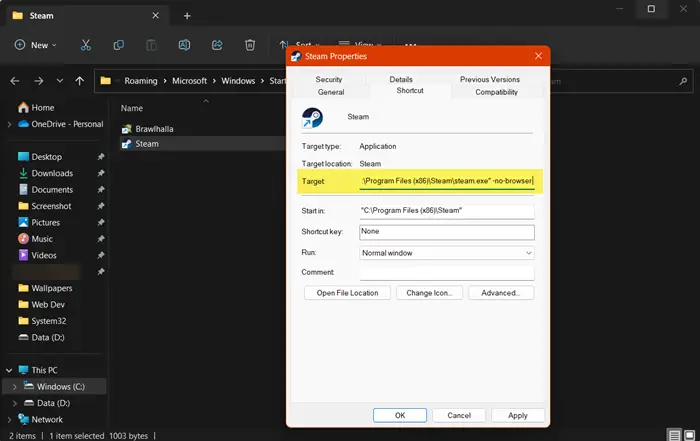 It is pretty simple, to stop Steam Client Webhelper. Since it is not an essential process, Steam will work even if the service is absent. To disable it, hit Win + S, type "Steam", right-click on the Steam app, select "Open file location", right-click on Steam.exe from the File Explorer, select Properties, go to Shortcut tab, append -no-browser to the text written in the Target field, and click Apply > Ok.
Also Read: Steam Error 0x4C7, The operation was canceled by the use
Why is Steam WebHelper use so much CPU?
Steam WebHelper can sometimes use too much CPU especially when doing intensive tasks. However, this should not happen often, if it does happen frequently, check our guide to know what to do when Steam is using a lot of computer resources. Hopefully, you will resolve the issue easily.
Read: Fix 100% Disk, High CPU, Memory or Power usage in Windows.