Excluding specific files or folders from your antivirus scan is not recommended as it may expose your PC to potential risks. But if you are facing conflicts between your antivirus software and Steam, you can consider excluding Steam from the antivirus scan. This post will share how to exclude Steam from the Antivirus in Windows Defender, Avast, AVG, Bitdefender, Kaspersky, Malwarebytes, etc.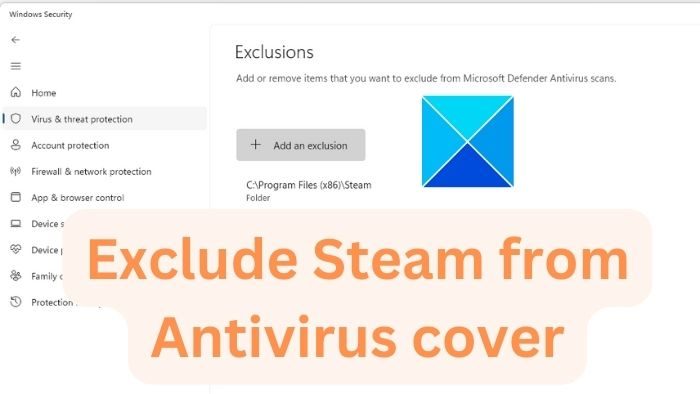 How to exclude Steam from Antivirus in Windows Defender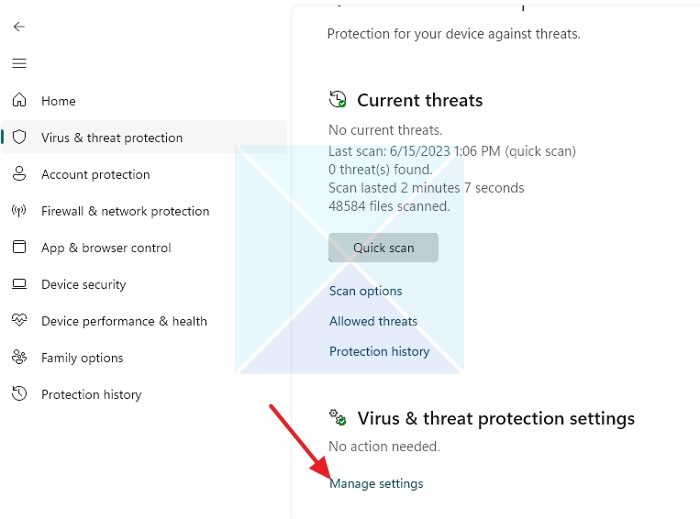 Open Start Menu and search for Microsoft Security
Click to open when it appears in the list
Click onVirus & threat protection
Under the Virus & threat protection label, click on Manage settings.
Scroll down to Exclusions and choose Add or remove exclusions.
Click on the Add an exclusion button and select Folder. Navigate to your Steam directory and add it.
How to exclude Steam from Antivirus in Avast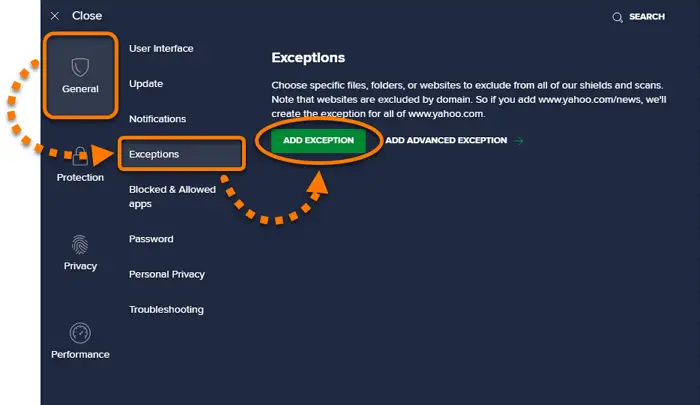 Open Avast Antivirus and go to Menu > Settings.
Select the General tab and then the Exceptions tab.
Click Add Exception and then add the path to your Steam folder.
How to exclude Steam from Antivirus in AVG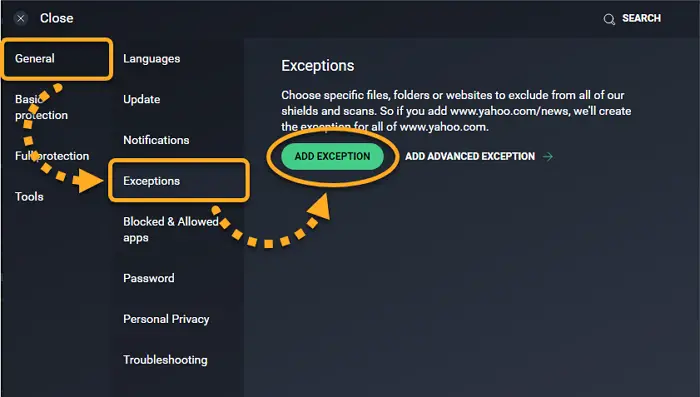 Open AVG and click on Menu > Settings.
In the General tab, find Exceptions and click on Add Exception.
Choose the file or folder you want to exclude (Steam directory in this case) and click OK.
Add Steam to Exclusions list in Kaspersky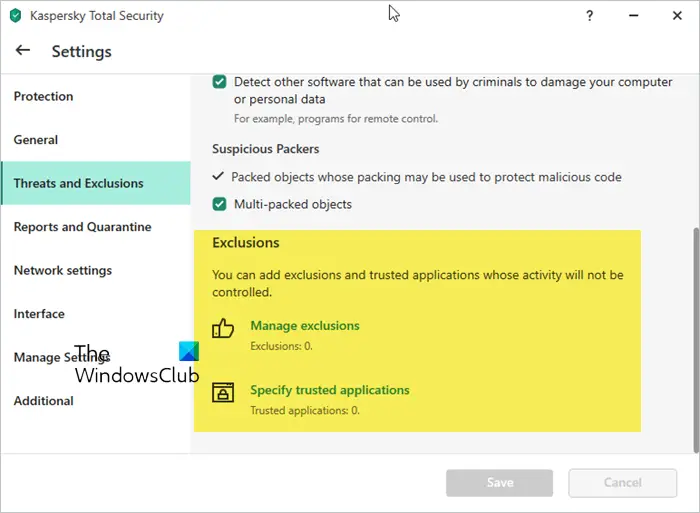 Open Kaspersky Settings
Select Threats and Exclusions
Click on Manage exclusions or Specify trusted applications
Here you can add folders, files or executables whose activity will not be monitored.
How to exclude Steam from Antivirus in Bitdefender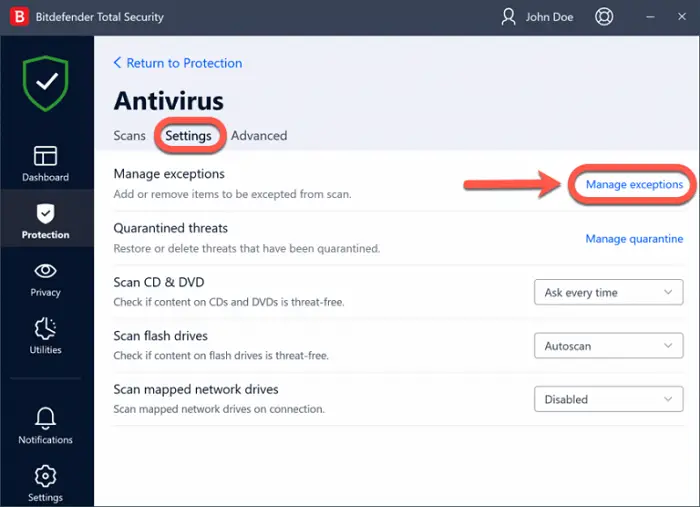 Open Bitdefender and click on the Protection section on the left panel.
Click on View Features > Settings cog in the Antivirus module.
Go to the Exclusions tab.
Click on Add under Exclusions for Files and add the path to your Steam directory.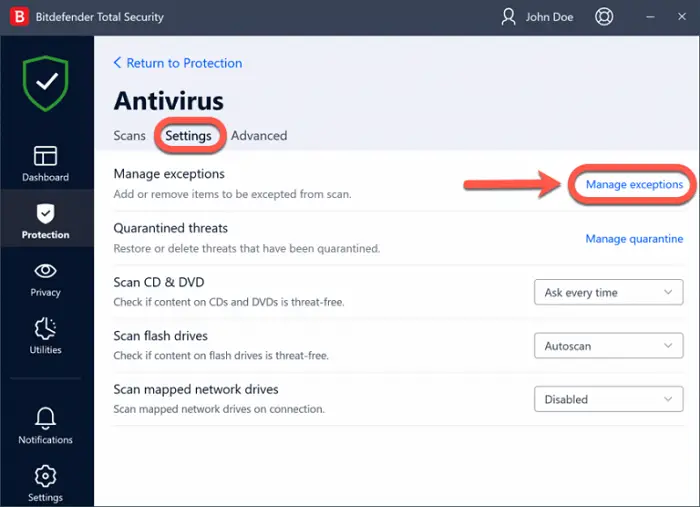 How to exclude Steam from Antivirus in Malwarebytes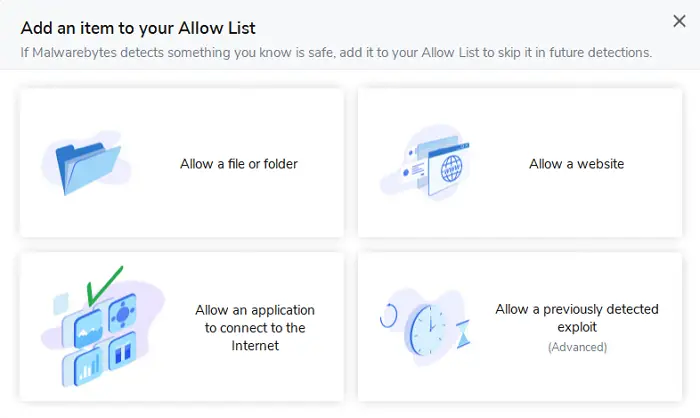 To add a Program, File, or Folder to Malwarebytes Exclusion List:
Open Malwarebytes for Windows and then click on the Detection History card.
Click the Allow List tab, and to add an item to the Allow List, click Add.
Select the type of exclusion you want to add.
Click on Add and select Add Folder.
Navigate to your Steam directory and click Select Folder.
Remember to restart your computer after making these changes so they take effect.
Read: Fix High Disk & Memory Usage when playing Games on Windows
While most antivirus allows you to add a file or folder as permanent exclusion if you are troubleshooting temporarily, we suggest removing the exclusion if you are done. However, if you are doing it for the long term, it's essential to allow specific programs instead of folders to reduce the risk.
Is Antivirus bad for gaming?
No, none of the antivirus are bad for gaming; however, it is possible that because of strict rules, the antivirus may block the game or some of the outgoing connections. This results in a bad gaming experience, and you need to check the rules and remove them or add the game as an exception. Some antivirus are however known to reduce gaming performance as each accessed file gets scanned.
Why does it say Virus detected when I download Steam?
Antivirus is known to mark software that has been reported or unwanted as infected. If you are downloading a copy of the Steam app from an unofficial source or the copy is already infected, then the antivirus detects it as a virus.