StarCraft 2 is a fantastic science-fiction real-time strategy video game. It is developed and published by Blizzard Entertainment. This game has been loved by gamers across the world. Like every other major game, StarCraft 2 has some issues occasionally which can be fixed easily. Many gamers across the world are reporting that StarCraft 2 is crashing or freezing on Windows 11/10.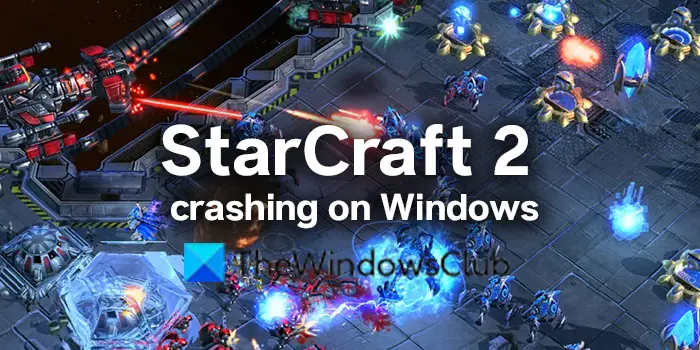 The major reasons for StarCraft 2 crash are:
System Requirements not met
Background processes
Outdated game files
Corrupted or Outdated graphics drivers
Missing variables file
Let's see how we can fix the issue.
StarCraft 2 keeps crashing or freezing on Windows PC
If StarCraft 2 is crashing or freezing on your Windows 11/10 PC, you can fix the issue using the following methods.
Check System Requirements
End background processes
Update graphics drivers
Reset game options
Repair StarCtast 2
Check Variables file
Reinstall StarCraft 2
Let's get into the details of every method and fix the issue.
1] Check System Requirements
Your PC configuration should match or exceed the minimum requirements laid out by the developers of StarCraft 2. Then only, you can play the game without issues and errors. If your PC does not match the requirements, you need to upgrade your PC before playing the game.
The minimum requirements for StarCraft 2 are as follows,
Operating System: Windows 7 or later
Processor: Intel Core 2 Duo or AMD Athlon 64 X2 5600+
Video: NVIDIA GeForce 7600 GT or ATI Radeon HD 2600 XT or Intel HD Graphics 3000 or better
Memory: 2 GB RAM
Storage: 30 GB Hard Disk space
Resolution: 1024X768 minimum display resolution
2] End background processes
The processes that are running in the background of your PC might be taking up more CPU and making StarCraft 2 crash. You need to end the processes in Task Manager which seem unnecessary or not related to the performance of your PC.
3] Update graphics drivers
Graphics drivers are the most important support for the game to run well. The graphics driver of your PC might be the cause of the StarCraft 2 crash. They might be outdated or corrupted. You have to update them to the latest versions which fix the bugs of previous updates and give improved performance. So, try updating the graphic drivers and check if the issue still persists.
You can also use any of the following methods to update the graphics driver:
4] Reset game options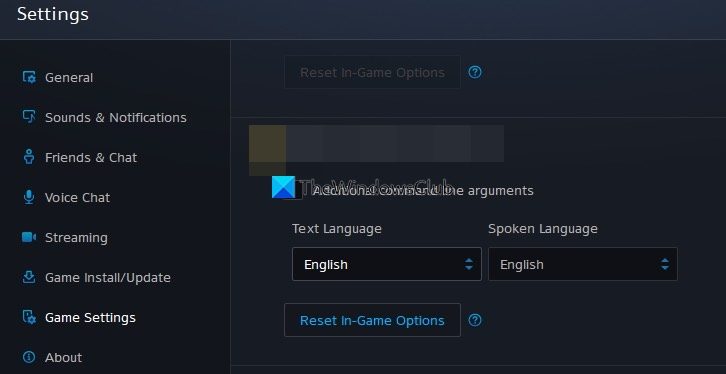 If you have set the in-game options to higher levels, StarCraft 2 might crash. You need to have a PC that exceeds the level of Recommended Requirements laid by developers to run everything at higher levels. You need to reset them which by default is set to normal levels.
To reset game options,
Launch Battle.net app
Click on the Games  tab on the Menu bar
You will see the list of all games. Find StarCraft 2 and click on it.
You will see the Options button. Click on Game Settings
Then, click on Reset in-Game Options
Then, click on Done and relaunch Battle.net
5] Repair StarCtast 2
One of the benefits of Battle.net is it has an option to Scan and Repair if we face any errors with its games. It can help you fix the issue when StarCraft 2 crashes on your PC. To Scan and Repair StarCraft 2,
Click on the Games tab
Select StarCraft 2 and click on Options
Now, click on Scan and Repair
Then, follow the on-screen wizard to complete the process
6] Check Variables file
StarCraft creates a file named Variables.txt in the Documents folder of your PC. It contains all the preferences and configurations of your game. This is one of the most important files for the game to run smoothly. Sometimes, OneDrive is storing it on its cloud storage and removing it from local storage. This might also be the reason for the StarCraft 2 crashes.
Navigate to the following path on your PC and copy/paste the Variables.txt in the game directory:
C:\Users\USERNAME\OneDrive\Documents\StarCraft II\Variables.txt
Replace the username with your username on the PC.
7] Reinstall StarCraft 2
If none of the above fixes helped you fix the StarCraft 2 crash issues, you need to uninstall the game and reinstall a fresh version. It is necessary to completely uninstall and reinstall the game when we are troubleshooting issues.
To uninstall StarCraft2 on Windows,
Open Battle.net program
Select StarCraft2 on the left side panel
Click on the drop-down arrow beside the Play button and select Uninstall
Then, reinstall the game by selecting Install on the StarCraft 2 game tab
These are the different ways using which you can fix StarCraft 2 crash issues.
Why does my StarCraft II keep crashing?
StarCraft 2 crashes for many reasons. Some of them include outdated or corrupted drivers, corrupted game files, PC not meeting the minimum requirements, missing variables file, and others.
Does StarCraft work on Windows 11?
Yes. You can play StarCraft on Windows 11 without any issue. For that, you will need a Blizzard Battle.net account and a PC with a good internet connection and well configured to run heavy games.
Read Best Activision Blizzard games you can play on your PC.