While using Shared Experience on their Microsoft Account, an error may pop up with the message, "Some of your accounts require attention". If you face this issue, then this post may be able to help you. Despite there being a "Fix Now" option, the issue isn't resolved readily. In this article, we will be looking at a couple of solutions you can implement to rid yourself of the Microsoft Account error on Windows 11/10.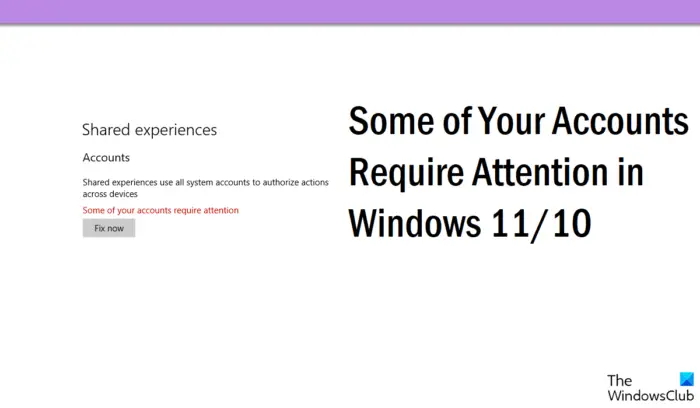 Some of your accounts require attention in Windows 11/10
There are several possible causes behind the error at hand, with an unverified account being the primary reason. Another potential cause can be the PIN of your account credentials, or even possibly conflicting old login credentials. The workarounds suggested here all focus on remediating these causes.
Verify your Microsoft Account
Remove PIN as a login mechanism
Disable Shared Experiences
1] Verify your Microsoft Account
The very first thing you should do is make sure that your Microsoft Account is verified and, if not, get it verified. The process to do so is very easy, all you have to do is follow the steps discussed below:
Every time you sign in to a Microsoft Account or add an email address to an account, a verification link is sent to the said email ID. To pick off from there, visit this link and sign in with your Microsoft Account's credentials
If your account isn't verified, you'll see a Verify option here
Click on it and further select Send Email to complete the process
The settings to complete Microsoft ID verification on Windows are found in the Windows Settings, under the Account tab.
Related: We need you to fix your Microsoft account
2] Remove PIN as a login mechanism

If account verification doesn't do the trick for you, then you can try removing the PIN from the account login page.
By default, the option to remove the PIN login method on Windows is greyed out. You have to first disable the Windows Hello Sign-in requirement
To do so, go to Accounts > Sign-in options, and under Additional find the 'For improved security, only allow Windows Hello sign-in for Microsoft accounts…' option
Toggle it off and reopen the Settings window
Now you'll see that the option to remove the login PIN is available
Click on it, go through the warnings Windows gives you, and once you're sure click on the Remove button again to finally remove the PIN on your Windows 11
Check if doing so fixes the issue at hand.
3] Disable Shared Experiences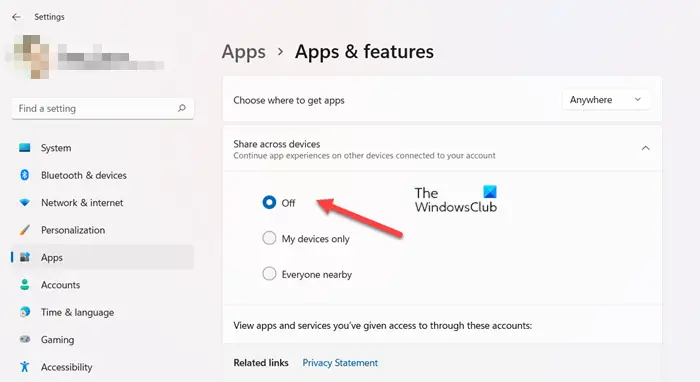 Shared Experiences is a feature that allows users to share messages, links, and open apps across devices. It is possible, however, that it may be causing the "Some of your accounts require attention" error on Windows, in which case you need to turn off Nearby Sharing and Share across devices.
Use the 'Win + I' key combination to open the Windows Settings
Select the Apps tab from the list of tabs available on the left of the screen
Expand the Apps & Features entry
Click on the Share across devices drop-down and further toggle the option off
Under Nearby sharing at the top, check the Off circle to completely disable the Shared Experiences feature. Once you've done that, restart your computer and check if the issue persists.
One of the solutions above ought to help you get rid of the "Some of your accounts require attention" error on Windows 11/10.
Related: Your Microsoft account requires attention to get Insider Preview builds
Why does it say Attention is required for email?
An issue analogous to the one discussed here is when users receive an "Attention is required" error on email clients. This often means there's an issue with your password (maybe it's been compromised) or that your email account has been blocked by the provider.
Why does my Microsoft account keep needing attention?
It can be helpful to understand why your Microsoft Account keeps showing errors saying that it requires attention. More often than not, this issue is encountered when people are trying to access the Insider program, and it is caused because there are issues with the trusted devices.