Short distance communication between computers has always been a hot topic. With various channels available to communicate in, we are always struggling to find the best combination of sending and setup speed. Bluetooth is quick for small files, but you need to pair devices and go through the setup every time. Wi-Fi is faster, but you need to ensure all the devices are on the same network. There could be a better solution, right? In Windows 10, a new feature called Nearby Sharing has been added to the line. Read on to find out how to use this feature.
Nearby Sharing on Windows 10
Nearby Sharing can be found under Shared experiences settings, and it lets you quickly transfer files to nearby computers without any setup. It was a much-required feature, and now it is here. You can easily share a file with anyone in the room without entering any passwords or pairing devices. Underneath, Nearby Sharing uses both Bluetooth and Wi-Fi to locate available nearby devices. Now you don't need to send files over email, cloud or any other network-based file sharing tool. If the other computer is near enough, you can simply send it using Nearby Sharing.
How to use Nearby Sharing
First, both the computers involved should have this feature enabled. To enable it, open Action Center and hit Nearby Sharing tile. Alternately, you can open Settings, then go to System and then open Shared experiences and enable Nearby Sharing.
Make sure you have Bluetooth or Wi-Fi enabled before you send your first file using Nearby Sharing.
Sending a file
To send a file, right-click it and select the Share option from the context menu. This will open the standard Windows 10 sharing dialog. Wait till it scans for nearby devices and soon you will be able to see all the nearby devices that can accept files. Select the one device that you want to send your file to, and you are done.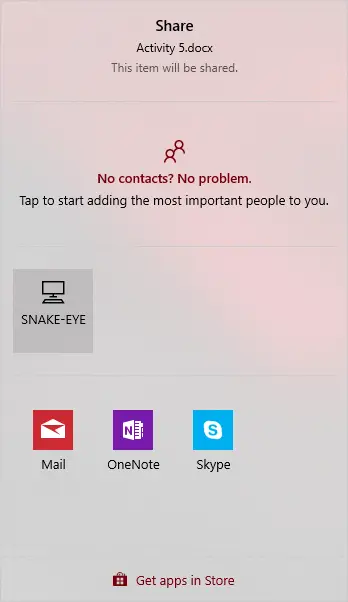 See, that was very quick and simple. Similarly, you can share anything that has a share button. You can share photos directly from Photos app or any other Windows application.
Receiving a File
Receiving is as simple as it was sending a file. To receive a file, make sure you have Nearby Sharing enabled. Whenever someone attempts to send you a file, you will be notified. You can either accept the file and save it or decline the connection. There is additional option to save and open a file if you want to open it directly.
Sending and Receiving is quite easy and intuitive. There are a few more settings that can be adjusted and customized as per the requirements. You can decide who should be able to send you files. By default, it is set to Everyone nearby, and you can change it to My devices only so that unauthorized users cannot send a file to your computer. Also, you can decide the location where all incoming files are stored; it is set to Downloads by default.
Nearby Sharing is indeed a useful feature, and it can save you a lot of time. It makes the process of sending files quicker and hassle-free. No more configurations and pairing just directly send your file. It is recommended to turn off Nearby Sharing after you are done using it. You can re-enable it next time from the Action Center.