Some might not know this, but it's always a good idea for web administrators to check websites for any form of problems in a bid to make sure end users are safe from external harm whenever they visit. Now, there are several online tools designed for running checks on websites to gather data on any possible problems. But today we're not going to speak of the online option, but rather a Windows 10 program known as DeepTrawl.
We came across DeepTrawl about a week ago, and to be honest, it's pretty good. However, like all similar tools before it, users should be able to understand the data gathered to truly have an idea if things are running below average.
It should also be noted that these programs tend to reveal a lot of false positives, and since every website is different where designed and the codebases are concerned, the errors after a scan might not be what they seem.
DeepTrawl – Check your website for errors
1] Checks section

Before you begin the scanning process, you must first decide what needs to be scanned. By going to the Checks section, the user can choose whether or not to scan hyperlinks, check dependencies, validate HTML, validate CSS, and much more.
No doubt DeepTrawl is a powerful tool because it's possible to add new and unique checks.
2] Scan a URL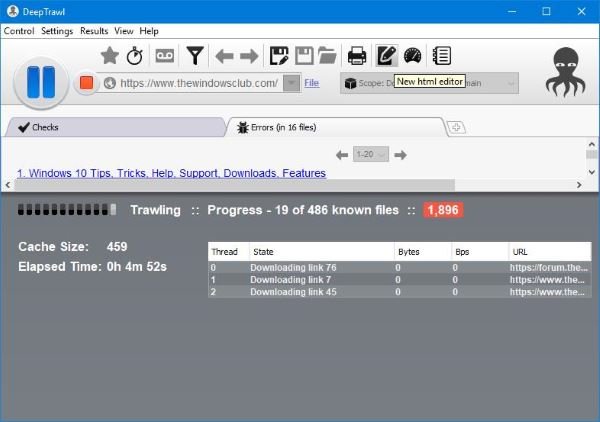 OK, so it's possible to scan any URL, even if it has nothing to do with you. But we chose to scan The Windows Club to see what is happening behind the scenes. Keep in mind that we didn't complete the scan because it was taking too long, but we've got some stuff to show.
So, to scan a URL, copy the URL of your website and paste it into DeepTrawl's URL section, then hit the Enter button to get things moving.
Once you're done with the scanning, you'll see a new tab with all the error information tucked away, and you'll need to read those to understand what could be going on with your website.
3] All the errors
Errors found will be shown in the errors tab. In our short scan, we found 2005 errors in 17 files, though we're certain those errors have nothing to do with security problems. So as it stands, there will be a lot of false positives, and it's up to the web admin to decide what is what.
To get an idea of what a particular error contains, click on Options then select View in Editor. Right away, the built-in editor will pop up with your websites code along with the highlighted affected area.
You can make changes here, or hit the Tidy button to automatically clean up bad code. We wouldn't recommend hitting that button if your website has a ton of unique code because you'll just break everything.
4] Settings
The settings area is filled with options for you to take advantage of. Options are there to check the scope, play around the Basic Authentication Manager and more. Furthermore, folks can edit the Spider to determine how fast things are done.
The parser is important as well because it can improve speed if some options are disabled when not needed. Not only that, but users can also add URLs to skip among other things.
The tool is quite impressive, as you can see, and even more so than the many free online options available right now. Download the tool right now for free from the official website.