If you are a webmaster, blogger, or avid Internet user, you might possibly have used the Wayback Machine at some point. For those who don't know, Wayback Machine is a digital archive service that lets you see how a given web page looked in the past. The website lets you search for the snapshots of any website and check how it looked in the past.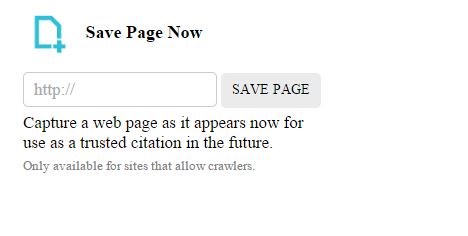 WayBack Machine is an Internet Archive
Launched back in 1996, Wayback Machine has been archiving the cached pages of various websites at regular intervals. It provides access to more than 450 billion archived web pages. The basic purpose of the service is to help users to view a web page even if the website is changed or closed down.
The Wayback Machine, however, achieves the cached pages randomly, but you can also save a particular web page manually too. In short, you can capture and archive a particular web page for the future and save it as proof that it appeared first on the Internet as a trusted citation.
Read: How to view Archived or Cached web pages on the Internet.
Archive web page on-demand
The feature appears as "Save Page Now" tab on the homepage of Wayback Machine. All you need to do is to cut and paste the URL of the webpage you want to save. The web crawlers will then achieve the complete web page and give you a direct URL that you can save for the future. This on-demand digital archive feature allows you to save a webpage, as well as a PDF file for future reference.
This feature was added to the Wayback Machine sometime in May 2014. This is a free feature but shows a 'Donate' button in the right corner. The URL of the webpage, archived appears in a new pop-up window, and that of a PDF file appears in the location bar.
Do try this extremely useful feature of Wayback Machine here and save your work as proof that it appeared first on the Internet. You can also use their Chrome extension. This can be pretty useful should you face an instance of Plagiarism and Online Content Theft.
Archive.is is a good alternative to the Wayback Machine. This site caches a web page as well as take its screenshots.