SolidWorks software is used for planning and allows us to manage projects, modeling, feasibility assessment, prototyping, and so on. This software helps users to create fast and accurate designs, including 3D models and 2D drawings of complex parts. Some users reported that Solidworks is crashing and stops running without giving any warning message. If you are in the same boat, don't worry, in this article, we will explain what you can do if SolidWorks is crashing on your Windows 11/10 computers.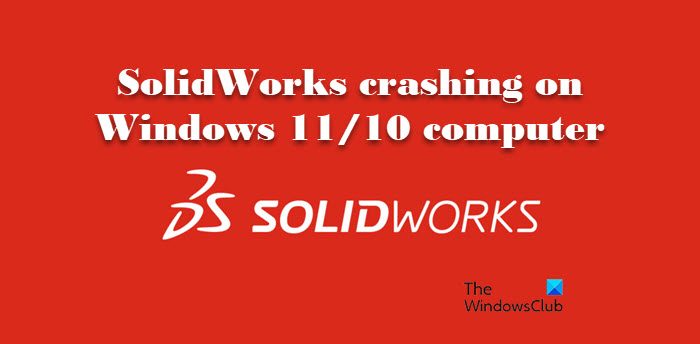 Fix SolidWorks crashing on Windows 11/10 computer
If SolidWorks keeps crashing continuously on your Windows computer, follow the solutions mentioned below to resolve the issue.
Check hardware requirements
Update the Graphics drivers
Reset SolidWorks
Open SolidWorks in Clean Boot & troubleshoot
Reinstall SolidWorks
Let's talk about them in detail.
1] Check hardware requirements
A program usually crashes on your computer if its hardware requirement exceeds your computer's configuration. That is why, if SolidWorks is crashing on your computer, first of all, check its hardware requirement and make sure that you have a compatible computer. SolidWorks is compatible with all versions of Windows 11/10. But it has some hardware requirements that you need to check at solidworks.com.
2] Update the Graphics drivers
The graphics driver is the controller that tells the graphic card of your computer how to operate and display visuals as needed. But it might be possible that outdated computer graphics drivers may create this issue. It has been seen that updating the video drivers might help to resolve this issue, and to do so, you can check and opt to install Optional Updates from Windows Settings.
You may also download the latest version of Graphics Driver from the manufacturer's website. Once the process is completed, restart your computer and see.
3] Reset SolidWorks
You can reset the Solidworks registry, as that will reset its settings to default. Before doing the same, make sure to create a backup of the Registry, we can restore it if something goes wrong.
After creating a backup and storing it somewhere accessible, open Registry Editor and navigate to the following location.
HKEY_CURRENT_USER\Software\SolidWorks
Expand SolidWorks, right-click on the version of SolidWorks you want to reset, and click on Rename. Give it a different name. Finally, restart your computer and open SolidWorks.
4] Open SolidWorks in Clean Boot & troubleshoot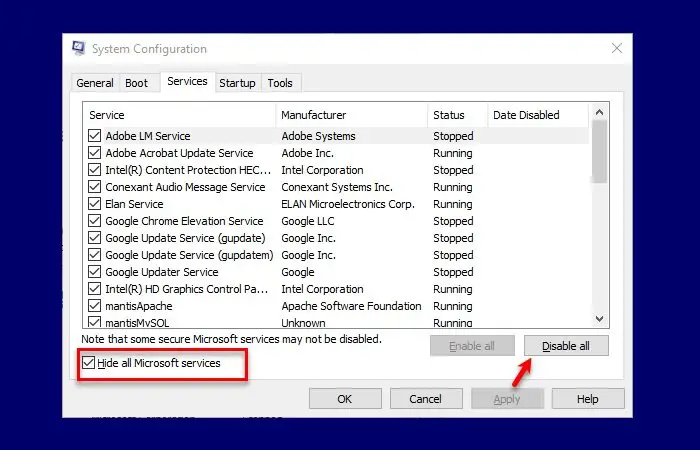 This issue may arise if some startup programs or applications conflict with the Solidworks application and prevent it from running, thus resulting in a crash. Starting the computer in clean boot mode uses a pre-selected minimal set of drivers and programs. By doing this we can find out the exact problem of this issue and resolve it.
Follow the prescribed instructions below to launch your system in Clean Boot your computer:
Press Windows + R key to open the Run dialog box.
Type msconfig in the run box and then click on the OK button.
Go to the Services option, and check the Hide All Microsoft Services box.
Click on Disable all.
And click on OK and then Apply button.
Now go to the Startup tab, and click the open Task Manager option.
Select each startup and disable them.
Now, reboot your computer, and once the computer starts again, check if Solidworks is launching. In case Solidworks launches without any issues, go ahead and enable processes manually to stumble upon the root cause. And once we know what's causing this issue, remove or disable it and our issue will be resolved
5] Reinstall SolidWorks
If you have used all the above methods and you are still in the same place then, uninstall your app from your computer and reinstall it. You can download the software from the official website before uninstalling it, or can do the same afterward. To do the same, follow the prescribed steps.
Open Settings.
Go to Apps > Installed apps or Apps & features.
Search for SolidWorks.
Click on the three vertical dots and select Uninstall on a Windows 11 computer. Windows 10 users need to select the app and then click on Uninstall.
Click on Uninstall again.
Launch the installation file of SolidWorks and follow the on-screen instructions to complete the installation.
Hopefully, after completing this process, your issue will be resolved.
Also read: AutoCad not working in Windows.