If you receive a Setup couldn't start properly, Please reboot your PC and run set up again error in Windows 11/10  when you try to upgrade to Windows 10, using Media Creation Tool from Microsoft or Windows ISO image file / bootable USB flash drive, then this post will interest you.
The reason for this problem can primarily be attributed to some corrupt upgrade files, due to a failed Windows 11/10 download, upgrade or installation and – while one may try rebooting the computer first – it isn't known to actually solve the issue. Nevertheless, fixing this error in most cases is quite easy and does not require any expertise. Deleting old installation files is known to fix the issue. But before you proceed, make sure that you have the latest Windows Updates installed.
Windows Setup couldn't start properly, Please reboot your PC and run set up again
Delete/uninstall the Media Creation Tool if you have it installed on your machine.
Next, restart your Windows 10 PC in Safe Mode. To do this, you may press Win+R to open the Run window. In the empty field there, type msconfig and hit Enter to launch the System Configuration utility.
Then, navigate to the Boot tab and select Safe mode. under Boot options.
Click OK and Restart your PC.
After booting in Safe Mode. Go to your C drive where Windows is installed. Make sure you have – via Folder Options – set Explorer to show hidden/system files and folders. You can do this via Control Panel > Folder Option > click on View tab > Under Advanced settings, check Show hidden files and folders and drives option.
You will notice two folders named $Windows.~BT and $Windows.~WS. These folders are created by Windows 10, during the upgrade process.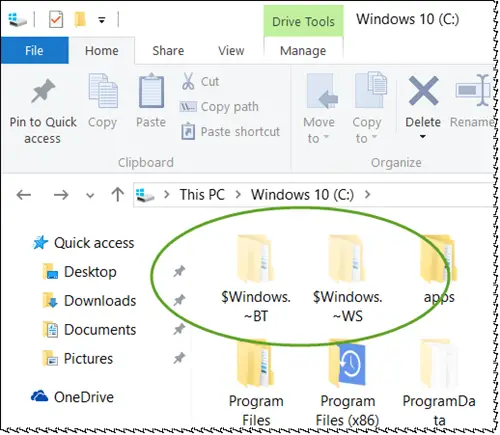 Delete both the folders. If you see a Windows.old folder, you may delete it too. Restart your Windows 11/10 PC.
Now download the Media Creation Tool once again and proceed with the installation process.