The internet is a wild city with little or no restrictions over what users can publish, but thankfully, you can control and filter the content you see when you browse the internet. Internet browsers come with several parental control settings that you can use to ensure that your kids are not viewing inappropriate content online. Here, we'll explore these settings on Chrome, Edge, Firefox, and Opera browsers.
We'll also take it a step further and show you some computer-wide options that can help your efforts of protecting the browsing sessions of minors.
How to set parental control in Chrome
Google Chrome is undoubtedly the most popular browser. Unfortunately, Chrome's developmental team doesn't focus on parental control features because there's none.
However, you have other avenues to protect your kids when browsing the internet using the Chrome browser. Here are the best features for doing this.
Use parental control Chrome extensions
The easiest way to set parental control in Chrome is by using extensions. These browser extensions go a long way to cover up for the browser's shortfall.
Most of these extensions come with sophisticated features, such as a profanity filter, warnings, and blacklisting/whitelisting or outright blocking content.
First, you may want to learn how to install and use Chrome extensions. Some notable Chrome extensions that help you with parental controls include – MetaCert, Blocksi, and Website Blocker.
How to set parental controls in Edge
Unlike Chrome, Microsoft Edge is equipped with lots of parental control settings. Windows Family Group feature drives most of these settings, however, because of the impeccable integration of Edge and the Windows system.
Here are ways you can keep the internet safe for your kids when using the Microsoft Edge browser.
Use Microsoft Defender SmartScreen

Edge works with Microsoft Defender SmartScreen to identify malware and phishing websites. It does this by showing you warnings (see screenshot below) whenever you visit these pages or are about to download content from them.
SmartScreen isn't specifically developed as a parental control feature, but it goes a long way to serve the purpose.
To enable SmartScreen in Edge, click on Settings and more and go to Settings > Privacy & Services. Here, scroll down to Services and toggle Microsoft Defender SmartScreen on.
Block Media autoplay
You can also block videos from playing automatically when you visit a webpage in Edge so that it doesn't catch you kids unaware. Click on Settings and switch to the Advanced tab. Go to the Media autoplay area and select Block from the dropdown menu.
Use Edge extensions
The new Microsoft Edge browser also has extensions that offer parental control features. However, most of these extensions are new, untested, or have no reviews. So, I won't recommend them, except one – Parental Control Bar.
Parental Control Bar is a standout Edge extension that blocks adult content and sites that you blacklist.
Microsoft Family Group
Family Group is a Windows 10 feature that applies to the Edge browser. With Microsoft Family Group, you can filter out obscene content as well as control how your kids use the internet. Family Group also lets you limit the screen time for Edge users.
How to set parental controls in Firefox
Similar to Chrome, Firefox has no parental control features, but you don't have to worry because there are other ways to protect your child's internet usage when on this browser. Some of the best ways include the following:
Use Firefox extensions
Firefox is a popular browser that's also not strong in the parental control department. But again, extensions come to the rescue. One of these is FoxFilter. This Firefox extension blocks adult content and profanity for free, but if you want advanced settings, you'd have to pay for the premium edition.
Other Firefox extensions that help with parental controls are BlockSite and LeechBlock NG (Next Generation), which you can use for blocking specific websites.
Disable password saving
To disable password saving in Firefox, launch the browser and go to Options. Click on the Privacy & Security tab, and you'll find the option to ask to save logins and passwords for websites.
Uncheck this option to disable password saving on the browser and prevent your kids from using your logins to access content that they shouldn't be seeing.
How to set parental controls in Opera
Opera is not as popular as the other browsers on this list, but it sports similar options. Like Chrome, this browser doesn't have many parental control features, but you can make up for this by using extensions AKA add-ons.
Useful Opera extensions that make browsing the internet safe for minors include the following:
Disconnect extension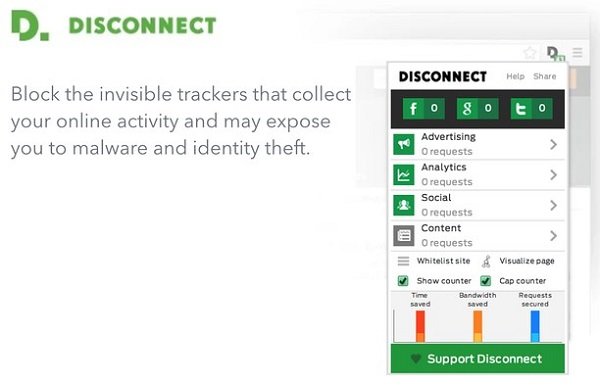 The Disconnect extension wasn't developed specifically for parental control, but it helps you prevent websites from tracking your internet activity.
Adult Blocker extension
Adult Blocker is another useful Opera extension that blocks search results from harmful websites. You can also manually blacklist domains and block ads using this extension.
Use Opera's built-in VPN
The Opera browser features a free, unlimited VPN that blocks anonymizes your browsing data and prevents websites from tracking your activity online.
General parental control options for all browsers
Apart from the browser-specific parental control settings, you can also implement computer-wide options that go a long way to safeguard your minors' internet sessions. Some of these include:
OpenDNS
OpenDNS Family Shield is a 'set and forget' software/network which can work directly with your router. Just add the OpenDNS numbers to your router's settings as explained in their setup guide and you are good to go. It should be noted that OpenDNS for routers isn't a client software but a network. The parental control program will block adult websites on any device which picks up the network from the router.
Disable the password-saving feature
The password-saving feature completes forms automatically, and these include your sign-in forms. Turning off the Autofill feature will prevent your minor from logging into platforms you access using your credentials.
Block images
A neat and easy way to control what users see on the internet is to block all images from showing up. This setting's primary purpose is probably to save your bandwidth, but you may take advantage of it and use it for parental control.
Google SafeSearch
The Google search engine has the SafeSearch feature that rids search results of content deemed inappropriate for underage users. To enable SafeSearch, sign in to your Google account, and then visit Google.com.
Here, navigate to Settings > Search settings. Mark the Turn on SafeSearch checkbox and save your settings to enable this feature. To prevent other users from disabling SafeSearch, hit the Lock SafeSearch button and follow the on-screen prompts.
Block website using the Hosts file
To block a website using the Hosts File, simply add the following entry:
127.0.0.1       blocksite.com
Many users like to manually add entries to it in order to block the opening of one or more particular websites. Others, like to download and use List from well-known sources like mvps.org, to add entries which block malware sites from opening.
Also read: How to blacklist or block websites in Chrome, Edge, Firefox, IE.
Kids are smart – so I am not sure how much of these suggestions will work. But you may want to take a look at these free Parental Control software that offer additional features.