Like any other OS, Windows 11 has its set of problems, but it also comes with a great community and built-in feature that helps to report those problems. While you should always reach out to experts wherever possible, it is also a good idea to report for anything you face. This guide will share how to send feedback or complaints about Windows 11 to the Microsoft team.
What is Feedback HUB in Windows 11?
Feedback HUB is an application in Windows that allows users to send their experience. You can quickly launch it by pressing the WIN key + F but don't be surprised, as using a keyboard will ask you to input feedback. Also, attach a screenshot of the screen.
That said, when you launch it from the Start menu, you get a dashboard that guides how to use it. You can search for your problem, learn how to use it, browse the category, and suggest a problem. So, it acts as a central repository for all problems and recommendations that can help Microsoft improve the user experience.
Feedback HUB offers four broad sections. It includes Feedback, Announcements, Quests, and Achievements. While the last two are made to help users know more features and give points, the former two are helpful.
Send feedback to Microsoft about Windows 11
While you can send the feedback anytime, if you press the Win + F as soon as you get the issue, the Feedback HUB can also grab a screenshot. However, before you submit, searching for the existing report is a better idea.
Find if your problem has been reported already, and upvote
There is a bright chance that someone has already reported about the issue you are facing, which can save a lot of time.  Be aware that it will be merged to the first or the most prominent report even if you report it again.
When in Feedback HUB, click on the Search bar, and type the problem you are facing.
In the result, look for matching results.
The next step is to narrow down by using filters and categories.
If you notice a problem that is close or exact, then you can upvote it.
If you found a close match but not the same, click on the Give similar feedback link and create a new one.
How to Add a New Feedback
If you are sure that your problem has not been reported, you can submit new Feedback. Follow the steps below:
Click on the Give new feedback button
It will open a new form where you can fill in the details about the problem.

In the Summarize your feedback, add a title
Then in the following box, enter exhaustive information about it.
Once done, click on the Next button and then choose a category.
First select the Problem, then Apps, and select the app with which you have the issue. Then click on the Next button again.
It will then reveal matching feedback. If there is no match, click on the Next button.
The next thing the feedback hub will ask you is a Screenshot or attached file for reference or Recreated the Problem.

While screenshots and attaching a file are very simple, Recreating a problem is going to It will ask you to redo the steps and record the whole event.
Once complete, submit the feedback.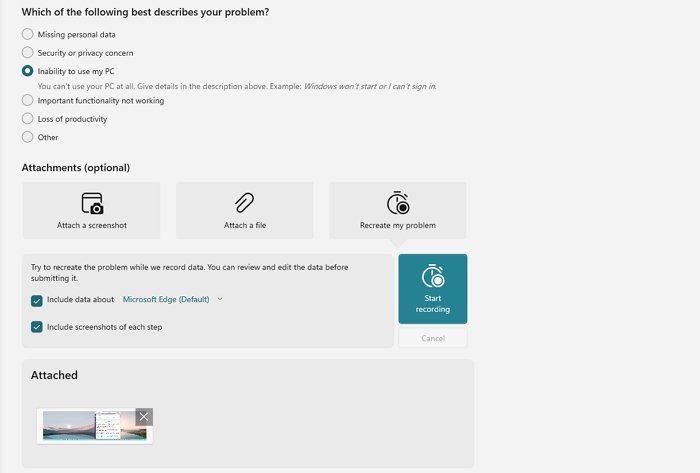 These should be enough to help you figure out to send feedback about Windows and your experience to Microsoft.
Read next: How to report bug, issue or vulnerability to Microsoft.
How to send feedback for Microsoft Office?
Microsoft office program also offers built-in steps to submit feedback. It is available with the Feedback option available under the File menu. Read our easy guide on how to give feedback about Microsoft Office programs.
How to send Windows 11 Activation Error Reports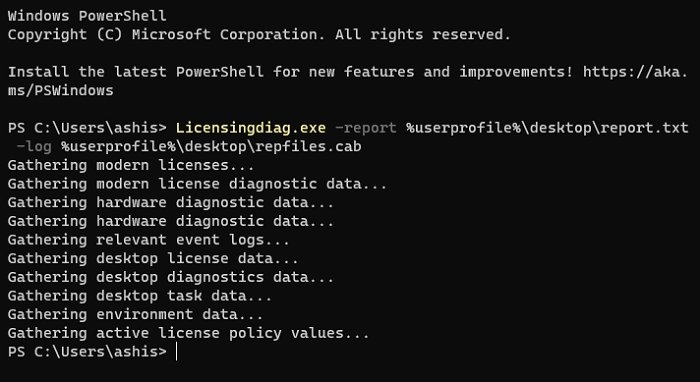 If you have a genuine copy of Windows, but you are still receiving activation errors, then you can send the report to Microsoft about it. Make sure you have run the Windows Activation Troubleshooter once before sending the report.
Open Windows Terminal and execute the following command
Licensingdiag.exe -report %userprofile%\desktop\report.txt -log %userprofile%\desktop\repfiles.cab
You can then connect with Microsoft Support and submit this file to their chat support.
How to enable Advanced Diagnostics?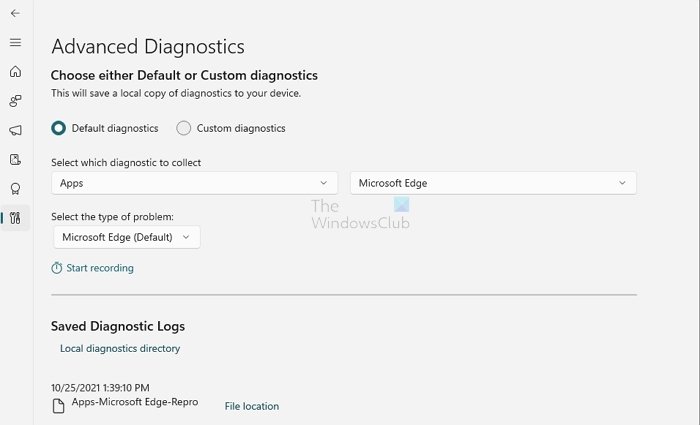 Feedback HUB has a built-in setting that allows you to configure and collect the diagnostic information on your device.
Open Feedback HUB, and click on the settings icon.
Locate the Diagnostics section, and check the following option

Save a local copy of diagnostics created when giving Feedback.

To enable the Advanced Diagnostics page, check the box.
Advanced Diagnostics allows recording the problem. You can select the related option and then click on the Start Recording link to retrace the problem. Once done, you can submit this as feedback.
Read: How to give feedback and suggestions to Microsoft
I hope the post was easy to follow, and you know how to send feedback, find similarly reported problems, and recommend a feature about Windows 11.