Sometimes, regardless of your selection levels for diagnostic data: Basic (required) and Full (optional), you can't change the Diagnostic Data to Full in Windows 11/10. The following workaround for this issue should help you.
Can't change Diagnostic Data to Full in Windows 11/10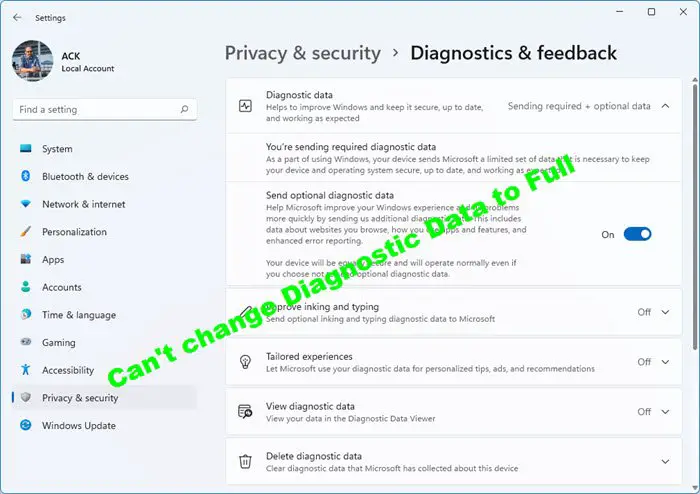 Like any other organization, Microsoft collects Windows diagnostic data to solve problems and to keep Windows up to date. It also helps the company to provide more relevant tips and recommendations to improve services for every customer's needs. Read what you should do if you can't change diagnostic data to full in Windows.
Click the search bar on Taskbar.
Type services, right-click it, and choose Run as administrator.
Right-click on the Connected User Experiences and Telemetry service.
Select Properties.
Change the Startup type to Automatic.
Click on the Start button
Apply your changes.
The feedback and diagnostics section in Windows helps Microsoft improve the related Microsoft products and services and, for its customers.
How do I change my Diagnostic Data to Full?
Click the Search bar on the Windows Taskbar and type Services in the empty field of the Search box.
Right-click the entry and select the Run as administrator option.
When the Services editor window opens, switch to the right pane and look for the following entry – Connected User Experiences and Telemetry.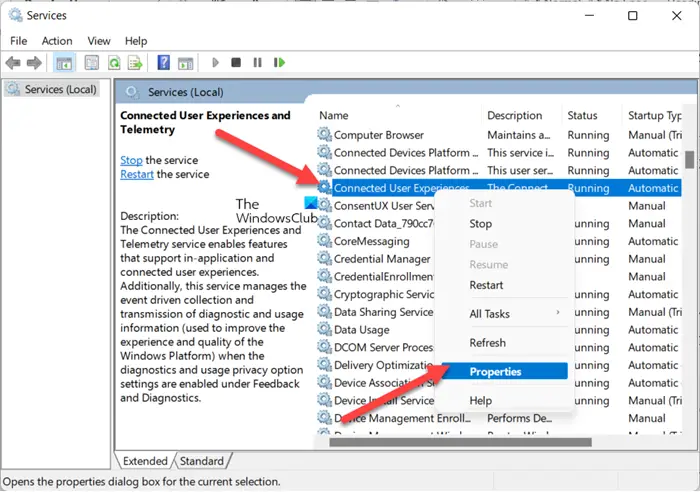 When found, right-click it and choose the Properties option.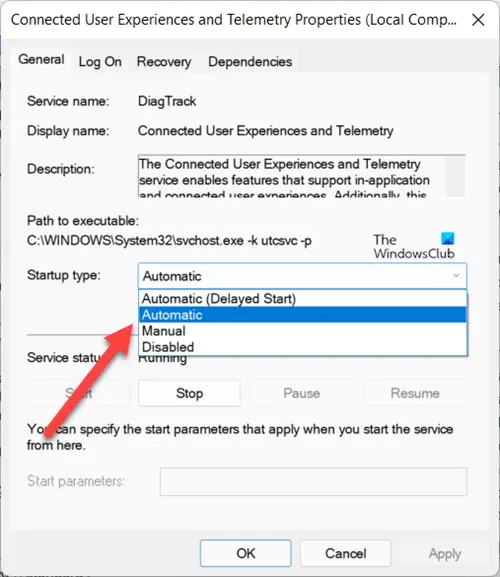 Hit the drop-down arrow adjacent to the Startup type menu and from the list of options displayed, select Automatic.
Hit the Start button under the Service Status section.
Choose Apply option at the bottom of the Connected User Experiences and Telemetry Properties dialog box.
Hereafter, you should be able to change Diagnostic Data to Full in Windows 11/10.
What is basic diagnostic data?
The basic diagnostic data is information related to options like your IP address and what type of device you're using. It can also be labeled as required diagnostic data.
Should I send full or basic diagnostic data to Microsoft?
Although users have apprehensions regarding data collection practices of tech giants like Google and Microsoft, it's advisable to share or send usage statistics and crash reports. Doing so ensures that developers know how customers use the programs and apps and influence decisions in the further development of the product. Depending on your preference, you can choose either the Full or Basic option.