To give users a better user experience, Microsoft from time to time, collects feedback & telemetry data from Windows 10 computers. While such feedback helps Microsoft make the operating system better, some users may want to turn off or disable Windows feedback. If you are one of those who want to disable Feedback in Windows 11/10, then the procedure is quite simple.
Disable Feedback in Windows 11/10
Microsoft collects feedback, diagnostic and usage data that helps them identify and troubleshoot problems, improve their products and services, and provide you with personalized experiences. This data is transmitted to Microsoft and stored with one or more unique identifiers that can help them recognize an individual user on an individual device and understand the device's service issues and use patterns. They share this data with a limited number of their Engineers, but they may also share personal data, among Microsoft-controlled affiliates and subsidiaries, and with vendors or agents working on their behalf, to make the OS better.
In Windows 11, open Settings > Privacy and features >Diagnostics and feedback > Feedback, and set Feedback frequency to Never.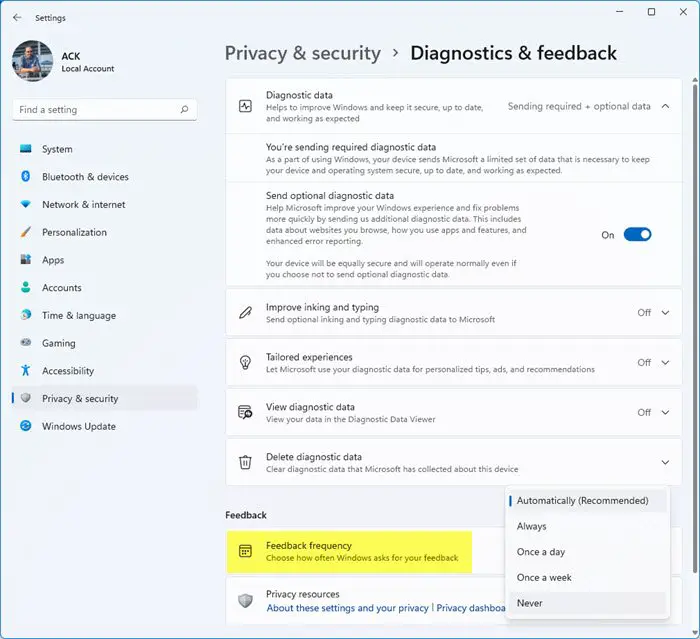 If you want to disable Windows 10 Feedback, open WinX Menu > Settings app > Privacy settings > Feedback & diagnostics.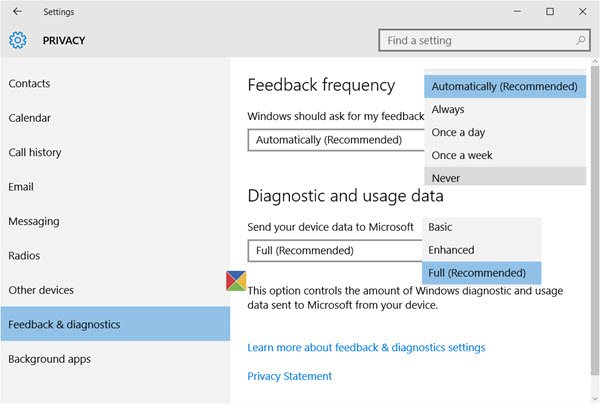 Here, under Feedback frequency, you will see a drop-down menu for – Windows should ask for my feedback. Select Never.
You may want to also select Basic for Diagnostic and usage data, under Send your device data to Microsoft section, if you want to limit the data being sent.
When you do this, Windows 11/10 will now never ask you for feedback.
But if you wish to, you can still always give feedback using the Windows Feedback app.
If you wish to further harden Windows Privacy settings, download our freeware Ultimate Windows Tweaker. It will let you easily tweak Windows Feedback Requests, Windows Telemetry, Application Telemetry, and more.
Now read: