Windows 10 includes a Retail Demo experience mode. This feature basically is useful for and meant for retail store staff who want to demo Windows 10 to customers.
NOTE: This post is only meant for information purposes, and we do not advise you to turn on or try this retail demo mode as it will delete all your user settings and personal content.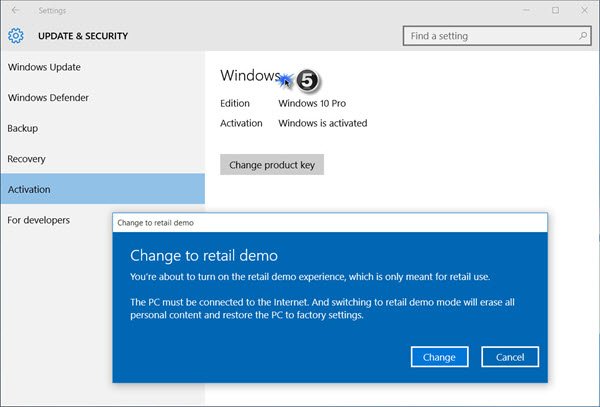 Windows 10 Retail Demo mode
Windows 10 Retail demo basically gives customers a run-down of the features that the new operating system has to offer.
To view the Retail Demo experience, open Windows 10 Settings app > Update & Security > Activation.
Now click on "Windows" 5 times, and you will see a blue box appear asking if you want to Change to retail demo.
Clicking on Change button will start the retail demo – BUT as mentioned earlier, it will delete all your user settings and data, and even restore your computer to factory settings. So you want to click on Cancel and exit.
Retailers who have a valid account can view the demo of the app at WindowsRetailDemo.com.
Delete Windows 10 Retail Demo
While using the Disk Cleanup tool in Windows 10, I noticed this entry – RetailDemo Offline Content.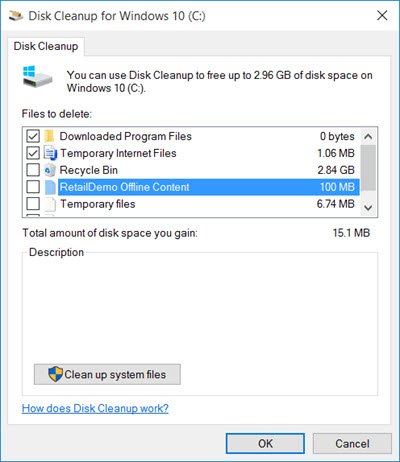 So if you wish to delete this Retail Demo and save disk space, use the built-in Disk Cleanup utility. This will clear 100MB of disk space!
Commenters say: You cannot simply use Windows Disk Cleanup to delete the Retail Demo Offline Content. It requires a password. The password of Retail Demo Admin account is trs10.