Microsoft has decided to by default, display Windows PowerShell instead of Command Prompt in the WinX Power Menu of Windows 10/8.1. When you right-click the lower-left corner of your Windows desktop screen, the WinX menu will pop up displaying, inter alia, Windows PowerShell.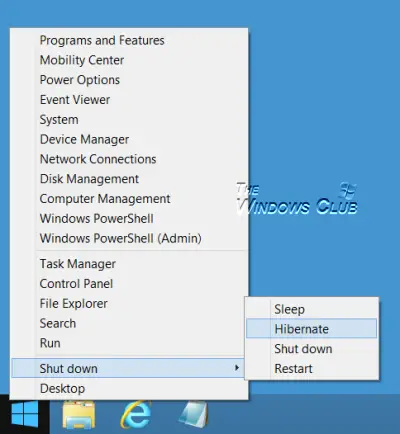 Windows PowerShell is a command-line shell and scripting language designed especially for system administration and power users, to control and automate the administration of the Windows operating system and applications that run on Windows.
Replace Command Prompt with PowerShell in WinX Power Menu
While you can use it to run all the commands which you can run on CMD, some of you may prefer to have the WinX Menu display Command Prompt instead.
The way to do it is also being offered in Windows 8.1/10.
To replace Command Prompt with PowerShell in the WinX Power Menu of Windows 8.1, right-click on the Windows 8.1 taskbar and select Properties to open the Taskbar properties box.
Now, under the Navigation tab, you will see the option Replace Command Prompt with Windows PowerShell in the menu when I right-click the lower-left corner or press Windows key+X.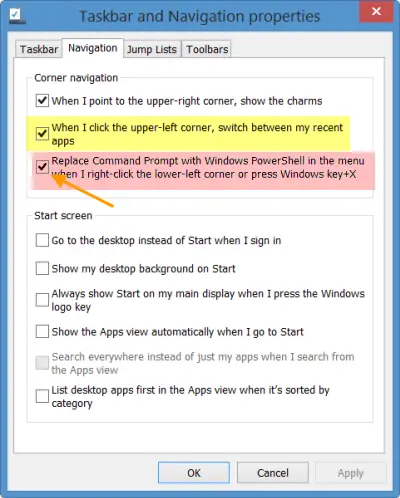 By default, this option is checked. Uncheck it, click Apply and Exit.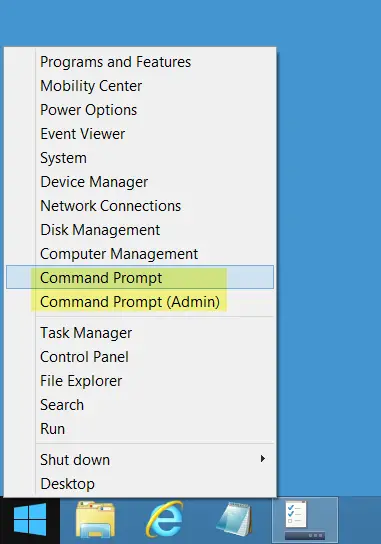 Your WinX Power Menu will now display Command Prompt instead of Windows PowerShell.
This post will show you how to show Control Panel in WinX Menu of Windows 10 v1703.