In this post, we will see how to completely remove or uninstall AVG Web TuneUp from your Windows PC. AVG Web TuneUp is a browser add-on for Internet Explorer, Google Chrome and Mozilla Firefox. It offeres features like Site Safety which provides safety rating for the websites, Do Not Track to block trackers from social and other websites, along with a browser cleaner to clear up browser cache. It goes on to set AVG Secure Search as the default search provider, as well as your home page and new tab page.
AVG Web TuneUp was recently in the news as it was found that it exposed Chrome users data. The company has said that it has patched the vulnerability, but nevertheless, many people are now looking for a way to uninstall this browser addon.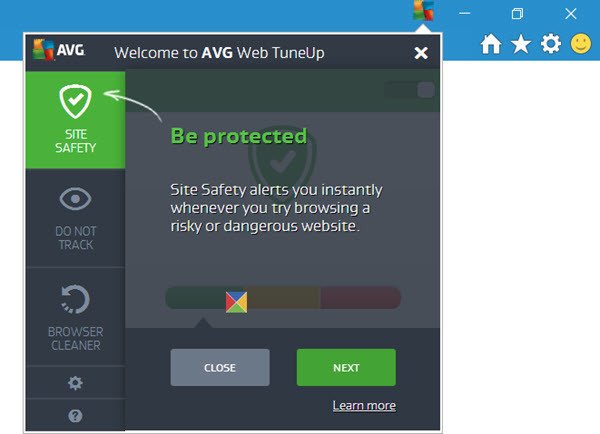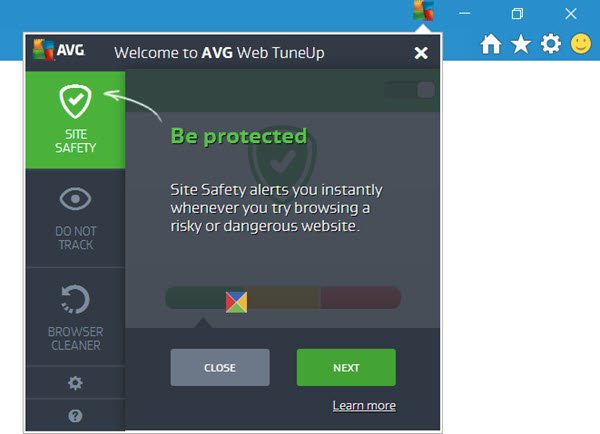 Uninstall AVG Web Tuneup
Go through the complete post and see which approach you'd like to take.
1] Open Control Panel > Programs and Features. Here under the list of installed programs, you will see AVG Web TuneUp. Double click on it and proceed with its uninstallation.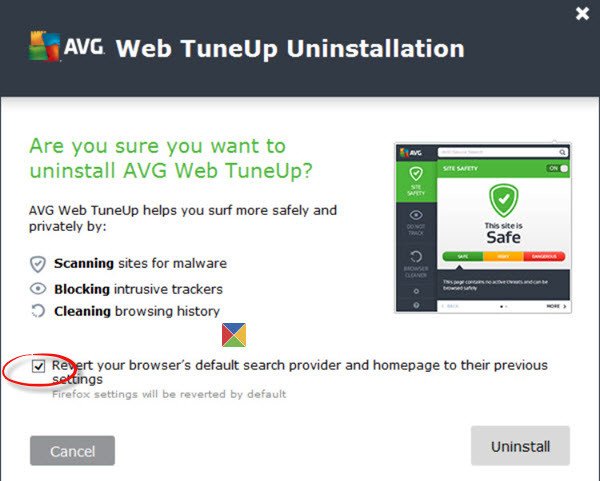 Make sure that you have checked the Revert your browser's … checkbox.
One the uninstallation process its completed, restart your Windows computer.
2] You can also use the AVG Remover Tool, provided by the company to remove all or any AVG product. Click here to download it from the company.
3] Download a free uninstaller software like Revo Uninstaller Free and use it to uninstall AVG Web TuneUp completely.
Having done this, to be doubly sure, do the following additionally:
1] Open your browser, be it Internet Explorer, Chrome or Firefox. Check under Manage Addons or Extensions.
If you see entries like AVG Web TuneUp, AVG Secure Search, ScriptHelperApi class or AVG Search App powered by Ask extension you should remove them. Click on Remove, Delete or Uninstall, as the case may be.
Read: Manage Browser add ons in IE, Chrome, Firefox, Opera.
2] Check your Search settings.
Internet Explorer users should open Manage Addons  > Search Providers, and remove AVG Secure Search if you see it, and set your prefered default search engine.
Firefox users may want to open Settings > Search and check the default search engine.
If you are a Chrome user, open Settings. Under On startup, check your settings and change them if required. Make sure you check your default search engine too.
Read: Change default search engine in Internet Explorer, Chrome, Firefox, Opera.
3] Open C:\Program Files and also C:\Program Files (x86) Here look for a AVG Web TuneUp folder. If the uninstallation is incomplete, you will see this folder in both the locations. If you see them, delete these AVG Web TuneUp folders.
4] Navigate to the following folder location:
C:\Users\ACK\AppData\Local\Packages\windows_ie_ac_001\AC
If you see a folder AVG Web TuneUp, delete it.
5] Do this only if you are comfortable editing the registry. Run regedit to open the Registry Editor. Back up the Registry and then press Ctrl+F and search for AVG Web TuneUp. If you find any keys, delete them carefully.
6] To finish off, you may want to run CCleaner to rid your PC of residual junk if any.
Hope this helps!
Now read: Free Toolbar Cleaner & Remover Tools for your browsers.