When you print your calendar in Outlook, you can select the current day, week, or calendar month to plan your schedule. However, when printing an Outlook calendar set to daily view, a recurring icon appears with a black background. It is a minor issue and can be fixed by following the instructions in the post.
How to remove the Black icon when printing an Outlook Calendar
The recurring icon with black background in the Outlook calendar appears while printing because of the splwow64.exe process that tries to prevent the print driver from writing data to the client application's buffer space. This can be fixed readily by enabling the EMF spooling in printer properties. Here's how it's done!
Launch Control Panel.
Select Devices and Printers.
Right-click the Printer icon.
Select Printer properties.
Switch to the Advanced tab.
Choose the Enable advanced printing features check box.
Hit OK.
Firstly to resolve this issue you can use either use a 64-bit version of Outlook or use a printer driver which supports Alpha Blend. If none of it is possible for you then, enable the EMF spooling in the printer to remove the icon when printing. You can only print appointments and meetings from one calendar at a time.
Launch the Control Panel. Then, under the Sound and Hardware category, select Devices and Printers.
Here, look for your printer, right-click its icon and select the Printer Properties.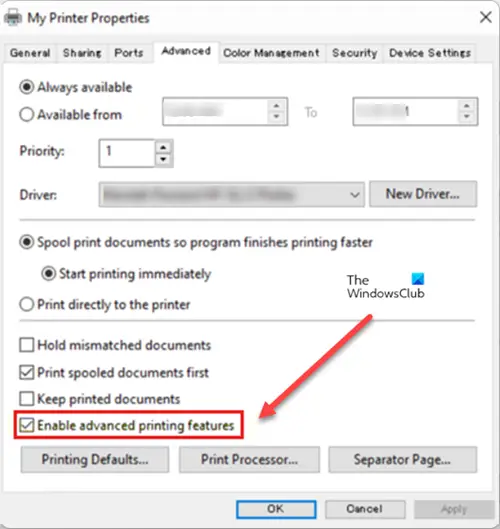 Now, switch to the Advanced tab, scroll down to Enable advanced printing features option.
Simply check the box next to the above option and hit the Ok button to save the changes.
Try printing the Outlook Calendar gain. You should no longer see the recurring icon with a black background appears when printing an Outlook calendar.
What is the Outlook Calendar meeting
It's a service that allows you to send a meeting request to one or more people and track who accepts the request and reserves time on your calendar for the meeting. When you create a meeting request, you can set a location, and use the Scheduling Assistant to choose the best time for your meeting. Also, you can add attachments, if required.
How much does Outlook cost to use?
Outlook is free for personal use however if you would like to unlock additional features or get more storage space, you need to purchase a premium plan. The most affordable Outlook premium plan costs around $6.99 per month (Home users).
Also read: Outlook not syncing, sending, receiving email.