Blue Screen of Death errors can occur at any given point after a computer boots up and can just reboot your computer randomly which eventually occurs in a loss of unsaved work on a computer. One such stop error says simply – REGISTRY_ERROR. The REGISTRY_ERROR bug check has a value of 0x00000051. This indicates that a severe registry error has occurred. There are several causes for this error, and it is difficult to narrow it down to one component. But we will be checking out all the possible fixes for this issue.
Something has gone wrong with the registry. If a kernel debugger is available, get a stack trace. This error may indicate that the registry encountered an I/O error while trying to read one of its files. This can be caused by hardware problems or file system corruption. It may also occur due to a failure in a refresh operation, which is used only in by the security system, and then only when resource limits are encountered.
Fix REGISTRY_ERROR Blue Screen
We will be taking a look at the following fixes to get rid of the REGISTRY_ERROR on Windows 11/10:
Use CHKDSK.
Use System File Checker.
Use DISM.
Reset your computer.
Repair Windows using installation media.
If you cannot boot Windows normally, you may have to try and boot in Safe Mode or into Advanced Startup options screen to be able to carry out the fixes. You will need to make use of the Command Prompt. For some strange reason if you can boot in Safe Mode but cannot access the Advanced Startup Options screen, when in Safe Mode, you may use the Command Prompt to boot Windows directly to Advanced Startup Settings screen.
1] Run Check Disk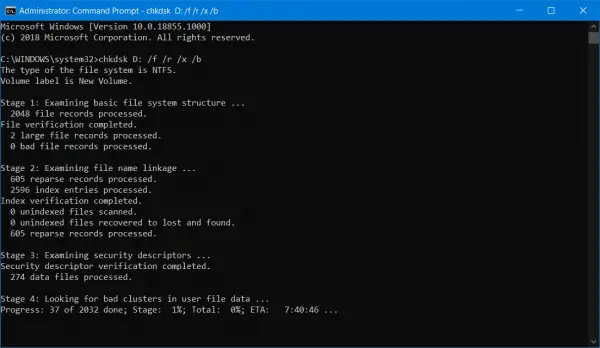 We will use the command line version of ChkDsk to get more done. Run Command Prompt as Administrator and execute the following command:
chkdsk <Drive Letter>: /f /r /x /b
It will either start checking for errors and fixing them, or it will show up a message saying – Chkdsk cannot run because the volume is in use by another process, Would you like the schedule this volume to be checked the next time the system restarts? (Y/N)
Hit Y for scheduling the Disk Check the next time the system restarts.
2] Use System File Checker
Run CMD as Administrator and then execute the following command to run System File Checker:
sfc /scannow
Restart your system after the scan is completed.
3] Use DISM
Now, in order to fix corrupted System Image using DISM,  open Command Prompt (Admin) and enter the following three commands sequentially and one by one and hit Enter:
Dism /Online /Cleanup-Image /CheckHealth
Dism /Online /Cleanup-Image /ScanHealth
Dism /Online /Cleanup-Image /RestoreHealth
Let these DISM commands run and once done, restart your computer and try again.
4] Reset your computer
You may need to Reset your PC via Settings.
5] Repair Windows using installation media

If nothing helps, you need to Repair Install your copy of Windows. Use an installation media to do this.
All the best!