AMD's Radeon Graphics processing units are yet another brand of GPUs that comes in a large number of computers. To control the functioning of the hardware, they have included the Radeon Settings panel. However, there have been a number of reports of this Radeon Settings panel throwing an error saying that it is not available.
Radeon Settings are currently not available. Please try again after connecting AMD graphics.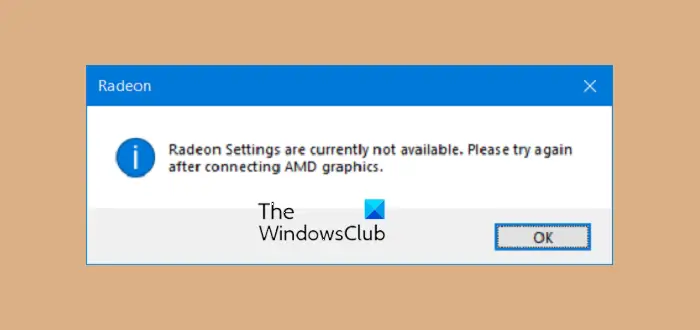 The main causes for this issue are either corrupt or incompatible drivers. This brings in a solution that is straight and simple.
Radeon Settings are currently not available
We will be undertaking the following fixes to get rid of this error on Windows 11/10:
Use Device Driver Uninstaller.
Change Driver Version.
1] Use Device Driver Uninstaller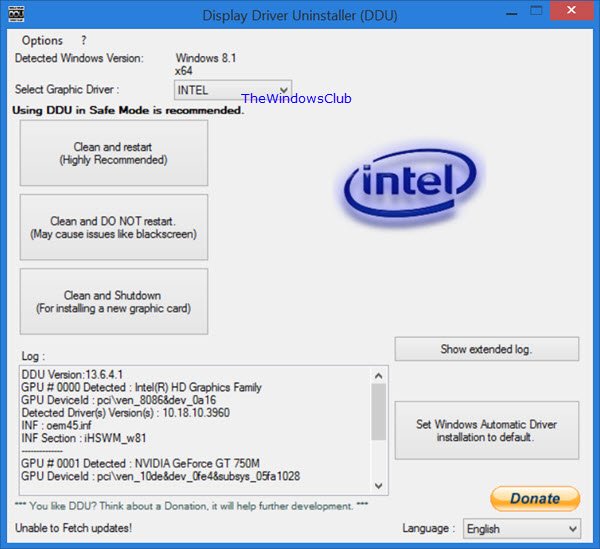 You can use the Display Device Driver Uninstaller software to uninstall your AMD Radeon Drivers.
Once you are done that, go here to download the AMD Radeon's official drivers.
After downloading it, you can install it like any other driver by running the executable file.
After the file has finished installing the newer version of the driver, try to run the Radeon Settings and check if that fixes your issues.
Read: Enable Radeon FreeSync for Individual Applications.
2] Change Driver Version
Use the steps given in method 1 to get the currently installed version of the AMD Radeon driver uninstalled.
After it is uninstalled, get on the official AMD Radeon Driver download website and get the last working version of the driver.
If the driver keeps updating, prevent it. To disable the driver getting updated automatically, you can do the following.
Hit the WINKEY + R button combination to launch the Run utility, type in gpedit.msc and hit Enter. Once Group Policy Editor opens, navigate to the following setting-
Computer Configuration > Administrative Templates > System > Device Installation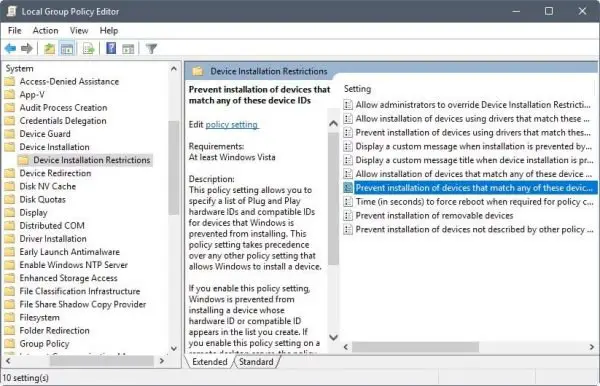 Now, on the right-side panel and double click on Prevent installation of devices that match any of these device IDs and set the radio button to Enabled for it.
This policy setting allows you to specify a list of Plug and Play hardware IDs and compatible IDs for devices that Windows is prevented from installing. This policy setting takes precedence over any other policy setting that allows Windows to install a device. If you enable this policy setting Windows is prevented from installing a device whose hardware ID or compatible ID appears in the list you create. If you enable this policy setting on a remote desktop server the policy setting affects redirection of the specified devices from a remote desktop client to the remote desktop server. If you disable or do not configure this policy setting devices can be installed and updated as allowed or prevented by other policy settings.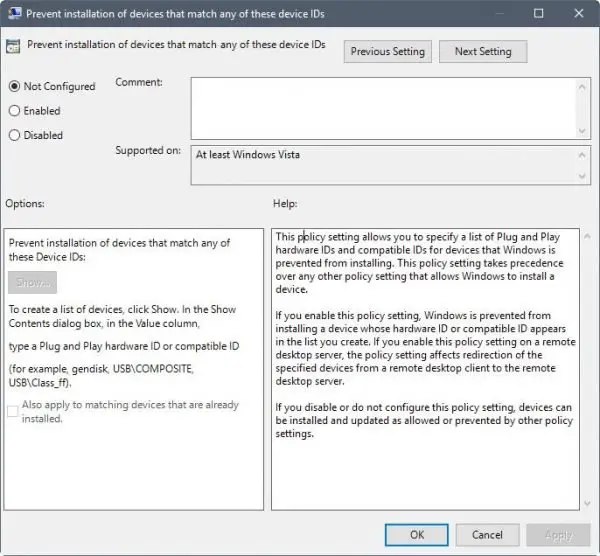 This will turn off the delete confirmation prompt. Setting the radio button as Disabled or Not Configured will turn off the driver being updated automatically.
Under the section of Options, click on the button that is labeled as Show.
In the field that pops up, enter the Hardware ID of your GPU and select OK.
The Hardware ID of your GPU can be found under the following location: Device Manager > <DEVICE NAME> Properties > Details > Hardware IDs.
Click on Apply and then click on OK.
Exit the Group Policy Editor and then reboot your computer for the changes to take effect.
Read next: How to capture Gameplay and stream it via Radeon ReLive.